Decoding Social Marketing Strategies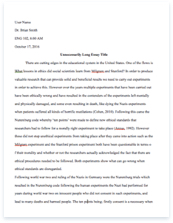 The whole doc is available only for registered users
Pages: 13
Word count: 3051
Category: Marketing
A limited time offer! Get a custom sample essay written according to your requirements urgent 3h delivery guaranteed
Order Now
What is Strategy?
A carefully devised plan of action to achieve a goal, or the art of developing or carrying out such a plan (Microsoft® Encarta® 2009)
A careful plan or method
(merriam-webster.com)
A plan of action or policy designed to achieve a major or overall aim. (http://oxforddictionaries.com)
Social Marketing
• It is the use of marketing principles and techniques to influence a target audience to voluntarily accept, reject, modify, or abandon a behavior for the benefit of individuals, groups or society as a whole (Kotler and Roberto, et al. 2002)
"Key Steps in developing Social Marketing Strategies"
Step 1: What is the campaign purpose?
Step 2: Target audience, objectives – where do we want to go?
Step 3: Set objectives and SMART targets – what behaviour do we want?
Step 6: How will your marketing strategy be monitored and evaluated?
Step 5: PRODUCT, PRICE, PLACE, PROMOTION
Step 4: Analyse the barriers and benefits of the desired behaviour (product) and the current behaviour (competition) Develop tools and strategies to address major barriers and benefits of the preferred behaviour (product) and the current behaviour (competition) that address product, price, place and promotion. Develop a communication (promotion) strategy
Step 7: Work out your budget and funding sources.
Step 8: Pilot your marketing strategy. After evaluation make changes and roll it out more widely.
by Dr Louise Duxbury
Different organizations practice Different Models/Frameworks for Social Marketing/Social Mobilization THE SIX PHASES OF SOCIAL MARKETING: KEY POINTS AND CONSIDERATIONS PHASE 1: DESCRIBE THE PROBLEM
•Review the problem description and rationale. •Review the composition of the strategy team •Review the SWOT
PHASE 2: CONDUCT THE MARKET RESEARCH
PHASE 3: CREATE THE MARKETING STRATEGY PHASE 4: PLAN THE INTERVENTION PHASE 5: PLAN PROGRAM MONITORING AND EVALUATION
• Review the research plan. • Review the research report. • • • • Review the identified target audience and behaviour. Review the behavioural goal (this is what your social marketing program aims to achieve Allocate the available budget and other resources for the program. Review the intervention mix and respective objectives.
•Review the selection of new or improved services or product. •Review the proposed staff training plan. •Review the proposed policies to be enacted or changed. •Review the communication plan.  Review the work plan.
•Review the identified program indicators. •Review the monitoring and evaluation plan.
PHASE 6: IMPLEMENT INTERVENTIONS AND EVALUATION
•Establish the schedule of project updates —both technical and financial. •Monitor the perspectives of partners and stakeholders.
The World Health Organisation (WHO) began using an approach known as Communication-forBehavioural Impact (COMBI). COMBI, is a process that strategically blends a variety of societal and personal influences and communication interventions to encourage individuals and families to adopt and maintain recommended healthy behaviours.
COMBI is social mobilization with a behavioural bite
COMBI relies on a strategic combination of the following five inter-related communication strategies 1. Public relations/advocacy/ administrative mobilisation for putting the particular healthy behaviour on the public and administrative agenda via the mass media. 2. Community mobilisation including use of participatory research, community group meetings, partnership meetings, traditional media, posters, videos, home visits. 3. Sustained appropriate advertising through multiple media channels, engage people in reviewing the benefits of the recommended behaviour vis-à-vis the "cost" of adopting it. 4. Personal selling/interpersonal communication/counselling at the community level, in homes and particularly at service points with appropriate informational literature including careful listening to people's concerns and addressing them. 5. Point-of-service promotion emphasising easily accessible solutions/health products to health problems.
COMBI
• Focuses on behavioural impact and not only raising awareness • Appropriate situational "market" analysis in relation to behavioural impact • Judicious blend of communication interventions to achieve behavioural impact
Planning steps: • Defining preliminary behavioral objectives •Conduct a rapid situational analysis •Define the behavioural and communication objectives •Design an overall strategy •Develop detailed plan of action and a budget •implement and monitor your strategy, identify trends and adapt if •Necessary •Evaluate
Will Parks and Linda Lloyd presented a Step-by-Step Guide for Planning Social Mobilization and Communication for Dengue Fever Prevention and Control
Fifteen steps of COMBI Planning for dengue prevention and control Step 1. Assemble a multidisciplinary planning team Step 2. State preliminary behavioural objectives Step 3. Plan and conduct formative research Step 4. Invite feedback on formative research Step 5. Analyse, prioritize, and finalize behavioural objectives Step 6. Segment target groups Step 7. Develop your strategy Step 8. Pre-test behaviours, messages, and materials Step 9. Establish a monitoring system Step 10. Strengthen staff skills Step 11. Set up systems to manage and share information Step 12. Structure your programme Step 13. Write a Strategic Implementation Plan Step 14. Determine your budget Step 15. Conduct a pilot test and revise your Strategic Implementation Plan
The Cube Model: A Tool for Developing a Communication Strategy by Dr. Narcisse de Medeiros A Framework for Planning a Decentralised Response
1. Situation response Map main indicators, institutions and responses existing in the community
and situation analysis
2. Creating a conducive environment
6. Monitoring and Evaluation
3. Participatory
formulation of the district plan
4. Agreements for implementatio n
5. Implementation
The Cube Model is a prioritisation tool developed in 2001 to address questions such as: Where, how and with whom do we begin the communication strategy? What communication strategies are to be used and when? How do we assess the problems, prioritise the issues to be addressed, and ensure resources for the actions? Though developed for use with HIV and AIDS programmes at the district level, the Cube Model can be adapted for other programmes.
The Cube model helps conduct a systematic assessment of the project area along three specific parameters in order to select and prioritise sites, groups and communication strategies
The 8‐Step Communication Planning Model
The 8 Step Communication Planning provides a blueprint for planning
The 8‐Step Communication Planning Model
Step 1:Assess Your Current Situation Purpose: To realistically assess your program by articulating your successes to date and your perceived challenges. First, Ask the Right Questions Then, Conduct a SWOT Analysis Step 2: Set Communication Goals and Objectives Purpose: To articulate your intended accomplishments i n ways that can be measured. Your communication goals should: • Support your programmatic objectives. • Help sustain your program. • Promote systems change.
Communication goals are not tactics!
Set communication goals that: • Seek to engage, raise awareness, and—ultimately—change behaviour. • Persuade others to take action on your behalf. • Are realistic. • Can be measured, so you'll know when you've succeeded.
The 8‐Step Communication Planning Model
Step 3: Identify Intended Audiences Purpose: To identify all potential intended—sometimes called "target"—audience segments for each communication goal; to prioritize those audiences and learn as much as possible about them. • List the intended audiences you need for each of your communication goals. • Next, Segment Your Intended Audiences • Then, Prioritize Your Intended Audience Segments • Finally, What Do You Know About Them?
Audience Segmentation Is the process of breaking the total target population into segments which have fairly homogenous characteristics in responding to a social campaign. (Kotler and Roberto 1989)
List of variables which could be used in defining the specific intended groups (Stuart 1995) 1. Socio demographics
Age Gender Educational attainment Economic class Language/dialect Medical habits Membership in organizations Marital status Family size Religion Race Occupation Geographic location
2. Practices • Habits • Behaviors • Lifestyle, etc.
3. Psychographics • Predispositions • Attitudes • Values • Customs • Traditions • Social norms • Indigenous belief system • Manner in which a person thinks, feels and responds specific communication
The 8‐Step Communication Planning Model
Step 4:Develop and Pre-test Messages Purpose: To develop effective messages that will resonate with your intended audiences and compel them to think, feel, or act in ways that support your communication goals. In developing messages, remember: "It's not what you want to tell them, it's what they can hear." Pretesting Messages (with your intended audiences to determine if
they are persuasive)
Step 5: Select Channels, Activities, and Materials Purpose: To identify the most appropriate avenues for delivering your messages to your intended audiences.
Channels
Communication channels carry your messages to the intended audiences. Channels take many forms and there is an almost‐infinite list of possibilities. Some examples of channels include:
People (you, your champions)
Television stations
Radio stations E‐mail, listservs Schools
Newspapers
Web sites
Community centres
Parks Nonprofit organizations
Laundromats
Malls Recreation centres
Libraries
Restaurants
Supermarkets
Frequency and Mix
When we talk about the number of times you're exposed to a product, we're talking about the "frequency." When we look at the number of different ways we're exposed to a product, we're talking about a "mix."
The 8‐Step Communication Planning Model
Step 6:DevelopAction Plan Purpose: To determine where, when, and how each task will be done to successfully implement your communication plan. Your action plan should have the following essential information: • A listing of major activities, tasks, and subtasks • The target date for completing each task • The person responsible for ensuring each task is completed.
Step 7:Develop and Pretest Materials Purpose: To ensure that your materials will resonate with intended audiences before they are produced and used. Pretesting helps you: • Identify whether your messages and materials have any major flaws. • Explore alternative messages and materials. • Fine‐tune your messages and materials.
Typically, developing communication materialsis a four‐step process: 1. Develop prototype. 2. Review and pretest. 3. Revise and refine. 4. Produce.
There are several ways to pretest messages and materials, including: • Surveys • Focus groups • One‐on‐one interviews • Advisory boards.
The 8‐Step Communication Planning Model
Step 8: Implement, Evaluate, and Modify Plan Purpose: To determine if the plan is meeting your communication goals and, if not, to make appropriate and timely modifications to ensure success. To evaluate the effectiveness of your communication plan, this step asks you to: • Determine which messages are (and are not)resonating with your intended audiences. • Identify the channels, materials, activities, and partnerships that are (and are not) helping you to reach and engage your intended audiences. • Identify obstacles that you had not anticipated. • Identify any NEW intended audiences you had not recognized when starting this planning process. • Create and implement new strategies for reaching your goals and objectives.
The P Process
A Field Guide to Designing Health Communication Strategy
The P-Process is used to develop communication programs addressing a wide range of topics such as encouraging safer sexual behaviour to prevent HIV transmission, promoting child survival, reducing maternal mortality, increasing contraceptive prevalence, preventing infectious diseases, or promoting environmental health.
Step 1 ANALYSIS
SITUATION ANALYSIS • Determine severity and causes of problems • Identify factors inhibiting or facilitating • desired changes • Develop a problem statement • Carry out formative research AUDIENCE/COMMUNICATION ANALYSIS • Conduct a participation analysis • Carry out a social and behavioral analysis • Assess communication and training needs
Step 2 STRATEGIC DESIGN
Every communication program or project needs a strategic design. Follow these steps:
Establish communication objectives (SMART) Develop program approaches & positioning
Determine channels Draw up an implementation plan
Develop a monitoring and evaluation plan
Step 3 DEVELOPMENT & TESTING
Developing concepts, materials, messages, stories, and participatory processes combines science and art.
Develop
Test
Revise
Retest
Step 4 IMPLEMENTATION & MONITORING
Implementation emphasizes maximum participation, flexibility, and training. Monitoring involves tracking outputs to be sure that all activities take place as planned and potential problems are promptly addressed.
Produce and disseminate
Train trainers and field workers
Mobilize key participants
Manage and monitor program
Adjust program based on monitoring
Audience Classification
Primary Participant
• Those whom socmar seeks to affect directly • (teen-ager, women of child bearing age, mothers/family members
Secondary Participants
• Individuals or groups who can motivate, influence, "teach, support, and reinforce the desirable practices, values and beliefs of the primary target group" • -(influential decision – makers, policy makers, opinion leaders, health workers, teachers, etc)
Tertiary Participants
• Those "whose expertise and official positions can serve as valuable sources of information and support" • (regulatory bodies, provincial and district level development personnel, marketing and media specialist, etc.)
Step 5 EVALUATION & REPLANNING
Sound program evaluation stimulates program improvements and redesign, guides cost-effective future funding allocations, and supports advocacy and fundraising.
Measure outcomes and assess impact
Disseminate results Determine future needs
Revise/redesign program
The Media for Social Marketing and Social Mobilization
• Selecting the appropriate media is a major factor for a successful communication campaign
Social media does help get the word out. Social media is popular—really, really, popular Social media sites are free Why Social media reaches all ages and demographics Social Social media encourages two-way communication. Media Social media is perfect for customer service Marketing? Social media lets you share A LOT about your business Social media can make a big difference for your email marketing Social media is everywhere.
Five Functions Of Effective Social Marketing Strategy
by Sameer Khan
Social media is a disruptive mode of communication as it allows users to participate and have their input, no matter the conversation This disrupts one-sided conversations and can take the dialogue in another direction
Marketers need to recognize this and build it to its advantage
1) Listen = proactive outreach
#Hashtags
Monitoring social media using #hastags
2) Analyze
Monitoring social conversations will require detailed analysis. Foursquare = measured by the number of check-ins Twitter = measured by the number of re-tweets
Classification and Escalation of Social Conversations Further analysis can be done by classifying the conversations in various buckets i.e. product, support or recommendations/reviews. Classification of conversation will allow quicker escalation of the conversations to the respective departments within the organization.
3) Engage
• Engagement within your social circles can be built by leveraging our three pillars of social media engagement strategy.
Campaign
Content
Connections
4.) Influence
• As you engage more consumers with your brand, you create more influencers. • Both internal and external influencers can be a huge asset to the growth of your brand on social networks. • Google+ ripples is a great tool to identify influencers within your and your competitors' networks.
Google+ ripples to identify influencers
5) Measure
• Measurement lets you understand the success of these elements of the social marketing campaign.
Some other measurement areas are – • % Increase positive brand reference • % Increase the social interactions • Growth in organic search visits
How to Balance Traditional and Social Marketing Strategies by Daniela Baker Marketing is based on four concepts, commonly referred to by the acronym AIDA: First, you need to grab the customers Attention; you then generate their Interest in your product or service by highlighting the benefits it will bring to their lives; following this you create Desire (the "must have" mind-set); finally you motivate customers to take some Action (i.e., make the purchase).
Blend
traditional marketing
(infographic)
social media marketing
Suggestions for integrating traditional with social media marketing: Connect Print Media with Social Marketing
Print company links on
Print Testimonials
Link an Offline Promotion with an Online Advantage Ex: A photographer can offer a free picture to new customers and their families that the customer may then post to their Facebook, Twitter, or LinkedIn profile.
Build Customer Engagement with Email Lists or Opt-In Cards Are customers reluctant to provide their email address? Offer a promotion through which you offer a special discount to customers who initiate certain actions. Example: liking" the company's Facebook page.
Enlist all Employees in Blending Strategies • Enlist the help of all employees in notifying customers regarding your firm's social medial presence and to recommend that they visit each of your profiles. Cross Sell Online and Offline Alert customers of other marketing tools you are using and what benefits they will derive from tapping into them
5 Advanced Social Media Marketing Strategies for Small Businesses by Samir Balwani
What Is An Advanced Strategy? – is a technique that goes beyond the normal social media presence. It introduces or reinforces a marketing message while pushing a user to another profile or business site.
Strategy 1: Multimedia Usage
WorldMusicSupply.com has used YouTube to build a strong online community
Strategy 2: Integrate Offline and Online Advertising
Strategy 3: Message Adaptation
Customizing messages for every site
Strategy 4: Local Social Networks, Beyond Yelp
Make sure your site is included in local business directories in order to help ensure that consumers find you when they need you.
Strategy 5: Contests and Discounts
WIN a prize when you Retweet on Twitter or Like on Facebook!
Elements of a Successful Social Mobilisation Initiative
• Undertaking research to define the nature of the problem: who is affected and where and what is the participants' understanding and perception of the problem. • Using advocacy strategies to gain support from the highest level of political leadership. • Developing communication activities in full consultation with and participation of the participant groups as well as opinion leaders. • Working closely with the communities to identify the problem, its impact and jointly deciding the proposed activities and ensure timely feedback.
References
• Kotler, P.N., N. Roberto, et al. 2002, Social Marketing: improving the Quality of Life, Sage Publications
Duxbury, Louise. 2010. Developing Social Marketing Strategies: The basics . http://www.denmarkcsl.com.au/articles/social-marketing.pdf Turning Point, The Basics of Social Marketing pp 7-11 http://www.turningpointprogram.org/pages/pdfs/social_market/smc_basics.pdf
Strategic Communication – for Behavior and Social Change in Southeast Asia. Section2.7.1. pp35-37 http://www.unicef.org/rosa/strategic_communication_for_behaviour_and_social_change.pdf Parks, Will and Lloyd, Linda, No date. Planning Social Mobilization and Communication for Dengue Fever Prevention and Control: A Step-by-Step Guide http://www1.paho.org/english/ad/dpc/cd/den-step-by-step.htm#combi Communication Resource Center. No date. Strategic Communication Planning http://www.sprc.org/sites/sprc.org/files/library/glsworkbook.pdf A Field Guide to Designing Health Communication Strategy. Pp 9-10 http://www.jhuccp.org/sites/all/files/the%20new%20p-process.pdf http://ftguonline.org/files/images/ftgu_3_1_11_img_1.jpg http://www.bangladesh-ccp.org/images/p-process.gif http://keepupwiththeweb.com/how-to-balance-traditional-social-marketing-strategies/ 5 Advanced Social Media Marketing Strategies for Small Businesses http://mashable.com/2009/09/30/small-business-strategies/ II International Congress on Dengue and Yellow Fever Havana, Cuba, 31st May – 3rd Communication-forBehaviouralImpact (COMBI) http://www.cidfa2004.sld.cu/conferencia/ver.php?id=51 P Process from JHU/CCP. Communication Initiative Network. 2004 http://www.comminit.com/en/node/201033
Related Topics