Debates Between Theologists and the Scientific Community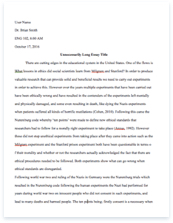 The whole doc is available only for registered users
A limited time offer! Get a custom sample essay written according to your requirements urgent 3h delivery guaranteed
Order Now
Historically, scientific and technological advancements have fueled debates among theologists and the scientific community; Entwistle explores these conflicts as well as how they have fed into the views and debates of current time with regard to psychology and Christianity in his book Integrative Approaches to Psychology and Christianity. Through this text he seeks enlightenment, and answers to the doubts that the two disciplines can both exist, in concert, without the view that if one is correct the other must be incorrect. Entwistle starts his analysis by comparing and contrasting the ancient cities of Athens and Jerusalem, stating that both cultures have value to the history of human kind. The fundamental difference between these two cultures with regard to how they acquired knowledge was that of human reason, which was encompassed in Athenian culture, and that of faith, which was encompassed in Jerusalem. The discussion of these cultures alludes to the underlying theme of this book which is that "All truths are God's truths." (Entwistle, 2010, p.16) The effects of worldviews on the interpretation of knowledge are considered and acknowledged integral in the way that individuals perceive situations and formulate conclusions; worldviews had an effect on the way that authors relayed messages from God through the bible just as they affect the way that one interprets the message conveyed by the language and context of the Bible.(Entwistle, 2010)
Although Christian churches have been accused of delaying scientific advancement, Entwistle argues that Christian culture has allowed for a society that promotes the expansion of knowledge; new knowledge must be attained in a manner which promotes truth most substantiated by evidence. (Entwistle, 2010) In the secular belief system, the only path that leads to truth is science; however, if science is accepted by Christians as a discipline that operates upon the observations in an effort to better understand God's world, Christian theology can exist in harmony with psychology. (Entwistle, 2010) Five models of disciplinary integration between Christian theology and psychology, enemies, spies, colonists, neutral parties and allies. Individuals that believe that psychology and theology cannot both be true are considered enemies; they can be of secular or Christian beliefs, but they both believe that the two disciplines contraindicate each other. (Entwistle, 2010) Spies subscribe to psychological beliefs, but see the psychological value in some religious practices; similarly, colonists subscribe to religious beliefs but borrow psychological models in religious outreach. (Entwistle, 2010) Neutral parties are defined as those individuals that fail to recognize the similarities and overlap present between these two disciplines. (Entwistle, 2010)
All four of the aforementioned paradigms have strengths and weaknesses with regard to intellectual theory; however, the author's own theory that God is present in all truth is encompassed by the Allies model. The functional premise of this paradigm is that the truth can be sought through studying and understanding the scripture as well as the natural world, "God's Word and God's Works" respectively. (Entwistle, 2010, p.205) Through accepting that both the disciplines of theology and psychology can remain distinct approaches while working toward the same goal and reaching the same conclusions; the allies model encompasses the belief that if there are conflicting findings between the two disciplines that the finding is a result of misinterpretation inherent in human error. (Entwistle, 2010) In the beginning chapters, the author describes a fork in the road that gave rise to two paths but only one destination; he again affirms that psychology and Christian theology are metaphorically similar to this fork in the road in the sense that both disciplines seek the truth. (Entwistle, 2010)
The integration of these two disciplines in the therapeutic setting has implications for great outcomes if practiced by those with a Christian worldview that subscribe to the allied paradigm. (Entwistle, 2010) All truth is God's truth, and conflicting "truths" found between disciplines are nothing more than the error of human perception and interpretation. Concrete Response My daughter, Vanessa, and I have lived with my parents since she was born; I never married, but her father and his family have remained a substantial, loving influence in her life all along. I have left for extended periods for professional or academic ventures in the past but Vanessa and I both are deeply rooted in my parent's home. Between December of 2008 and July of 2009 Vanessa lost a grandmother, two great grandmothers and a great grandfather. She was blessed with seven years of her life in which she was able to get to know the generation of people that she had come from. In 2005 her father moved in with his elderly mother and grandmother after his mother was diagnosed with breast cancer; shortly thereafter my maternal grandfather began to rapidly deteriorate, physically and mentally, at which time he moved in with us.
Vanessa gained a great respect for the elderly as well as life experiences and knowledge one can only gain by exposure to older generations; however, these blessings came with lessons in illness and death and the real life challenge of coping with the sadness of end of life deterioration and the loss of loved ones. Vanessa understood that death was the inevitable end to life in the flesh, but she also understood that her loved ones were starting a new life in heaven. Instead of displaying exclusively classic signs of grief that would normally be seen in a child her age under the circumstances, she approached coping with a bitter sweet perspective that couldn't be accounted for by a psychological model. Christian theology encompasses the possibility that children may be perceive things in such a way that allows them to achieve the understanding of some things that adults cannot; Jesus speaks of the knowledge that is hidden from the wise and revealed to children. (Luke, 10:21; Matthew, 11:25)
The integration of religious beliefs would be necessary when counseling a child like Vanessa with a firm conviction of a peaceful afterlife; if she were ever to have psychological issues arise from these events she would need a counselor that really understood the dimensions of her coping skills and her experiences surrounding this intense time of loss in order to effectively address future implications. Reflection Entwistle draws attention to specific ways that the discipline of psychology can be used in Christian ministering as well as ways that religious beliefs can benefit therapeutic sessions. He posits convincing evidence that the two disciplines can exist in harmony; however, he does not largely consider the idea of people integrating their spiritual and secular lives. Many people value their spirituality as a private dimension of their personal being and may view a clinical as too public for comfortable discussion of such beliefs and values. (Eck, 2002) The integration of these disciplines meets friction from many sources. (Entwistle, 2010) While the passive acceptance of one discipline by the other is a step in the right direction the need for active interdisciplinary study is greater than ever.
Where does the burden rest with regard to active promotion of change and growth? Is it the result of the psychological exclusion of spirituality with regard to scientific study or is it the rejection of scientific principles by the church? The answer to the latter is not as important as the fact that in order to see growth in the professions that serve to advise and aid individuals in improving even the most personal aspects of their lives, change must be initiated somewhere. In a perfect world Entwistle's theme that "all truth is God's truth" would nicely apply to a worldly setting. He does consider some of the obstacles to the application of interdisciplinary practice, but more definitive approaches will be required for any large scale reform. Action My personal faith guides me with the belief that my Christianity requires me to live in such a way that allows me to best serve God; this requires that I maintain my Christianity in each role that I must fulfill in daily life. In modern society, it is easy to leave God at home in the morning and to pick up where we left off with Him that evening when our normal daily routine is complete.
This is not the way that Christians are intended to behave. Christianity can be shown through compassion and love regardless of the capacity to discuss the scripture in a particular setting. Interdisciplinary studies are critical to those individuals that aspire to achieve truth; truths regarding the human mind and behavior can be confirmed through agreement of psychological and theological conclusions. In the future I will take care to assess what I think I know to be true in a manner that includes the consideration of my own perspective as to what I consider to be concrete knowledge; I will also challenge my own interpretations of material and remain open to the interpretation of the same material from other people's perspectives.
References
Eck, B. (2002). An exploration of the therapeutic use of spiritual disciplines in clinical practice. Journal of Psychology and Christianity, 21, 266-280. Entwistle, D. N. (2010). Integrative approaches to psychology and Christianity (2nd ed.). Eugene, OR: Wipf and Stock.
Related Topics