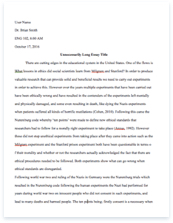 The whole doc is available only for registered users
Pages: 6
Word count: 1264
Category: Marketing
A limited time offer! Get a custom sample essay written according to your requirements urgent 3h delivery guaranteed
Order Now
Cutco Case Strengths· Products can be purchased individually or as a package.· 20-cutlery items account for 60% of sales.· Prices have increased 5% every other year.· Every product has lifetime guarantee and free product sharpening.· Alcas acquired Vector Marketing to re-create nationwide in-house Cutco sales and marketing infrastructure.· Expanded internationally in 1990 to Canada.· Cutco International operating margin was 2.5% in 1991.· Vector employs promotional activities, events and competition to increase corporate revenues and motivate sales representatives.· No door to door selling. First sales are to representative?s parents, relatives or friends.· 4.4M customers have been added to Vector?s database of customers.· All representatives are commissioned based.· Catalog operating margins are 15% Opportunities· Web users in the U.S. are male 35-54 with average income of $50K.· U.S households are expected to grow 1.1% until 2010.· Consumer prices have been stabile, but rising at a rate of 3.0% per year.· Predictions for web purchases are to increase exponentially in the next few years.
Weaknesses· Sales reps are college student who sell Cutco during their summer vacations.· Commissions are given to area representative and Manager when purchased through a catalog.· Web costs range from $200K ? 500K.· Vector consumers prefer to order from web site.· Cutco has always marketed through direct selling.· Majority of sales are between May & August.· Top 500 sales reps earn $5,500= $2,750,000· Only 97K orders are received from 2.8M mailed catalogs.· Web selling is not a Cutco core competency. Threats· Competition markets through department stores and mass merchandisers.· Direct selling industry is relatively unknown.· Direct selling firms do little advertising.· Direct selling firms are small, privately owned firms and operated by entrepreneurs.· Most direct selling firms web sites are limited to customer service and contact information.· Henckels cutlery offers 30% less on web site than retail list price.· Henckels U.S. retail sales exceeded those of Vector.
Turning Weakness Into Strengths Since Cutco is not presently selling their products via the web it must focus on its core competency of direct selling for the reason that the Cutco products require demonstrations.
Minimize/Avoid Weaknesses and Threats Cutco needs to be aware of the disadvantages of only direct selling their products and utilize other means of selling to increase their revenues in the years to follow.
Problem Statement Should Cutco utilize other means of selling to double it?s revenues in the next five years, and if so which means? Symptoms: web site marketing is expensive, Internet is not core competency, consumers are advancing with technology, sales are seasonal, and customers lose contact with sales reps.
Identification of Alternatives 1. Status Quo: During the fiscal year 1999, Cutco direct sales and catalog orders totaled $117,395,000. This is a 5% increase from last year?s revenue and if we estimate a 5% increase in sales from last year?s revenue our sales will be forecast at $123,264,750 for Vector.
2. Sell products via website: Our in-house estimates of constructing a web site to sell Cutco products over the internet would start at $200,000 and would take as long as 15-18months to construct. Since initial start up of the web site would take over a year; our sales revenue from the web site for 2000 would be zero. Statistics indicate that web users will be increasing dramatically in the future and our sales potential could reach the 4.4Million customers whom we have database information on. If we are able to capture 3% of possible sales from our database this would entail 132,000 customers will purchase a product from our web site in 2001.
3. Advertise products on ?food network?, offering 800 # for product demonstration or purchase: Have cooks throughout the day on the ?Food Network? use ?Cutco? products while demonstrating their recipes. This will allow for product use. Customers interested can call the 800 number listed on the bottom of show. Cutco products will be utilized during daytime and primetime shows. Total cost for this will be $200,000 for television premiums paid for product to be on their show. Our present customer service agents would be able to handle the inflow of calls from these spots.
4. Initiate year round sales force: This will allow for a more even flow of sales revenue. Presently, we have four geographic regions across the U.S. We will recruit a total of 500 commissioned based sales people across the country. Our recruiting efforts will continue via the web sites already being used. Each Vice President and Director will have final word on hiring for his or her district. The Vice President or Director will execute all training efforts.
Analysis/Evaluation of Alternatives Decision Criteria Status Quo Sell Products via Website Advertise on FoodNetwork Year Round Sales Force Profitability (6) 6 x 4 = 24 6 x 2 = 12 6 x 3 = 18 6 x 5 = 30 Divest channel conflict (5) 5 x 5 = 25 5 x 1 = 5 5 x 2 = 10 5 x 5 = 25 Long-term growth potential (4) 4 x 4 = 16 4 x 5 = 20 4 x 3 = 12 4 x 5 = 20 Continue core competency (3) 3 x 5 = 15 3 x 1 =3 3 x 1 = 3 3 x 5 = 15 Speed of implementation (2) 2 x 5 = 10 2 x 1 = 2 2 x 4 = 8 2 x 4 = 8 Cost of implementation (1) 1 x 5 = 5 1 x 2 = 2 1 x 3 = 3 1 x 5 = 5 Total 95 44 54 103 Recommendation I recommend that Cutco implement a year round sales force of 500 people across the U.S. Since Cutco has an effective recruiting Website, I would recommend using one of these Websites to hire the additional year round sales force, focusing on the promotional activities, events and competitions already in place to alleviate the fact that salaries are based on commissions only. The cost to change/maintain the Website should not be in excess of $5,000. This alternative continues with the core competency of direct selling, and we can utilize our Cutco Website to identify the regional area representative who would be responsible for product demonstrations.
Implementation We will immediately change one of our existing web site to specifically recruit for 500 full-time ?commissioned only? sales representatives. HR will be responsible for directing all possible Internet recruits to the particular Vice President or Director of each of the four geographical regions. Each Vice President or Director will be responsible for training the hired employee immediately following signing all employment contracts. Mr. Trent?s staff will be responsible for the implementation of changing one of the existing Websites. This must be completed within 30 days from today.
Evaluation and Control Considering that Cutco sales have been increasing from each previous year and the majority of sales revenue is during the summer season, we should see an increase in overall sales throughout the year. We would like to see a boost of 10% in revenues from our efforts. We will need to evaluate our sales revenue within three months of implementation of our year round sales force. If we see an increase of 15% of revenues, we must exercise additional recruiting efforts and increase our year round sales force to 1000. If sales do not increase by 10%, we will need to evaluate our sales forces demonstration and sales techniques and offer product training and evaluation. We will do a temperature check within 30days to see what other impacts may be effecting sales.
Related Topics