Customer Benefit Package comparision (Walmart VS Michael Kors)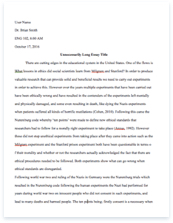 The whole doc is available only for registered users
A limited time offer! Get a custom sample essay written according to your requirements urgent 3h delivery guaranteed
Order Now
To contrast the Customer Benefit Package of Wal-Mart against Michael Kors for purchasing a suit or a new formal dress, there are many contributing factors. People look for different benefits from the service and products to satisfy what they are looking for. Wal-Mart compared to Michael Kors has a lot of contrasting factors both in goods and services provided. The biggest factors between the two that I see would be price, quality (value) and selection. Michael Kors and Wal-Mart are opposites in terms of tangible and intangible good; tangible goods being the actual products while intangible goods is the service provided. Wal-Mart has many different departments in each store location from clothing, electronics, home, furniture, patio, baby/kids, toys, shoes, jewelry, photo center, crafts, pharmacy, health & beauty. Michael Kors is a store aimed towards woman primarily; they have goods from handbags, wallets, shoes, clothing, watches, jewelry, accessories (sunglasses, belts, make-up, and perfume). Michael Kors does have a men's section but it doesn't have as much variety and selection as the woman's. The men side of Michael Kors has goods from clothes, watches, men bags, cologne. As you can see from the list of the different departments Wal-Mart has to Michael Kors, Wal-Mart can literally be a one stop shop. You can go to Wal-Mart and get basically anything you could possibly need. Michael Kors is a specific stop, you're going to go there and know what you are looking for. I find the service at Wal-Mart is good but not the greatest. There are times I can't find people within their departments, teenagers doing the till not being friendly while talking to their friend on the other till. Michael Kors has great service, you are approached right when you walk in and helped the entire time you are in the store. The costumer is the main priority to a Michael Kors employee. Anytime I have left Michael Kors I have been very pleased with both my product and the service. A peripheral good for Wal-Mart is that in every Wal-Mart they have extra departments within its locations.
Most Wal-Mart locations have a pharmacy, photo-lab and a McDonalds. There are Wal-Marts called "Super Stores" which have a Tim Horton's (along with a McDonalds), a grocery, a auto and vision department. Having all these extra departments for me truly would make Wal-Mart a great visit, being able to go one store and actually get everything that my family may need. A peripheral good for Michael Kors is the way they lay out their entire store locations, they are always very clean and open. Purses and wallets are laid out so they grab the customer's attention and you can see everything they have without having to dig. Like I said before, the costumer is the main priority to Michael Kors – they want you to buy their products. When I walk into a store it is easy for me to look around the store and see where I want to go, being able to see all purses and wallets right there makes my visit easy and effortless. We as customers want to pay a low cost for the best quality, when we want it, and we want the newest valued product and service. Knowing all this we know that you won't get exactly that, each store has give and take between each of those categories (cost, quality, time, flexibility and innovation). Wal-Mart is considered to be a discount retail store; they strive to have lower prices "Save Money. Live Better". They believe having low prices helps every family with their day to day living. As Michael Kors is a higher priced store they strive for the best valued products on the market. Wal-Mart carries many different brands of products, the quality per brand varies but most likely all items at Wal-Mart would be considered nondurable goods. They will last you but won't last you forever because the quality of the products. Michael Kors is a high end store, all products are made from the best materials to give great quality.
All products sold within Michael Kors would be considered durable goods. What keeps me going back to Michael Kors as a costumer is the quality of their products, I know they will last and the price I am paying will be worth it. Wal-Marts everywhere will basically be selling the exact same thing, larger stores would have more variety and newer products. There are not many times when I go to Wal-Mart and they don't have what I want. They have a great system for logistics so they can have all shelves stocked so no costumer is disappointed. Michael Kors stocks there stores according to location and size of store. Every store has a limit of how many purses they can have, some stores won't have option to carry certain purses depending on location, there are stores that don't even have a apparel section it would be purses, wallets, and small items. Order qualifiers for Wal-Mart is that when people go into a Wal-Mart they are expecting a low priced product and able to go for many different items there family needs. An order qualifier for me when I go into a Michael Kors is I am expecting a high quality, durable product and that I will be paying from $100 on. An order winner for Wal-Mart would be all the different departments they hold within each store. There aren't many stores that you can go into and get everything your family needs. Having all these departments per store makes it really convenient for the costumer. Sustainability for both these companies are both really good, online at their websites they both bring attention their long term strategy towards where they want their companies to go and how they are going to do that.
They both varied between each different area between environmental sustainability, social sustainability and economic sustainability. Wal-Mart is making huge changes towards becoming more environmentally friendly. They have protype stores that if successful, each distribution center will be 60% less impact on the environment. They are making guidelines for stores and what each location has to do to become more environmental friendly. Social Sustainability they both contribute to many charities worldwide and locally within the community that store is located in. Michael Kors sells a watch that costs $295 and is donated to the World Food Program. They also have 3 different scholarship programs that students can apply for; the process to apply seems fairly easy also, all online! Wal-Mart has three different charities is the Breakfast Club of Canada, Walk for Miracles and Grants for Communities. The Grants for Communities is money that each Wal-Mart location is given and gets to choose what local charity or program it wants to fund. As I mentioned before, each location of Michael Kors varies between products, I get dissatisfied when I go into a store with a purse in mind that I found online and they do not carry it.
They will however be able to tell you which store and the address within that city (if any) where that purse is held. A disatisfier I have with Wal-Mart and the service is going to a till for the employee to only be talking to the employee in the till beside them giving little attention to the customer. Also when employees aren't in their areas they are designated too but no other employee will help you, they will direct you to that employee who is missing. As I mentioned before having all the different departments in Wal-Mart is a real convenient (especially the Wal-Mart Super Stores), to me this is a huge satisifier. Michael Kors has a great post-service for their customers if you provide your email and address at the till. This post service consists mailed catalogs and birthday cards, they email you after any purchase you make asking how the service was and any recommendations you have, they send you specials you may receive (20% etc). An exciter/delighter that Wal-Mart has is they now have a credit card that you can apply for that works at any store and the more you use it the more Wal-Mart you receive.
For me personally, I like to buy products that have great quality. I want an item that is a durable good and will last; I am willing to pay more money for a product for that quality. I love going to both stores for different reasons. In the end though, if I wanted to buy a nice formal dress and accessories for an event I would defiantly go to a Michael Kors for this purchase. If you are on more of a budget Wal-Mart would have a dress and accessories to satisfy the customer.
Related Topics