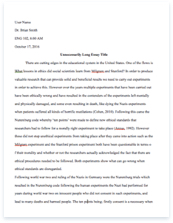 The whole doc is available only for registered users
A limited time offer! Get a custom sample essay written according to your requirements urgent 3h delivery guaranteed
Order Now
Positioning: After segmenting and targeting. Where in customers' minds the product occupies relative to competing products.
Crescent: Non-alcoholic functional beverage, impending launch in three U.S. markets.
Acquired in July 2013.
Energy-enhancing, hydrating, all-organic ingredients.
Energy drinks vs. Sports drink(hydrating)
PDB's competitors: Planned to launch all-natural versions of own sports/energy drinks in second half of 2015.
PDB: Due to production capacity constraints, national launch only in early 2015. Soft launch in Jan 2014 in Cali, Oregon, Washington (15% of demand).
Michael Booth – CEO, PDB.
Tasked Sarah Ryan to:
(1) Evaluate and recommend positioning strategy.
(2) Define product by Oct 1.
(3) $750,000 advertising budget. Benchmark earnings goal.
In order to form:
1. Industry specifics related to both options
2. Potential benefits and drawbacks of each option
3. Final recommendation.
Target: Maximize revenue.
Third option: Healthy and organic roots
Due date: Monday, September 16.
Beverage industry: Non-alcoholic
Includes: Water, dairy, juice, soda and functional beverages. Value: $131 billion. Projected growth: $164 b by 2018.
History: Suffered during recession as customers restrained spending. Current: Many new products launched in segment in 2012. More entrants expected. Distribution:
Either (A): "Big box" retailers – own product distribution systems for purchasing, transporting and stocking. Or (B): Small to medium retailers –
"Manufacturers" to "Distributors" (Mark up 25%),
"Distributors" to "Retailers" (Mark up 40%).
Distributor:
(1) Sometimes stocked items, else only delivered upon order.
(2) Maintained relationships w/ retailers
(3) Included products they expected to have high demand in their expansive catalogues.
(4) Niche segments w/ manufac. And retail. Including organic. Crescent Pure: Company history
Peter Hooper – Crescent Founder in 2008.
Market opportunity: Healthy, energizing drink.
Didn't like: Performance enhancing drinks as were unhealthy, too sweet and artificial. Liked: All natural. Something that would energize, refresh and enhance mental focus. Half of the energy than leading competitor beverages; Fright and Razor. 80mg of caffeine(herbal stimulants: guarana seed and ginseng) 70% less sugar quotient (from organic, raw cane sugar) than leading energy and sports drinks, on average. 12 months after launching business, Hooper secured legal protection for proprietary recipe. Manufactured and distributed in small batches, regionally.
Promotion: Farmer's markets, local food shows, pursued local retailers. Demand: High percentage supported Healthy, organic food choices. Sales: 1,000 cases per month. $3.75 for an 8-ounce can.
Crescent Acquisition
Booth's sons discovered crescent through Word of Mouth.
Feedback: Refreshing, energizing, healthier, allowed them to remain productive. Consumer demand for organic F&B rising. PDB Revenue rising.
PDB wanted to expand suite of organic products through acquisitions. Early market entrants would be able to steal market share. PDB had economies of scale; manufacturing ability, organic suppliers, distributor r/s. Pricing: 27% below original selling price. Stupid, right?
Followed entire catalogue of penetration pricing. Not necessary!
Existing consumer base willing to buy at original price. Wholesale price: $1.24
Variable costs: $1.02
Selection of distributors – 3 only because of limited prod. Capability and to ensure distributor profitability. Estimated distributor cost: $34,000.
However, positioning determines place determines distributors selected. Ingredients and Packaging
Sleek, tall silver 8-ounce can with simple crescent logo, lime green and orange accents. Clear coloured liquid. Taste has hint of fruit, less sweet than other drinks.
80 calorie serving
Flavour: lime juice, lemon juice, little raw cane sugar, green tea. Energy stimulants: Guarana, ginseng (relieve fatigue, boost concentration/endurance) Fine grain salt for electrolytes.
ALL certified organic. No chemicals were used.
Also has nutritional information on the can.
Product positioning: Options
Matt Levor: PDB Market Research Director
Energy Drinks:
Boost of energy to combat fatigue and promote mental focus. Re-inforce
existing perceptions. (Flawed consumer survey indicated energy) Prices: Average $2-$5 for 8-16oz. Average $2.99, above $2.75 price point. 34% consumed in last 6 months.
Projected market in 201 is $8.5 billion.
Advertising: Targets 18-24 men.
Visually startling images, extreme sports, loud rock music. Organic certification and minimal caffeine amount differentiates in market. Concerns: Long-term viability due to negative media attention. Sports drinks:
Market: $6.3billion.
42% consider it anytime beverages.
Wider consumer base. Not only sports. More often.
$1.00 – $2.00 for 12oz and 24oz
Ingredients: Water, sugar, salt.
Enhance athletic performance. Post workout fatigue
Healthier anytime drinks.
Prices: $2.75 is above and need to justify premium price.
Energy Drinks
Sports Drinks
Market
$8.5 billion
$6.3 billion
Price
$2-$5
$1-$2
Industry average price
$2.99
$1
Pricing Strategy
Penetration
Premium
Consumer base
18-24yr Men mostly
Anytime beverage. Wider.
Market Research:
Energy Drinks
Sports Drinks
Consumer Data
18-34yrs.
Parents
Household income below 25k
Half men, 1/3 Ladies
40%m refreshing, 27f
62% appeal to 18-24
77% appeal to 12-17
Competition
4 firms holding 34,27,16,8% of market. 15 split
2 firms holding 73, 21%
6 split.
Opportunity
Rising demand for healthier choice
Growth areas.
Threats
Energy drinks slumping due to health concerns.
Childhood obesity. Removal from vending machine.
Market size
Projected 13.5b in 2018
Projected 9.58b by 2017
Retailer feedback:
Inventory depleted quickly, raised price by 25%, still sold out before replenished. Most popular between customers 18-30yrs.
Higher percentage of women purchased than expected.
Younger men often buy 6 or more at a time.
Focus Group:
Three segments; (1) Women 25-33yrs
(2) Men 18-24yrs
(3) Men 25-35yrs,
consisting of 8 participants who had never heard of, or tasted, Crescent. Taste: Appeals to most. Nobody disliked it.
Energy content: Half were initially concerned. Once learning more, only 25% concerned.
Older consumers were happy with healthy alternative. Younger said had less thanthey hoped. Customer profile: Exactly what they wanted; healthy, good taste, slight pick-me-up. Focus on health and wellness. Transcended demographics. Price: Expected price to be above $3.00 due to USP. Questioned quality at low price.
Anchit's Part:
Positioning: (Anchit, Rin)
Decide how to position (sports drink with additional health benefits) 1. Why going into sports market is good (opportunities)
2. strengths of going into sports market, (in terms of profitability, competitors, consumer base)
Positioning: Where in a customer's mind the product occupies relative to competing products. How does a customer categorize the product?
Positioning statement:Frame of reference: Purpose of Product.
Point of difference: Why it gives superior value
Rationale: Reason to believe the above.
Consider the value created. Creating a sports drink with health benefits. Superior in taste and natural ingredients.
To [Target market, e.g. 18-35 working class].
Crescent Pure is
The sports drink that [USP, e.g replenishes energy and has great taste] Because we [Rationale, e.g. Use natural ingredients and a one-of-a-kind flavour]
Consider:Product differentiation
Service differentiation
Channel differentiation
People differentiation
Image differentiation
Difference should be: Important, distinctive, superior, communicable, preemptive, affordable, profitable.
Value Proposition: Much more for more.
Why sports drink is good:
1) PDB deals with organic juices and sparkling water. A healthy sports drink fits the product portfolio. Especially as compared to Energy drink.
2) Provides niche and may be able to build strong r/s with distributors focused on organic products.
3) Goes with Founder's intent. Retains core purpose and thereby customers. No faith lost due to acquisition.
4) Less sweet, and tasty. Fits to be an everyday drink.
5) 42% consider it anytime beverages. (Target these?)
6) Wider consumer base.
7) Consumed more often
8) Big taste differentiation.
9) Post-workout, working class, late night, etc.
10) Growth areas for diet and low sugar sports drinks. Grown 33%.
11) Retains consumer perceptions of it being refreshing(34%) and hydrating(49%), but adds on healthy (16%) and Natural (6%) to be different. 12) Affordable is only used 11% suggesting price is not VERY important? 13) 29% said affordable.
14) Fits perception map of Hydration vs. Energy.
15) Fits perception map of Nutrition vs. Taste
Why sports drink is bad:
1. Gleam has 73% market share.
2. Due to above, has good r/s with distributors and may retain them. (PDB can leverage its manafacturing facility, organic suppliers, etc)
3. Price is much higher than competitors.
4. Siize of can is smaller than competitors.
5. Slower growth in demand for sports drinks.
6. Removed from vending machines. Lower demand?
Why energy drinks is good:
1. Price is competitive.
2. Informal consumer survey at an outdoor music festival indicated people associated energy with it. (Flawed survey?) 3. 34% said consumed energy drink in last six months (Good or Bad?) 4. Can differentiate from the existing norm of craziness, rock music, extreme sports by taking a safer approach. (Doesn't make sense since its energy to stay calm??) 5. Strong differentiatiors. 6. Growing demand in 2010-12. (Outdated? Before negative media attention) 7. Largest competitor owns 34% of market.
Why energy drinks is bad:
1. Not as much energy as competitors. Healthy is not what consumers want. 2. Flawed survey?
3. 66% don't consume?
4. Be healthy when going crazy??
5. Too different from prevailing.
6. Negative media attention.
7. Aimed primarily only at 18-24 males.
8. Only 9% think its too sweet.
Others:
1. Non alcoholic beverage market estimated to be $131b and projected to grow to $164b by 2018. 2. Service differentiation? Go for different selling method (Place) to escape from distributor mark ups. Max profit. Hooper wanted online store. Had processed under 1,000. Can win over these customers.
Related Topics