Corporate Policy and Ethics at TechFite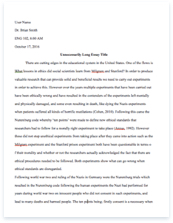 The whole doc is available only for registered users
A limited time offer! Get a custom sample essay written according to your requirements urgent 3h delivery guaranteed
Order Now
Abstract
TechFite is a company based in the United Kingdom that has recently expanded its manufacturing operations to the United States. TechFite has an outstanding reputation as an organization that empowers its members through different ways including leadership development and facilitation of employee relations.
The company also strongly believes in the importance of community involvement. However, the company is undergoing challenges with employee relations and its contributions to the community at their new operations in the United States. To ensure that the same organizational values, goals and objectives are implemented at the new US location it is necessary to create new policies to address these issues.
 Corporate Policies
Employee rights are a fundamental part of our corporate culture and we recognize its importance to sustaining a business. We are committed to creating a diverse and inclusive working environment which values everyone's talent and abilities and where diversity is encouraged. We believe in the fair, consistent and equitable treatment for all employees. We will treat our employees with dignity and respect to promote a trusting work environment free of harassment, intimidation and unlawful discrimination.
It is usually unlawful or violates our policies and values to engage in any conduct that negatively affects another person based on gender, race, skin color, sexual orientation, religion or any other discrimination forbidden by local law.
TechFite recognizes that its employees are its most valued assets and therefore is committed to attracting, motivating and retaining the best people to meet our company needs. We recognize the need to offer total compensation packages that are attractive, fair and competitive in the job market and which fulfill our legal obligations. Employees are rewarded based on their ability and their contribution to the organization. We will ensure that our pay levels are in line with the local market, we will regularly review our employment practices to ensure we stay competitive within the market as well at meeting any changes in legal requirements.
It is understood that recognizing good performance may be in the form of non-financial rewards ranging from a simple thank you to more formal recognition.
Employee Community Involvement
TechFite recognizes the contributions that an employee can make by volunteering in their community. Employee volunteers contribute time, skills and enthusiasm to get things done. Skilled employee volunteers can not only provide the professional skills which voluntary organizations struggle to afford, but also help the organization's own staff. Volunteers, in turn, develop new skills and increased confidence.
Employees are eligible for a maximum of 2 volunteering days in any 12 month period, which is paid time away from work to carry out volunteer activities. However, time off must be agreed in advance with the your supervisor.
Related Topics