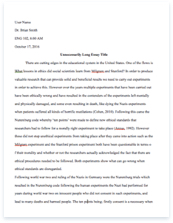 The whole doc is available only for registered users
Pages: 7
Word count: 1673
Category: Control
A limited time offer! Get a custom sample essay written according to your requirements urgent 3h delivery guaranteed
Order Now
This report seeks to examine and evaluate the gaming control practices implemented in Sands Hotel and Casino before exploring the possibilities of its application in other gaming casinos and industries. The control system at Sands comprises of its control of cash and the movement of cash within the casino and, control of operation at the casino table. The control of cash at Sands is further subdivided into accountability, standard operating procedures during filling and security at the countroom. Firstly, individuals are held accountable for the cash charged out to them and large shortages were grounds for dismissal. Secondly, formal procedures have been put in place for the transfer of chips. These procedures include filling the opener slip and counting chips inventory when the table is opened, issuing counter checks when purchases are made, requesting for the fill slip when more chips are needed at the table and inventory count when the dealer's shift is over. Additional controls include tracking the delivery time of chips transportation during filling. Lastly, there is tight security in the countrooms where the counting processes are done under strict supervision of closed-circuit surveillance.
Counting personnel are also required to wear pocketless jumpsuits and carry personal belongings in clear bags. Control of operation at the casino table can be subdivided into four categories. Firstly, only licensed personnel are hired. Obtaining this license requires the completion of a gaming course, extensive personal and family background search and for those in supervisory and policy-making positions, five years of personal financial statements and tax returns. Secondly, dealer's actions at the table were standardized to prevent dealers from pocketing cash or chips. Thirdly, all dealers are supervised by their floor people and pit bosses, and all activities in the casino are under surveillance via closed-circuit cameras and "eye in the sky". Lastly, operations at the table are controlled by the drop, win and hold percentage that was obtained from the master game report (MGR). Given the stringent control practices mentioned above, Sands' management can be proud of their control system given that its standard was high for casinos in the 1980s.
Nonetheless, Sands seems to have overlooked the more minute details which we will cover briefly in the context of Black Jack below. Sands lack the existence of a secondary set of gaming chips. Sands may opt to invest in a secondary set of chips in a different color scheme for edge spots rather than the primary set so that it can be utilized during situations where a casino suspects the use of counterfeit chips. Alternatively, Sands may wish to RFID its chips to prevent fraud since RFID-enabled chips can be uniquely tagged to form a secure and reliable verification method of the chip's authenticity. RFID chips can also prevent the loss of high-value chips as it triggers off exit alarms when they are brought out of the casino. Most casinos adopts the practice of using at least four decks of identical poker cards for Black Jack to prevent the problems with regards to card counting. The cards should be shuffled using an electronic shuffler and dealt from a card shoe or other devices approved by the authority. Fill slips used by the fill bank cashiers should be multi-ply and in running sequence.
During filling, chips should be counted in front of security and the fill slip signed by both parties before it is transported together with the gaming chips to minimize any accountability disputes between the fill bank cashier and security should the value of chips not reconcile after transfer. Sands may also consider tamper-sealing and tagging the fill boxes with RFID to reduce the likelihood of employee theft. Lastly, it is essential to perform crediting, which is the act of removing excess chips from gaming tables. A Credit Request Slip, stating various information, including denominations of chips and table number, should be prepared by a pit clerk to the chip bank. Removing excess chips from a table helps increase control and security. Such uniform, comprehensive and well-established control practices are needed across all Sand's casinos, including Singapore's very own Marina Bay Sands, for a consistent guest experience for patrons in view of its international presence. In general, Sands satisfies the five dimensions of service quality, especially "Reliability" and "Tangibles".
The nature of the gaming industry calls for the need to provide a secure environment especially in the areas of "reliability" and "tangibles". Managing cash movements appropriately through the means of standard operating procedures can address the issue of "reliability"; on the other hand, ensuring surveillance are well-maintained provides patrons with a sense of security, fulfilling the "tangibles" of a gaming establishment ought to have. Sand's international presence also requires its management to modify its control system in light of differences in national cultures and regulations instructed by the government or its regulatory body. For instance, Sands Singapore needs to adhere to additional control practices imposed by the Casino Regulatory Authority (CRA) by imposing an entry levy of $100 to Singaporeans and Permanent Residents. Besides regulations, Sands should be concerned with profitability and employee satisfaction. The group recommends training, empowerment and an internal hire policy as important factors when addressing these two issues. Sands Singapore should ensure that employees are well-trained in their technical and soft-skills prior to empowering them.
The ability to handle angry guests and spot cheating behavior may increases patron's 'confidence' and 'integrity' in Sands staff, which are dimensions affecting the quality of employee-customer interaction. Staff should also be empowered to "wow" their patrons. This can take place in the form of in many forms, the simplest being retrieving a casino jacket for patrons who feel cold. Such actions has the potential of increasing emotional satisfaction of patrons, thereby retaining guests loyalty and encouraging higher spending. Apart from addressing patron's needs, Sands should also look at increasing its employee satisfaction in the form of good corporate culture, an internal hire policy and a reward system. Cultivating good company culture and beliefs can create a sense of community for Sands employees. Practicing an internal hire policy where employees who performed well have greater opportunities in career advancement and promotion can lead to increased morale and higher levels of employee engagement.
Implementation of a reward system that shows how Sands values their employees can help attract, retain and motivate high-quality people. These systems will hopefully increase retention, productivity and decrease employees' tendency to conduct in unethical behavior. Nevertheless, Sands must bear in mind the trade-off between empowerment and control. As such, boundary systems should be put in place to guide employees on the appropriate code of conduct and ethical standpoints. It should be conveyed that any act of empowerment beyond employee's limit must be approved by the pit boss and any breach of conduct results in penalties. Coupled with the strict control measures already in place, empowerment with limits would be an effective way to increase customer and employee engagement (hence maximize financial performance) while still maintaining control. Controls at the Sands Casino were designed for an ultra-high level of security, in order to minimise loss of profits. Before we apply the controls to another industry, we must understand three vital conditions that must be fulfilled in order to justify the measures, they are:
1) when the item in question is either of value or controlled, thus causing an incentive to steal. 2) When the nature of the item makes theft easy or hard to detect immediately, such as small (pocket-able) items. 3) When the loss of that item would have adverse impact on financial performance. Bearing the above-mentioned conditions in mind, we have identified industries which may benefit from the controls. Controlled products refer to goods, materials or substances which are regulated either due to national security concerns, dangers to health, environment or ethical considerations. For example, in 2007, a national serviceman went AWOL with his rifle and 8 live rounds. Besides the danger posed to the general public, it also reflected a serious lapse in security. In the SAF, there are formal procedures when it comes to issuing ammunition and arms, similar to that of Sands. When drawing arms, both the soldier and armstoke man have to sign an "opener" prior to activity and "closer" at the end of which.
Periodic monitoring of staff are conducted in the form of "check-points" and timed routes, not unlike surveillance in Sands. Unlike a casino, the number of live ammunition issued will not fluctuate during the course of an activity, and will a predictable number. For example, in normal circumstances, during guard duties zero rounds should be expended. Whereas in a rifle range, all the rounds should be expended. Thus, accounting for ammunition should theoretically be simpler. Industries involving the sale of small luxury items are also often at risk because their portability and value creates strong incentives to be stolen. Theft is usually difficult to detect immediately, thus creates a window of opportunity for the perpetuator to get away. Even though such businesses usually have security measures in place to guard against theft by outsiders, employee theft are harder to detect owing to the fact that employees are familiar with the security measures and may potentially find a loophole.
For example, in December 2008, an ex-employee of Cortina Watch Boutique stole S$7.9 million worth of goods from the shop at Raffles City and managed to escape the country before the theft was discovered. Most luxury boutiques have basic security measures in place, such having surveillance cameras installed. They will also have a store manager in-charge to observe any suspicious behavior, either from potential customers or employees. Nevertheless, unlike casinos, employees at the boutique do not have formal licensing. They are hired as long as they fulfill the organization's requirements. There are also no formal procedures when handling items as employees are freely allowed to remove the items from display at any time, so as serve a customer. While necessary for ease of business, this creates a vulnerability that could be exploited.
Related Topics