Do the consumers' perceptions of a brand collaborate with the actual qualities of a brand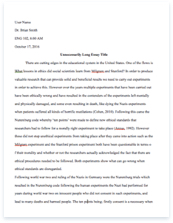 The whole doc is available only for registered users
A limited time offer! Get a custom sample essay written according to your requirements urgent 3h delivery guaranteed
Order Now
Consumers have a wide choice of branded products in the modern world each with its own attributes and added value to the consumer. However with rapid innovation and technology it has become increasingly difficult to compare various brands with each other and marketers are using every aspect of the marketing mix to target and persuade consumers that their brand is the best.
This essay investigates whether consumer perceptions of brands are accurate and then explores the reasons why, looking at how consumer perceptions form and how the brand is able to reflect certain images to influence the consumer.
Introduction
This essay investigates if consumer perceptions and images of a brand are accurate. I will be using information from various scholars who have studied this subject, as well as my personal experiences to look at how perception is formed and why it differs from actual brand qualities.
The objectives of this essay are to:
* Show that consumer perceptions differ to the actual qualities of certain brands.
* Suggest reasons why this differentiation occurs
* Explore the formation of consumer perceptions in relation to brands
* Explain why they are formed in this fashion.
I will then conclude the essay by summing up the evidence and arguments to give the main reason(s) for the differences between perception and brand qualities.
Firstly an analysis of the title will provide a better understanding of the aims of the essay and a better guide for me to follow by.
Perception, 'is the process of selecting organising and interpreting information inputs to produce meaning' (Dibb, 1991,pg 119) I also think 'Image' is an appropriate word for use, 'a functional and psychological picture in the consumer's mind.' (Dibb, 1991,pg 438)
This definition of perception tells us that it is a subjective process formed by information intake, and therefore has the potential for large variations.
The word 'Selection' means that each person can choose information from wide variety of sources, leaving the potential for bias. With the use of marketing and advertising however subliminal or subconscious messages may be passed to the consumer without their conscious selection of that information.
The 'interpretation' of information is obviously going to differ from person to person as they evaluate using their intellect, attitudes and knowledge. The end result in ones perceptual processes will be an evaluation or the creation of an 'image' that represents a collection of attitudes and feelings towards a product.
Consumer's buying processes are very complex and so when forming perceptions and purchase decisions about products, we need to consider that consumers use different levels of product knowledge to aid them in their decision.(Peter,Olsen,Grunert.1999.pg62) A useful distinction of different levels of product knowledge is the product class, product form, brands and models where a pyramid hierarchical structure exists. Consumers acquire separate meaning concepts and combine them into larger, more abstract categories of knowledge to attribute more meaning to the product. For instance, the footwear category branches out into various specialised categories from mountain climbing to basketball. These categories can then be divided into different types as well meaning that consumer knowledge can vary between levels.
We as consumers view brands in a similar way to this, a collection of attributes that we then combine to form the overall image or perception of a brand. (Peter, Olsen, Grunert, 1999. pg65) Some attributes will be better or more desirable than others and it may be only one attribute that results in the purchase of a brand over a close substitute. For instance one may evaluate a pair of Nike trainers by their price, comfort, quality, fashionability or availability, the purchase decision may be based predominantly on the attribute of price, perhaps in the event of a reduction in a sale, however other factors will be considered by the consumer In a mental list of most important attributes down to the least.
A 'brand' refers to point of differentiation between two products, carrying the name of the manufacturer or the retailer and the specific name of the actual product. The difference between a brand and a commodity can be explained by 'added values,' a brand is more than just the sum of all its attributes, it also embodies additional intangible attributes to the purchaser affecting at an emotional level. Marketers emphasise the particular 'qualities' of their brand through aspects such as the brand name, packaging, shelf location and other such cues which give information to the consumer about the nature of the product. They do this through the marketing mix, consisting of product, promotion, price and distribution. Using these elements marketers can position the brand in the consumers mind and attempt to influence them to buy their brand over rival brands.
The place or distribution variable refers to the availability of the product to the right people whilst keeping costs as low as possible. Promotion is the communication to one or more groups in order to stimulate awareness, increase interest or to educate about product features. The product variable refers to all the aspects of the actual product like the packaging and actual attributes. The price variable is obviously associated with the price of the product in relation to demand and market forces.
One useful term that distinguishes brands from commodity items is that of 'brand equity.' This comprises of three components, the characteristics of a brand, how they affect its strength and how this is reflected in its financial value. Brands consist much more than just their physical value, it is the intangible value of brand loyalty, brand name awareness, perceived brand quality and brand associations which make up the overall brand equity, representing the marketing and financial value of brand strength in the market.
This is an important concept because it goes beyond the bounds of tangibility and takes an all around perspective of the brand. Brand equity has to be built over time and expenditure through careful planning and management. The aim is to create a standardised perception of the brand, desired by the manufacturers, from the consumer point of view.
Consider a brand like 'Marlboro cigarettes.' Even to non-smokers it has connotations of a high quality brand with it's distinctive packaging and high advertising expenditure. A large percentage of people could also link the 'cowboy' image to the brand, representing the rough masculine characteristics of the brand and the notion of American freedom, suggesting a suitable market segment and sustaining a desirable image for people to aspire to.
Related Topics