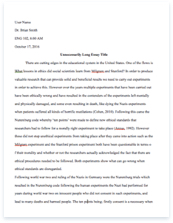 The whole doc is available only for registered users
A limited time offer! Get a custom sample essay written according to your requirements urgent 3h delivery guaranteed
Order Now
I stayed at your hotel from 3-5 November 2006, and I experienced a traveler's nightmare during the visit: unsafe conditions; inadequate maid service, and very disappointing surroundings. This is not at all what I had been expecting.
In early September, in the New York Times, I saw an advertisement for a package tour to Southville, Florida (see enclosed newspaper clipping). The ad promised fabulous ocean views; quiet, relaxing surroundings; newly decorated rooms; and the use of a private beach, with all meals and activities included for $1059. This sounded wonderful, and since I have a very stressful job and really needed a vacation, I promptly made a reservation.
However, what I found when I arrived on 3 November made it clear that I had been a victim of false advertising. There were no ocean views – only a view of a very busy street. It was terribly noisy, and definitely not relaxing.
Also, my room, 203, certainly did not appear clean, not to mention 'newly decorated'. When I entered the room upon my arrival on 3 November at 3pm, the bed had not been made, there were black marks on the walls, and the windows were wide open. In addition to the inadequate maid service, a ceiling light was broken, and looked dangerously close to falling down. The armchair was very old and smelled of smoke, and the TV stand looked like a cheap piece of wood. In fact, the TV itself looked as if it were more than 20 years old, and there was terrible reception.
To make matters even worse, the beach was closed on both Friday and Saturday. On Sunday, when it finally opened again, it was time for me to leave.
Due to this apparent false advertising, I asked the front desk receptionist, Ms Patsy DeBuck, if I could talk with the manager. She informed me that you were at a conference and would not be back until Monday, and she advised that I send you a letter with my concerns.
Although there is no way to make up for my very disappointing and stressful weekend – a weekend I had badly needed to relax, I would greatly appreciate a refund of $530, half the package cost, as a small compensation for this. For your reference, a copy of my receipt is enclosed.
Thank you very much for your attention to this matter, and I look forward to hearing from you soon.
Related Topics