Competitor Analysis of MAC Cosmetics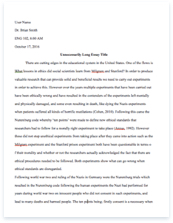 The whole doc is available only for registered users
A limited time offer! Get a custom sample essay written according to your requirements urgent 3h delivery guaranteed
Order Now
A. Business Analysis:
Makeup Art Cosmetics (MAC) was founded in 1985 in Toronto by Frank Toskan and the late Frank Angelo. The BUSINESS PLAN concentrated on targeting young, fashionable females by creating cosmetic products which contain unique textures and colours. Using this strategy, the company targeted the celebrities and other cosmetic influencers to gain recognition and market share in the younger consumer market. Since its inception, the company has grown to become a multi-national organization operating in over 180 locations worldwide. In the late 1990ЎЇs, MAC was purchased by Estee Lauder, which has led to the alteration of the companyЎЇs governance; the culture of the firm changed from that of an entrepreneurial-style with limited rules into a culture dominated under a stricter control by top management.
There is a medium power distance between managers and associates. Evidence supporting a high power distance is that promotions are based on job performance and not on obedience.; employees are individually reviewed at the end of each year by their superiors and are rewarded with salary increases and promotions based on their review. The organizational design and structure is vertical with a tell pyramid since MAC directors now have to report to Estee Lauder top management.
1. Maybelline:
Strengths –
a.Maybelline has the top research and development teams and resources through their parent company L'Oreal
b.The Maybelline has a coveted image of hip, intelligent, stylish and CHARMING
c.Strong market penetration and BRAND loyalty
d.Low prices due to LOW COST of production
e.Different versions of product are produced for each country
Weaknesses –
a.Despite being a popular brand, cosmetics industry has intense competition and hence limited market share
b.Sometimes COSMETIC PRODUCTS don't suit people with sensitive skin
2. Maxfactor:
Strengths –
a.Strong and effective marketing and promotion
b.Widely spread distribution network
c.Strong market penetration and BRAND loyalty
Weaknesses –
a.High price limits the target customers
b.Despite being a popular brand, cosmetics industry has intense competition and hence limited market share
3. Revlon:
Strengths –
a.First international color COSMETICS BRAND to be launched worldwide
b.Formed a collaboration with many firms which helped expand in India
c.Endorsed by popular artists in USA
d.Good quality products
e.A global BRAND NAME with association with many international celebrities
f.Has a workforce of over 7000 employees
Weaknesses –
a.Many players in the market restrict market SHARE
b.Brand penetration is mostly in the cities
Related Topics