Comparing and Contrasting Four Leadership Models and Theories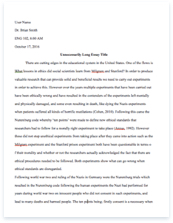 The whole doc is available only for registered users
A limited time offer! Get a custom sample essay written according to your requirements urgent 3h delivery guaranteed
Order Now
The following paper outlines the comparison and contrast of four leadership models and theories. The purpose of this paper is to acquaint readers with the basic concepts underlying each model and theory. A review of the scholarly studies on leadership shows that there is a wide variety of different theoretical approaches to explain the complexities of the leadership process (e.g., Bass, 1990; Bryman, 1992; Gardner, 1990; Hickman 1998; Rost, 1991). Some researchers conceptualize as a trait, or as behavior, while others view leadership from a political perspective, or from a humanistic viewpoint.
The paper begins with a description of leadership trait theory, a theory that concerns itself solely with leader characteristics. Following this, two theories are reviewed. They are: transactional leadership and contingency approach to leadership. The paper concludes with a look at transformational leadership. Although these leadership theories or models could be considered contingency models, they are addressed separately because of the emphasis that they place on morality and follower development.
Trait TheoryIn the early 1900s, leadership traits were studied to determine what made certain people great leaders. The theories that were developed were called, "great man" theories because they focused on identifying the innate qualities and characteristics possessed by great social, political, and military leaders (e.g. Thomas Jefferson, Abraham Lincoln, and Mohandas Gandhi). It was believed that people were born with these traits and only "great" people possessed them. During this time research concentrated on determining the specific traits that clearly differentiated leaders from followers (Bass, 1990; Jago, 1982). Although different researchers identified a variety of leadership traits and characteristics, it is generally thought that there are five major leadership traits: intelligence, self-confidence, determination, integrity, and sociability.
In the mid-1900s, the trait approach was challenged by research that questioned the universality of leadership traits. In a major review in 1948, Stogdill suggested that no consistent sets of traits differentiated leaders from non-leaders across a variety of situations. An individual with leadership traits who was a leader in one situation cannot be a leader in another situation. Rather than being in quantity that individual possessed, leadership was reconceptualized as a relationship between people in social situation (Stogdill, 1948).
Because the trait approach focus on the leader, however, and not on the followers or the situation, researchers failed to discover any traits that would guarantee leadership success. Early trait theorists assumed that leadership was innate. They failed to acknowledge that being in a leadership role might facilitate the development of leadership traits. Also the theory neglected to account for why some individuals might be effective leaders in certain circumstances yet not in others.
The trait approach has several strengths. It is intuitively appealing and fits in our notion that leaders are the individuals who are "out front" and "leading the way" in our society. The trait approach is consistence with this perception because it is built on the premise that leaders are different and their difference resides in the special traits they posses. In addition to its strength, the trait approach has several weaknesses. As Stogdill (1948) pointed about 50 years ago, it is difficult to isolate a set of traits that are characteristics of leaders without factoring situational effects into the equation as well. Furthermore, this trait has resulted in highly subjective determinations of the "most important" leadership trait.
Transactional LeadershipTransactional leadership is based on the exchange between leaders and followers. Transactional leaders exchange things of value with subordinates' to advance their own as well as their subordinates' agenda (Khunert, 1994). It is effective because it is in the best interest of followers to do what the leader wants (Khunert & Lewis, 1987).
There are four types of behavior that are associated with transactional leadership: contingent reward, active management by exception, passive management by exception, and laissez-faire leadership. Contingent reward behavior includes the clarification of what is expected of followers in order to receive rewards, such as money and time-off, are used as incentives to motive followers to perform. Management by exception refers to leadership that utilizes corrective criticism, negative feedback, and negative reinforcement. A leader employing active or passive form of management by exception is always on the lookout for problems and corrective measures following a minor mistake or rule violation by a follower. Laissez-faire leadership is descriptive of a leader who acts indifferently to followers and who is not concerned with the mission. This type of leader abdicates all leadership roles and responsibilities.
Although transactional leadership is effective in certain situations, there is increasing evidence that it is not an effective leadership model for achieving long-term objectives. Followers are motivated to perform certain tasks, contingent upon rewards, but transactional leadership fails to motivate followers to perform beyond their basic job requirements. Furthermore, although transactional leadership focuses on the exchange between the leader and followers, it is the leader who has the power and who controls the terms of the relationship.
Transactional leadership diverges from transformational leadership in that the transactional leader does not individualize the needs of subordinates nor focus on their personal development.
Contingency TheoryAlthough several approaches to leadership could be called contingency theories, the most acceptable is Fielder's (1964, 1967; Fielder & Garcia, 1987) contingency theory. It is called contingency because a leader's effectiveness depends on the fit between style (task or relationship oriented) and context (type of positional power, a type of organizational structure, and quality of leader-follower relationships). This model combines these factors to predict a leaders' effectiveness in a given context.
Within the context of contingency theory, task- motivated leaders are primarily concerned with reaching a goal, whereas relationship-motivated leaders are concerned with developing close interpersonal relationship. In order to measure leaders styles, Fielder (Fielder & Garcia, 1987) developed the Least Preferred Co-Worker (LPC) scale. Leaders who score high on this scale are described as relationship motivated and those who score low on the scale are identified as task motivated.
Notwithstanding, according to Fielder (1997), the relationship between a leader's LPC score and leadership effectiveness also depends on situational variables characterized by assessing three factors: leader-member relations, task structure, and position power. According to this model leadership situations may be classified in one of two ways for each of these three characteristics. Together, these three situational factors determine the favorableness of various situations in organizations. Situations that are rated most favorable are those having good leader-follower relations, defined tasks and, and strong leader position power. Situations that are least favorable have poor leader-follower relations, unstructured tasks, and weak leader position power.
However, according to researchers, it is not entirely clear why leaders with high LPC scores are effective in moderately favorable situations or why leaders with low LPC scores are effective in both very favorable and very unfavorable situations. Fielder's (1995) current interpretation provides the following reasoning that leaders who's LPC does not match a particular situation experiences stress and anxiety, revert to less mature ways of coping what they have learned in early development and a leader's less mature coping style results in poor decision making, which results in negative outcome.
Contingency theory represents a shift in leadership research from focusing on only the leader to looking at the leader in conjunction with the situation in which the leader works. In our present day where the issue of how to be a successful leader is of paramount importance, contingency theory offers an approach to leadership that has a long tradition. The theory also provides data on leaders' styles that could be useful in developing leadership profiles.
Unlike other leadership approaches like transformational and transactional leadership that doesn't provide a clearly defined set of assumption about how leaders should act in a particular situation to be successful, contingency theory is predictive and therefore provide useful information regarding the type of leadership that will most likely be effective in certain contexts.
Transformational LeadershipTransformational leadership is one of the "New Leadership" paradigms (Bryman, 1992). As its name implies, transformational leadership involves assessing followers' motives, satisfying their needs, and treating them as full human beings. It is a process that subsumes charismatic and visionary leadership. It is not thought to involve an exchange to be between leader and follower such as exists for transactional leadership. Instead, transformational leadership focuses on the process by which the leader engages with followers, and together create a connection that raises each of them to a level of motivation and morality.
Transformational leadership is concerned with the performance of followers and also with developing followers to their fullest potential (Avolio, 1999; Bass & Avolio, 1990a). Individuals who exhibit transformational leadership often have strong set of values and ideals, and they are effective at motivating followers to act in ways that support the greater good rather than their own self-interests (Kuhnert, 1994).
There are four main factors that have been associated with transformational leaders: idealized influence, inspirational motivation, intellectual stimulation, and individualized consideration. To create change, transformational leaders become strong role models for their followers. They have a highly developed set of moral values and a self-determined sense of identity (Avolio & Gibbons, 1988). They are confident, competent, and articulate, and they express strong ideals. They listen to followers and are not intolerant to opposing viewpoints. A spirit of cooperation often develops between these leaders and their followers. Followers want to emulate transformational leaders because they learn to trust them and believe in the ideas for which they stand.
It is common for transformational leaders to create a vision. The vision emerges from the collective interests of various individuals and units within an organization. The vision is focal point for transformational leadership. It gives the leader and the organization a conceptual map for where the organization is headed; it gives meaning and clarifies the organization's identity. Furthermore, the vision gives followers a sense of self-efficacy (Shamir et al., 1993).
In contrast to transactional leadership, transformational leadership has several positive features of the transformational approach, including that it is a current model that has received a lot of attention by researchers, it has strong intuitive appeal, it emphasizes the importance of followers in the leadership process, it goes beyond the traditional transactional models and broadens to include the growth of followers and it places emphasis on morals and values.
ConclusionsAs this paper explored vividly four leadership models and theories, it is possible to organize them in a variety of ways, conceptualizing the leader, follower, situation, triadic relationship is important; it is a reminder that, leadership doesn't occur in a vacuum. Researchers believe that many of the difficulties with leadership standards and competency framework lie more than in the manner in which they are applied rather than in their content per se.
It is obvious that, as a tool, researchers can offer a powerful means of engaging organizations, and the individuals within them in a dialogue about the nature of leadership and management; they can offer guidance and examples of good practice that can prove helpful in the development of managers and leaders; and they can provide a structure that offers a sense of security for both individuals and the organization as a whole.
Researchers imply that the issue of leadership is a journey rather than the destination that is most important. If used inductively, as a means for opening dialogue about management and leadership within organizations rather than deductively, for prescribing what managers and leaders should do, standards and competencies can offer a way of addressing both individual and organizational needs within a situational context.
References
Avolio, B.J. (1999). Full leadership development: Building the vital forces in organizations.
Thousand Oaks, CA: SageAvolio, B.J. & Gibbons, T.C. (1988). Developing transformational leaders: A life spanapproach.
Bass, B.M., & Avolio, B.J. (1990a). The implications of transactional and transformationalleadership for individual, team and organizational development. Research inOrganizational Change and Development, 4, 231-372Bass, B.M. (1990). Bas and Stogdill handbook on leadership. A survey of theory and research,New York Press: Free PressBryman, A. (1992). Charisma and leadership in organizations. London: SageFielder, F.E. (1964). A contingency model of leadership effectiveness. In L. Berkowitz (Ed.),Advances in experimental social psychology (Volume. 1, pp. 149-190). New York:Academic Press.
Fielder, F.E. (1967). A theory of leadership effectiveness. New York: McGraw-HillFielder, F.E. & Garcia, J.E. (1987). New approaches to leadership: Cognitive resources andorganizational performance. New York: John Wiley.
Fielder, F.E. (1995). Reflections by an accidental theorist. Leadership Quarterly, 6(4) 453-461Gardner, J.W. (1990). On leadership. New York: Free PressHickman, G.R. (Ed.) (1998). Leading Organizations: Perspective for a new era. ThousandOaks, CA: SageHill, M.A. (19184). The law of the father. In B. Kellerman (Ed.). Leadership:Multidisciplinary perspective. Englewood Cliffs, NJ : Prentice HallKuhnert, K.W. (1994). Transforming leadership. Developing people through delegation. In B.M. Bass & B.J. Avolio (Eds.). Improving organizational effectiveness through transformational leadership (pp. 10-25). Thousand Oaks. CA: sageKuhnert, K.W. & Lewis, P. (1987). Transactional and transformational leadership. A constructive/ developmental analysis. Academy of Management Review. 12(4)., 648-657.
Rost., J.C. (1991). Leadership for the twenty-first century. New York: Praeger.
Shamir, B. House, R.J. & Arthur, M.B. (1993). The motivational effects of charismatic leadership: A self-concept based theory. Organization Science. 4(4), 577-594.
Stogdill, R.M. (1948). Personal factors associated with leadership. A survey of the literature. Journal of psychology, 25, 35-71
Related Topics