Compare and Contrast of " Sunny's Blues " and " Cathedral "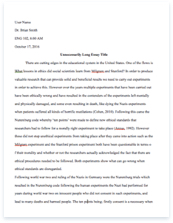 The whole doc is available only for registered users
A limited time offer! Get a custom sample essay written according to your requirements urgent 3h delivery guaranteed
Order Now
The two stories that will be examined in this essay are two that may not appear to have a great deal in common, but once we look deeper in to the stories it becomes clear that they are similar but still have their own identities, finding strong differences and similarities is the goal of this paper. These stories are " Cathedral " which was written by Raymond Carver in nineteen eighty three, and " Sonny's Blues " which was written by James Baldwin in nineteen fifty seven. Both writers Baldwin and Carver were American writers and poets that were famous for there stories spanning across three decades.
Starting with " Cathedral " it deals with three people, a wife and her blind friend Robert who is visiting, and the husband who is the narrator. The narrator is very uncomfortable with the fact that Robert is blind, he sees him as less of a person also he is a little jealous of the closeness Robert has with his wife that he himself is lacking. In a scene in which all three characters are talking the narrator says " My wife finally took her eyes of the blind man and looked at me. I had the feeling she didn't like what she saw. " (103). The story however revolves around a single evening in which the narrator and Robert form a friendship that seemed unlikely. " Sonny's Blues " The story opens up with the narrator learning that his brother Sonny has been thrown in jail for selling drugs. Once Sonny as served his sentence his brother picks him up from the prison and brings him back to his home until Sonny can get back on his feet. Sonny ventures out on his own and finds peace in music and the narrator and Sonny learn to respect each other and love each other once again. Both stories deal with overcoming boundaries, accepting people for who they are, and saving important relationships.
Something that is nearly identical in these stories is how in the beginning both narrators have trouble talking to the other protagonist. When Robert from " Cathedral " first comes to the house the narrator is very uncomfortable and struggles to find something that he can talk to Robert about, luckily for him his wife does most of the talking at least early in the story, " for the most part, I just listened. Now and then I joined in "(104). In " Sonny's Blues " when the narrator picks up Sonny from prison, he also has difficulty communicating with the other protagonist, " We had a lot to say to each other, far too much to know how to begin "(267). Same with this narrator, his wife was able to do most of the talking " She chatted as though there were no subject which had to be avoided and got Sonny past his first, faint stiffness "(268).
This later continues in both stories, in " Cathedral " the narrator's wife who has done nearly all of the talking with Robert, leaves the room for a short while and when she comes back she soon falls asleep, leaving the narrator alone with Robert, " I wished she'd come back down stairs. I didn't want to be left alone with a blind man " (105). " Sonny's Blues " has a similar situation in which the narrator is alone at home and Sonny enters the house and tries to start up a conversation with his brother the narrator. The narrator is still unsure what to say to Sonny and instead just listens to him only speaking when necessary, " And something told me that I should curb my tongue, that Sonny was doing his best to talk, that I should listen. "(277).
Both stories start with the narrators being very uncomfortable with their fellow protagonists however they slowly are able to be with their guests without feeling the immense pressure. At the end of " Cathedral " Robert and the narrator are watching a T.V program talking about cathedrals and Robert asks the narrator to describe it to him. The narrator struggles to verbally describe the building so Robert has him draw it while he places his hand on the narrator's while he draws, the T.V program ends and the station is off the air but the narrator does not care, he is enjoying himself and is immersed in what he is doing with Robert " I couldn't stop. "(109). The wife even wakes up and begs to know what they are doing but neither of them care much and continue with the experience they are having together.
In " Sonny's Blues " the narrator and Sonny go to a club where Sonny will be playing with his band, the narrator is still slightly uncomfortable with Sonny but once he hears Sonny playing and sees all of Sonny's friends gathering around him and loving him, he realizes that Sonny is his own man. The trouble the narrator had with Sonny is that even though he and Sonny are both adults now he still feels the need to tell him what he needs to do. But once he sees that Sonny is happy and in a good situation that Sonny attained all by himself, the narrator finally realizes that he no longer needs to keep his promise to their mother to look out for him. One obvious difference is that Sonny and the narrator in " Sonny's Blues " are brothers and when their mother died she asked the narrator to look out for Sonny, he tried but had a hard time always being there for him. Robert and the " Cathedral " narrator have just met and are only together through a third party, the narrator's wife. However both stories progress in a similar fashion, they both are rough at the start and conversation is hard for both narrators, they both also have a third person that can talk to Robert and Sonny, in their wives. But later in the stories the wives are not there to help with the tension the narrators are feeling.
Some could say that the meaning behind both these stories is that one must accept people for who they are, and not to judge a book by its cover. But there could be many meanings, meanings that would require a even deeper look into these stories, maybe with these stories what you put into them is what you'll get out of them.
Works Cited
Jan Zlotnik Schmidt, L. C. (2013). Protable Legacies, Second Edition. Boston MA: Michael Rosenberg.
Related Topics