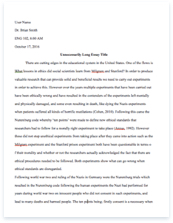 The whole doc is available only for registered users
A limited time offer! Get a custom sample essay written according to your requirements urgent 3h delivery guaranteed
Order Now
Blood was the first thing that I had seen when I walked in to the E.R. of NYHQ in Flushing, Queens. A young man, about the age of 25, had been injured in a car accident. There was blood running down the left side of his face. This reminded me of one of my favorite television series, "HOUSE," the only difference was that this was reality. I was standing in the middle of the emergency room in a real hospital, a hospital full of real sick people.
Community service means much more to me than completing hours for a class or for a more appealing résumé. It builds character, leadership, and integrity. It transforms regular humans in to leaders and more passionate citizens. Community service also stands as a foundation builder to become a more caring person. It opens up to many opportunities that can carry a very long way throughout your life. Serving my community is another level of accomplishment. The definition of accomplishment can vary from person to person. Accomplishment can be viewed as wealth and fame by some and others may see accomplishment as the things they get done in their daily work. To me, the joy one experiences from personal satisfaction is the true meaning of accomplishment.
My job at New York Hospital Queens was to take care of patients in the emergency room. I was a loved hospitality volunteer. I handled every unit from pediatrics to trauma. I was the only all rounder on the volunteer team. I handed out water, magazines, toothpaste, toothbrushes, cups, plates and food to patients when needed. I guided people to the correct rooms where they needed to go to visit a loving family of friend. Asking patients if they needed any assistance, even when they didn't was my great skill. Many volunteers did only what the nurses asked them to, I did not only that but much more. Receiving blessings and a "thank you" from someone you do not know is the greatest accomplishment in doing community service. On days that the hospital was not very busy, the nurses had me run simple errands. These errands such as grabbing medicine from the pharmacy or delivering papers to another floor helped me develop skills on how to interact and connect with people.
While volunteering in the hospital, I highly considered a career in the medical industry. Eventually I found out, none of this was for me. Going to work in a suit, and not in scrubs, was my real dream. Although working in the emergency department is one of the hardest jobs that can be imagined, this great experience will never be forgotten or fully explained with words. The temporary relationships I built with the patients made me feel like I was helping my community one person at a time. As Bill Clinton once stated, "This world calls for a little humility and human kindness." This is very accurate. Volunteering is all about humility and kindness. Service makes one humble and brings out the kindness from within.
Community service also helps students who want to be prosperous in the work environment and ascertain numerous skills. It is recommended that students engage themselves in vast amounts of activities, including community service, throughout their college years. As stated in a message from David Eisner, "America needs more mentors saving our children and our country from generations of hopelessness, poverty and prison." Volunteering some of your time can help others gain a path to a great life. What one can gain from service is analytical and problem solving skills, ability to be your own motivation, organization skills, how to be the frontrunner, and how to handle ethical issues. The most essential of them all, is being able to develop time and task management. It is important to know how to balance every aspect of your job.
Besides a career, everyone has a personal life and at some point some might have a family. Stability in your life is a necessity when it comes fulfilling the enduring wants and needs of your family, yourself, work, and even in furthering your education. Treating community service like a job can help with time and task management. Since community service is mostly done on an hourly basis, it can help develop a person's time management skills. Volunteering at numerous locations has helped me manage my time proficiently as well. I know what I have to do and at what time during the day. I started to balance my volunteering and schoolwork more accurately. I developed a sense of time management and experienced the value of making a daily agenda thanks to volunteering.
Community service is all about uniting a community. It unites a community in many ways and does not look at race, gender, sex, or age. As the writers of the Declaration of Independence (US 1776) states, "All men are created equal, that they are endowed by their Creator with certain unalienable Rights, that among these are Life, Liberty and the pursuit of Happiness." Just as the founding fathers of our country united the thirteen colonies, thousands of citizens unite to make America a better place. Service is done out of the goodness of each individual. We don't just do it for people we know or love, but all those who are in need of help. With each and every one of us doing something of this nature, we are not only being righteous beings but also allowing our nation to prosper. As the honorable Bruce Golding, prime minister of Jamaica, stated in his inaugural speech, "We will need the active support of the people in the various communities… for a national Hurricane Dean cleanup day and invite members of the public, especially civic and community-based organizations… We have to put the nation's house back in order." A nation is only as good as the united people within it. With unity, much more than just a cleanup can be accomplished.
While doing community service, one should always put others needs before his or hers. According to Nelson Mandela, Gandhi always believed in unity among a society. "He replaced self-interest with group interest without minimizing the importance of self…He seeks the simultaneous and interactive development of the moral person and the moral society." In order for one to have this sort of interaction he or she needs to develop his or her own attributes first. Community service must be a reflection of the person providing it. Doing good for your self goes hand in hand with doing good for your fellow citizens.
Community service is being a part of something that is bigger than yourself. It is about serving others and not just the people directly around you. When a community comes together to assist others in need, it unifies them. It builds relationships and spreads kindness. Service builds individuality and helps people find themselves. Community service not only brings small communities together but also nations. At the end of the day, one must always think as President John F. Kennedy did, "Ask not what your country can do for you–ask what you can do for your country."
REFERENCES
Clinton, William Jefferson. "Pace University Centennial Kick-Off Event." 5 Mar. 2006. Web. 25 Mar. 2012.
Eisner, David. "Message from David Eisner on Release of Volunteering in America Report." Web. 25 Mar. 2012.
Golding, Bruce. "Inaugural Address by the Honourable Bruce Golding at the Swearing-in Ceremony as Prime Minister of Jamaica, September 11, 2007 at King's House." 11 Sept. 2007. Web. 25 Mar. 2012.
Kennedy, John F. "President John F. Kennedy's Inaugural Address, 1961." 17 Mar. 2006. Web. 25 Mar. 2012.
Mandela, Nelson. "The Sacred Warrior- The Liberator of South Africa Looks at the Seminal Work of the Liberator of India." 3 Jan. 2000. Web. 25 Mar. 2012.
Related Topics