Common Theme In The Alfred Hitchcock Films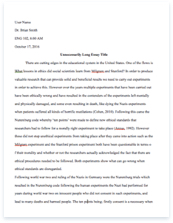 The whole doc is available only for registered users
A limited time offer! Get a custom sample essay written according to your requirements urgent 3h delivery guaranteed
Order Now
A reoccurring theme in all the Alfred Hitchcock films we have viewed this semester is the notion of characters being "trapped". Whether it is by their private desires, personal traumas or even social structures. At times the traps are real, while at other times it may be no more than an illusion. Three Films we have viewed this semester that provide examples of this feeling include Rope, Suspicion, and Marnie. Let us begin with our first film, Rope. The film takes place in the apartment of Brandon Shaw and Phillip Morgan. Together they execute the murder of their classmate David Kentley with a piece of rope and we learn this in the very beginning of the film. Brandon then demands Phillip put David's body in a chest quite literally trapping him inside of it. The film not only traps David but also Brandon, Phillip and us as the spectator. In order to understand how Brandon and Phillip are "trapped" in the film, it is important to understand how Hitchcock's childhood influenced their "trapped" feelings of homosexuality.
According to film theorist, Peter Wollen, Hitchcock was a bully whose fascination with homosexuality is likely why he acquired the rights to the film to begin with (76). Throughout the film, there are many instances of Brandon and Phillip's underlying attraction for each other. For example, in the opening scene, before the camera moves into the apartment, you hear a loud scream that we learn to be David being murdered. The look of satisfaction we see on Brandon's face could have us perceive the moan in a sexual manner. As for us, as the spectator, we are also essentially "trapped". The film was shot for the most part in one continuous shot with no cuts or exits to relieve our tension. The camera follows the cast around as if we were in the room and constantly pans back to the chest in the middle of the room increasing our anxiety as we feel as if we are "peeping toms". It isn't until the end of the film that a gunshot is fired out of the window of the apartment that gives us an exit and relieves the feeling of being "trapped" in the apartment with Brandon, Phillip and their guest. As we continue onto our next film Suspicion, the notion of being "trapped" is also prevalent.
The heroine of this film, Lina McLaidlaw falls in love with a con artist named Johnnie Aysgarth. At first, Lina is head over heels for Johnnie and they immediately get married. Johnnie and Lina move into a lavish estate that Johnnie claim's he purchased for them, "trapping" Lina in order to manipulate her and steal her inheritance. In the scene where Lina, Johnnie, and the relator are about to close the deal on the estate, Hitchcock creates an added depth. He uses the lighting in the foyer of the house to his advantage. Above Johnnie and Lina, we as the spectator see shadows along the ceiling and walls that resemble a spider web. We see the use of Hitchcock's camera angles to create the shadow form a spider web again in the scene where Lina is demanding answers from their housekeeper, Ethel on the whereabouts of her husband. As they are talking, the spider web appears from behind them. This again reassures us that even in Johnnies absence he still has Lina "trapped". It's also worth mentioning that Lina was at one point "trapped" under the eye of her father, General MacLaidlaw. He mentioned early on in the film "she's not the marrying sort… Lina has intellect and a fine solid character (19). This has Lina doubting her self from the very beginning, a suspicion that is irresolvable for her and the film (19).
Hitchcock's creative use of camera angles and cuts in this film help further the narrative of the film without actual text. As we have established so far, there are central characters in Hitchcock's films that can be "trapped". At times they can be real or no more than an illusion. In Marnie, the last film we will be analyzing we can see this notion again. The film follows Marnie Edgar, a thief and victim of sexual assault that has left her scarred and terrified of the color red. At the beginning of the film we don't see who Marnie is, but we learn that she has stolen money from her employer who just so happens to do business with her future husband, Mark Rutland. As we continue viewing the film, there's a scene where Marnie tells Mark, "You don't love me. I'm just something you've caught. You think I'm some kind of animal you've trapped. Mark then responds, "That's right-you are. And I've caught something really wild this time, haven't I? I've tracked you and caught you and by God I'm going to keep you." Being that Mark is a hunter, he is metaphorically treating Marnie as another one of his hunts, as if she where his new jaguarondi. He is willing to break the law himself in order to get what he wants. That is exactly, to cure Marnie of her childhood trauma and for her to trust him.
Time and time again we witness Marnie pleading with him to let her go and she even goes as far as trying to commit suicide to get away so that she doesn't have to confront her childhood trauma. This all goes to show how possessive Mark is over Marnie. In summation, with the help of Hitchcock's main motifs, we are able to analyze the central characters in his films and how he is able to "trap" them. They can be by private desires, personal traumas or even social structures. Rope, Suspicion and Marnie are vastly different films but his creative use of different camera angles, lighting and more help him create that overall notion of the characters feeling "trapped".
Related Topics