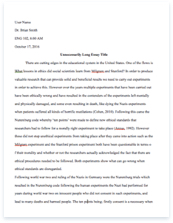 The whole doc is available only for registered users
A limited time offer! Get a custom sample essay written according to your requirements urgent 3h delivery guaranteed
Order Now
Invitation to Treat:
When Bill said to James, "I may be prepared to buy ten televisions from you for £2000". Then the statement of Bill is an invitation to treat for using in bill's statement 'I may be prepared to buy'. According to Givson v Manchester City Council [1979] 1 WLR 294: there was no binding contract because there never was an offer made by the Council. The Council's letter stating that it 'may be prepared to sell' was merely an invitation to treat.
Offer:
Offer should to be clear and certain. James replied, "I will sell you the ten television sets for £2500." Here James statement was clear and certain. So it is an offer. According to Carlill v Carbolic Smoke Ball Co. (1893): The advertisement in this case was held to be a unilateral offer because there was a clear prescribed act.
An offer needs to be communicated, orally or written. Without communication, offer is not valid. According to Taylor v Laird (1856) 25 LJ Ex 329: An offer has no validity unless and until it is communicated to the offeree so as to give the offeree the opportunity to accept or reject it. Here it seems the offer of James has been communicated. So the offer of James is valid.
Counter Offer:
In Bill's and Jame's statements, there has not been made counter offer. If Bill's statement would clear and certain then Bill's statement could be offer and James statement could be counter offer. And after that the same day James rejected to sell television. So the contract has not been made. According to Hyde v Wrench (1840) 3 Beav 334: the counter- offer operated as a rejection of the original offer. There was therefore no contract.
Revocation of Offer:
Next morning Bill accepted James offer by communicating with James. But before accepting James offer, James revoked his own offer by telephonic message on Bill's answer-phone. According to Routledge v Grant (1828): offeror could withdraw his offer at any time within six weeks provided that no acceptance had been made. So it is clear that the offer has been revoked successfully by James.
But revocation is effective only by actual communication. James revoked his offer by telephonic message on Bill's answer-phone stating he is no longer prepared to sell the television to Bill. There actual revoked communication has not been made by James. If Bill does not get revocation message from answer-phone before his acceptance the offer then the revocation of James will be unsuccessful. According to Byrne v Van Tienhoven (1880) 5 CPD 344: T's revocation was inoperative because it did not reach B until after acceptance had been made.
Outcome 2:
The postal rule was established in 19th century. From 19th century to today the postal rule is considered, when an offer is accepted by letter or telegram. The postal rule was laid down in Adams v Lindsell (1818) 1 B & ALD 681: There was a good contract on 5 September when the letter of acceptance was posted. The acceptance of offer is effective from that time when the letter of acceptance is properly posted. According to postal rule a letter need to be properly posted by an official letter box or by the employee of the post office who has authorization to receive letters. It will not be accepted if the letter is posted by putting letter into the hands of a postman who has no legal permission to receive the letter: Re London and Northern Bank, ex p. Jones (1900) 1 Ch 220. On the contrary, Revocation of offer will not be effective by postal rules. It must be received to be effective.
The operation of the postal rule:
When the offeree post the letter that means he has accepted the offer of offeror. In that case the postal rule places a greater burden on the offeror than the offeree. Because it is possible to justify the fact and also it is easier to prove posting than it is to prove receipt of a letter. According to Henthorn v Fraser (1892) 2 ch 27. F: a contract was made at 3:50 pm when H posted his letter of acceptance.
The postal rule will also apply if the acceptance is delayed or lost in the post. According to Household Fire and Carriage Accident Insurance Co. v Grant (1879) 4 Ex D 216: a contract was made at the moment the letter of allotment (i.e. the acceptance) was posted. Here, the plaintiff company accepted G's offer by sending a letter of allotment but the letter did not reach to G. Though the letter might be lost but the postal rule has been applied.
Exception of the postal Rule:
There is some exception in postal rules. When the prompt acceptance is needed or when the offeree's carelessness occurred then the postal rule is invalid. According to Henthorn V Fraser (1982) 2 ch 27: the postal rule is applicable only where it was reasonable in all the circumstances for the offeree to have used the post. It has been held to be unreasonable to use the post when there is an implied condition that prompt acceptance is required. According to Quenerduaine V Cole (1883) 32 WR 185: the fact that the counter-offer was made by telegraph indicated an implied condition that prompt acceptance was required. The purported acceptance by letter reached C after the counter-offer had lapsed. No contract was made. According to Holwell Securities v Hughes (1974) 1 WLR 155: the rule will not be applied where it would lead to 'a manifest inconvenience and absurdity' and also carelessness of offeree has lost the benefit of the postal rule.
Avoiding of the postal rule:
According to Household Fire Insurance v Grant (1879) when he stated that the postal rule could be avoided by the prudent offeror saying: 'your answer by post is only to bind if it reaches me.' And also postal rule will be avoided by the phrase 'by notice….to' (Holwell Securities v Hughes (1974) WLR 155).
Outcome 3:
(a) Vicarious Liability:
A person is vicariously liable who is responsible for the fault of another person. Vicarious liability is a triangular legal relationship; i.e. O is vicariously liable to P for the fault by D. Vicarious liability is to be found on employers. The employer is liable for any damage which is occurred by the negligence of employees and it is well established in tort law.
Employers:
The definition of employers was decided by the control test, the extent to which the employer controlled not only the quantity and nature of the work done, but also the manner in which it was done. (Yewens v. Noakes [1880] 6 QBD 530)
And other tests have also been developed to define who is employer:
1. Is the employee an 'integral part of the business'? (Cassidy v. Ministry of Health [1951] 2 KB 343) 2. 'Is the person in business on his own account' (Market Investigations v. Minister for Social Security [1969] 2 QB 173)
To identify a distinction between employer and independent and definition of employer by law, the modern approach is to use a composite test incorporating control and a range of other considerations, including the chance of profit / risk of loss, ownership of assets, nature of payments etc. (Ready Mixed Concrete v. Minister of Pensions [1968] 2 QB 497
Vicarious liability is imposing on employers as following:
1. Employers know the potential cost of accidents, and to take appropriate precautions.
2. Employers are covered by obligatory insurance.
3. Benefit and burden principle.
4. Employee's negligence should be a cost of the employers business.
5. By the vicarious liabilities, employers control or dismiss the employees who are likely to cause harm.
The Course of Employment:
The vicarious liability will arise when an employee will be in the course of employment where the act is either expressly or impliedly authorised by the employer and also an unauthorised way of doing an authorised act, or an act which is incidental to what the employee is employed to do. For example, if a delivery man of Pizza Hut injured other people in his delivery time by his motorbike then the Pizza Hut will be liable. According to Poland v John Parr and Sons [1927] 1 KB 236: The employer was vicariously liable. The employee had implied authorisation to take reasonable actions to protect the employer's property. An employee is outside the course of employment if she or he is engaged on a 'frolic of his or her own'. Storey v. Ashton (1869) LR 4 QB 476, Williams v. Hemphill (1966) SLT 259.
Employee Carelessness:
If the employee acts carelessly then employer will be liable for the action of the employee. Century Insurance v. Northern Ireland Road Transport Board [1942] AC 509; Bayley v.Manchester, Sheffield & Lincolnshire Railway Co [1873] LR 8 CP 148.
Express Prohibition:
The employee will still be acting within the course of employment only if the prohibition restricts the mode of performing his or her duties, rather than their scope. One must ask: 'what was the employee employed to do?' (Limpus v. General Bus Co [1862] 1 H & C 526; Rose v. Plenty [1976])
Exception of Vicarious liability:
If employee do something illegal or do something wrong for carelessness outside the employer's area then an employer will not be vicariously liable for their action. Example, K v ITW Ltd (1968); Twine v. Beans Express [1946]; and General Engineering Services v. Kingston & St. Andrews Corp [1988]
(b) Occupiers Liability to Visitors:
Occupier:
Occupier is any person who has legitimate power to control over premises. The Occupier's Liability Act 1957 applies not only to land and building; it does also apply to fixed and moveable structures, including vessels, vehicles or aircrafts. Wheat v. Lacon – Landlord and tenant of pub both owed duty of care to guest injured on stairs. However, no breach on the facts.
Visitors:
Under s.1 (2) the occupier owes a duty of care to all lawful visitors. Who is permitted defined as a lawful visitor i.e. invitees, licensees, people entering under a contract, people with a legal right to enter. Trespassers will not be under occupier's liability. A lawful visitor may be legally authorised in one part of premises and not another part of the premises. (Campbell v Shelbourne Hotel)
Under s.2 (2) states that an occupier has a duty of care to ensure that in all circumstance visitors will be reasonable safe in using the premises for the purpose for which he is invited or permitted to be there for. (Simms v Leigh RFC) – P injured by hitting concrete wall surrounding rugby field. D not liable as injury foreseeable but so improbable that it was not necessary to guard against it.
Under s.2 (3) (a) if the occupier admits children to the premises the child visitor must be reasonably safe. According to case code (Glasgow Corp v Taylor) – 7 year old died after eating poisonous berries in park D knew of the berries but took no precautions against children.
An employer may still be liable for failing to provide safe system of work (General Cleaning v Christmas). Exclusions: s2 (1) exclusions are allowed 'by agreement or otherwise', so can exclude by a term of the contract or by a communicating notice (Ashdown v Samuel Williams) Outcome 4:
Negligence is the most significant tort, covering a massive number of situations. There are three main elements which is successfully bringing a claim in negligence:
i. A duty of care
ii. Breaching the duty
iii. A causal link between the breach and the harm suffered by the victim.
i. Duty of Care:
The concept of the duty of care has at least two purposes. One is to provide overall framework for the variety of situations in which liability may arise. In that case law has recognised relationship in which one person owes a duty to another. And another one is limitation, setting the boundaries within which one person could be liable to another for the consequences of careless behaviour.
To define the duty of care, there is three test which are most influential:
Neighbour Principle:
According to Donoghue v Stevenson [1932] AC 562: (By a majority of 3 to 2) Manufacturers owe a duty of care to see that the ultimate users of their products are not injured by these products.
Revised Test:
There had been many developments in the led of negligence in the years following that decision. These led Lord Wilberforce to redefine the neighbour principle. He turned in into a two-stage test in Anns v Merton
London BC [1978] at 751.
Foresight, Proximity and Fairness Test:
The test show three things if there is to be duty of care:
►A person in the claimant's position would be injured which was a reasonable foreseeable.
►There was sufficient proximity between the parties.
►It is fair, just and reasonable to impose liability.
One of its best expositions is in Caporo Industries v Dickman [1990] 2 AC 605. There is a particualry helpful discussion of the test by Bingham LJ in the court of Appeal in the same case: Caporo Industries v Dickman [1989] QB 653 sy 678-680.
ii. Breaching the duty:
The courts use the 'reasonable man' test to decide a breach of duty. It has been designed to set up an objective standard of care with which to measure liability. According to Blyth v Birmingham Waterworks (1865) the courts have stated that the 'reasonable man' is ordinary person, or the 'man on the Clapham Omnibus' (Hall v Brooklands (1933)). If there is some risk involved but the cost to society of not doing something might be high then the court will normally decide the 'reasonable man' would have acted in the way that the defendant did (Daborn v Bath (1946)). It should also be noted that the 'reasonable man' is only expected to be albe to take into account that which is reasonably foreseeable. (Roe v Minister of Health (1954); Paris v Stepney (1951)). Exception:
The courts have decided in some special cases that it is not fair to treat the defendant as an objective "reasonable man" by some ways as following:
Lack of specialist skill:
Who don't have a specialist skill will be given more latitude than those who possess such skill. (Phillips v Whitely (1938))
People who are incapacitated:
People who are incapacitated in some way will have a lesser standard of care placed on them. (Mansfield v Weetabix (1998))
Children:
It is not appropriate to treat a child as a "reasonable man" because of their lack of maturity. (Gough v Thorne (1966))
Professional and the Bolam test:
Professionals can escape liability if they have acted in a way which is accepted as reasonable by others in the professional. (Bolam v Friern Hospital (1957))
iii. A causal link between the breach and the harm suffered by the victim: In that element the breach and the harm suffered by the victim is casual linked between. The courts have tended to argue that the defendant's actions must have contributed in a 'material' way to the harm suffered by the defendant and that this contribution must be proven on a balance of probabilities. McGhee v National Coal Board (1975); Barnett v Chelsea and Kensington Hospital (1969)
"But For" Approach:
Courts developed a tool for assessing causation which has been referred to as the "but for test". (McWilliams v Arrol (1962); McGhee v NCB (1975); Wilsher v Essex health Authority (1988))
Bibliography:
Fafinski, S. and Finch, E. (2009). Contract Law. Pearson Education Ltd: Harlow
Martin, J and Turner, C.( 2007). Unlocking Contract Law. Hodder Education: London
McKendrick, E. (2005). Contract Law. Sixth Edition. Palgrave Macmillan: New
York
Related Topics