Coming of Age, Sacrifice to Benefit Others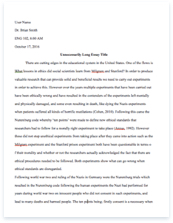 The whole doc is available only for registered users
A limited time offer! Get a custom sample essay written according to your requirements urgent 3h delivery guaranteed
Order Now
Mentor's Lessons Heard in Jazz Time is an article by Malcolm Cash telling a short story of appreciation of his mentor, Lawrence Barclay. Cash ends the article by saying "thank you Mr. B for the jazz lessons". The jazz lessons mentioned are not typical lessons of jazz, but instead life lessons symbolized by jazz. Cash meets Barclay by fate and accepts Barclay's wisdom and guidance and with maturation appreciates Barclay's well-played roll in his life. To tell this story, the article includes two prominent themes: coming of age and sacrificing for the benefit of others. This essay will reveal key moments throughout Mentor's Lessons Heard in Jazz Time that provide evidence of the two projected themes. The reader will see that coming of age and sacrificing for the benefit of others is a necessary part of life and creates a better self. The theme coming of age is supported by Cash's first encounter with Barclay. On Cash's first encounter with Barclay, Barclay approaches him right after giving a "major speech".
Cash explains that during his speech he "tried to speak with emotional conviction while providing the student and faculty with a clear and historically grounded speech on the critical importance of African-American history for the country in general and the Oberlin High School curriculum in particular". After his speech he was approached by a "small, well-built, serious looking black man". Cash expected the man to congratulate him on a job well done, but instead of the expected praise, he said, "Young man, that was an informative speech, but you must watch your grammar and support your ideas and propositions with more evidence." Cash soon finds out the man is Lawrence Barclay. He explains his first encounter with Barclay being a "makeshift beginning" with a man that has become his "pride and joy". By Cash explaining his very first encounter with Barclay as such, he proves that maturation has occurred. The beginning being makeshift confirms that his 18-year old mind initially didn't know how to take in the constructive criticism given, but the fact that Barclay has grown to be his "pride and joy" allows readers to imply that he soon learned to take in such criticism, which is explained further in the story.
In the beginning, Cash explains his rejection of jazz music. He says, "My youthful reaction was 'What kind of music is this? Where are the words? No, I'll pass,'" Later in the story, Cash tells readers that Barclay introduced him to jazz and also says " God moved him to take me under his wings and share his wisdom and come to understand the inner gentleness, passion, joy and love of jazz in my own way and my own time." By saying this, Cash demonstrates that with time, Barclay's wisdom helped him learn the joy and love of jazz, which he rejected earlier in life. This also proves maturation occurred and supports the theme of coming of age. In the eighth paragraph, Cash explains that from day one, Barclay sacrificed for him. "From the day Mr. Lawrence Barclay saw this bright and wayward young black man he reached out his hand, heart, spirit, talent, money, friendship, and above all, his love and put it in the service of me as a person." Cash goes further and says, "I was not a social case, I was not an experiment for his good works, or a brother in dire straits, or a project in need of rescue; I was a concern because he had grown up in the segregated City of Cleveland […]"
Sacrificing all these elements to put in the service of Cash as a person had no benefit to Barclay. Barclay did this out of the kindness of his heart for the benefit of Cash. Cash became Barclay's concern because he didn't want Cash's talent to die "in the river from a lack of love, direction, and the U.S. system of oppression which strangled black people in all areas of life." Barclay sacrificed his time, money, and above other things, love for Cash to hold on to his talents, which benefited him. Cash goes on in paragraph thirteen and says Barclay "took me to Canada, sent me money when I was struggling in college, taught me patience, challenged my half-thought ideas, critiqued my laziness, bridled and directed my anger, was silent when I needed to talk and spoke words of wisdom when I needed – but did not always want – guidance." This also supports the theme of sacrificing for the benefit of others. Cash ends with a story Barclay told him and his friend Debbie.
Debbie questioned Barclay, "Mr. B, don't you get tired of being criticized for treating Malcolm and me as your 'favorites'?" Barclay replied with a scenario. He rhetorically asked both Cash and his friend Debbie what they'd do if they had walked over a bridge and below heard a group of eight people crying for help and witnessed them fighting for their lives. He gives them options: run for help, reason, or save what your strength will allow. Barclay chose the last option; to save Cash and his friend Debbie. He sacrificed the others' lives, to save the both of theirs. Mentor's Lessons Heard in Jazz Time, reveals that accepting positive guidance will ultimately create maturation which is shown through the theme of coming of age. Cash shows his coming of age through his found love for jazz and also his learning to accept constructive criticism.
Cash ends Mentor's Lessons Heard in Jazz Time by saying "thank you, Mr. B." The theme sacrifice for the benefit of others shows that with sacrifice come gifts. Cash's gift to Barclay was the published article dedicated to Barclay and also the talents Cash held tight to and that didn't "die in the river from lack of love." In a popular movie, The Blind Side (2009), the theme of sacrificing for the benefit of others is also revealed. A European American woman, Leigh Anne, takes in a young African American boy, Michael Oher after learning he was homeless. Leigh Anne raises the young boy, with her two children, as her own. She does this out of the kindness of her heart and looks for nothing in return. Michael Oher becomes a successful NFL player after graduating from Leigh Anne's alma mater, Ole Miss. Leigh Anne sacrificed her and her children's reputation, money, love, and safety by taking Oher in which resulted in his success.
Related Topics