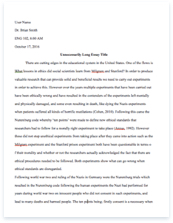 The whole doc is available only for registered users
A limited time offer! Get a custom sample essay written according to your requirements urgent 3h delivery guaranteed
Order Now
Comcast Cable continues to drive innovation, increase new product introductions, transformed the customer experience, and has successfully integrated NBC Universal. Comcast derives the bulk of its revenue from television, Internet, and digital phone services offered in 39 states and the District of Columbia. Comcast Corporation (NASDAQ: CMCSA, CMCSK) is one of the world's leading media, entertainment and communications companies. Comcast is principally involved in the operation of cable systems through Comcast Cable and in the development, production and distribution of entertainment, news, sports and other content for global audiences through NBC Universal. Comcast Cable is one of the nation's largest video, high-speed Internet and phone providers to residential and business customers. (www.comcast.com) • XFINITY® TV: Comcast Cable is the nation's largest video provider and its Xfinity TV service offers customers the best viewing experience and entertainment choices across multiple platforms. Customers can watch thousands of TV shows and movies across Xfinity on Demand, XfinityTV.com and on mobile devices, such as the iPad, iPhone and iPod touch® through the Xfinity TV app anytime, anywhere.
• XFINITY® Internet: Comcast is the nation's largest Internet service provider that offers some of the fastest speeds of up to 105 Mbps, as well as a reliable and safe online experience. • XFINITY® Voice: Comcast delivers innovative and reliable IP-enabled home phone service that includes all of the functions of traditional phone service, plus enhanced features that are integrated with other Comcast services. • Comcast Business Class: Backed by industry-leading, 24/7 business-class support, Comcast provides advanced communication solutions to small and mid-sized organizations to help them meet their business objectives. • Comcast Interactive Media: Comcast Interactive Media (CIM), a business unit of Comcast Cable, focuses on creating and operating online and mobile properties, such as xfinityTV.com and comcast.net, that make the world more entertaining for Comcast customers and makes it easier for them to find, manage and consume video content. • Comcast Spotlight: The advertising sales division of Comcast Cable, helps put the power of cable to use for local, regional and national advertisers through advanced technologies and innovative products that reach audiences in the most effective and efficient ways.
Evaluate the company's vulnerability to current financial threats such as a recession, higher interest rates, and global competition. Comcast is the majority owner and manager of NBC Universal, which owns and operates entertainment and news cable networks, the NBC and Telemundo broadcast networks, local television station groups, television production operations, a major motion picture company and theme parks. (www.comcast.com) NBC Universal is one of the world's leading media and entertainment companies in the development, production, and marketing of entertainment, news, and information to a global audience. NBC Universal owns and operates a valuable portfolio of news and entertainment television networks, a premier motion picture company, significant television production operations, a leading television stations group, and world-renowned theme parks.
Comcast Corporation owns a controlling 51% interest in NBC Universal, with GE holding a 49% stake. (www.comcast.com) I evaluated competition here in Philadelphia compared to Comcast. Comcast apparently has the domination in Philadelphia (in both its hold on the cable market and its skyscraper that towers over our skyline); there are actually a number of cable and satellite TV providers that service our city. (Alex Sherman, 2012). As I did my comparison a number of Cable Companies in Philadelphia, I do not foresee any recessions for Comcast Corporation. According to the chart below, Comcast's' market cap is much higher than its competition. Comcast also has higher revenue, net income, EPS and net income. I also compared Comcast overall operations according to the industry averages. Direct Competitor Comparison
Based on the financial trends of the company, predict how these trends will impact financial performance in future periods. Explain your rationale for this prediction. According to Comcast Corporation, for the year ended December 31, 2011, revenue increased 47.2% to $55.8 billion, while operating cash flow increased 25.8% to $18.4 billion and operating income increased 34.3% to $10.7 billion. Comcast also reported that their EPS for the year ended December 31, 2011 was $1.50, a 16.3% increase from the $1.29 reported in the prior year. Free cash flow for the year ended December 31, 2011 increased 30.1% to $7.0 billion compared to $5.4 billion in 2010. The increase in free cash flow primarily reflects growth in consolidated operating cash flow, partially offset by increases in working capital, cash interest expense, capital expenditures and intangible asset expenditures. For the full year, Comcast repurchased 95.3 million of its common shares for $2.1 billion.
In addition, Comcast made four cash dividend payments totaling $1.2 billion, resulting in a total return of capital to shareholders of $3.3 billion for 2011. Comcast has two publicly traded classes of stock, Class A common stock (CMCSA) and Class A Special common stock (CMCSK), that trade on the Nasdaq Global Select Market. According to Business Wire, Comcast Corporation announced that it increased its dividend by 44% to $0.65 per share on an annualized basis. In accordance with the increase, the Board of Directors declared a quarterly cash dividend of $0.1625 a share on the company's common stock, payable on April 25, 2012 to shareholders of record as of the close of business on April 4, 2012.
Comcast also announced that its Board of Directors has authorized a new $6.5 billion stock repurchase program, with $3.0 billion to be repurchased during 2012, subject to market conditions. Comcast is likely to attract many investors to their company. Compared to other cable companies Comcast has a high P/E ratio, and compared to the industry it is still high. When comparing to PEG ratio it is relatively low for the next expected 5 years. Investors want to know the overall average analyst rating for a company, look through company reports and filings. I have one recommendation for Comcast, which is for them to invest in the community and possible looking into supplying cable to low income customers Conclusion
As Comcast approaches 2012, the strength of their businesses and free cash flow generation will allow them to continue to build value and consistently return capital to shareholders. I chose to analyze this corporation due to their new innovations and plans to expand the company. Comcast has entered into new markets were no other cable company has dared to try. On, 2/15/12, Comcast Corporation reported results for the year ending 12/31/11. The information reported was the consolidated financial results which includes NBC Universal as of January 28, 2011 and 100% of Universal Orlando as of July 1, 2011. (Comcast.com)
References:
"Comcast Launches Comcast Digital Voice(R) Phone Service in Santa Barbara County."RedOrbit. N.p., 17 Mar. 2009. Web. 13 Sept. 2012. http://www.redorbit.com/news/technology/1655671/comcast_launches_comcast_digital_voicer_phone_service_in_santa_barbara/?source=r_technology Higgenbotham,
Stacey. "He Said, She Said: Is Comcast Prioritizing Traffic or Not?" GigaOM. N.p., 15 May 2012. Web. 15 Sept. 2012. http://gigaom.com/broadband/he-said-she-said-is-comcast-prioritizing-traffic-or-not/ Weinberg, Michael. "Comcast Exempts Itself From Its Data Cap, Violates (at Least The) Spirit of Net Neutrality | Public Knowledge." Comcast Exempts Itself From Its Data Cap, Violates (at Least The) Spirit of Net Neutrality | Public Knowledge. N.p., 26 Mar. 2012. Web. 13 Sept. 2012. http://www.publicknowledge.org/blog/comcast-exempts-itself-its-data-cap-violates- "Comcast Digital Voice FAQ." Phone FAQs. N.p., n.d. Web. 14 Sept. 2012. http://www.comcastoffers.com/faq_phone/ "Comcast Home Phone Service, Landline Phone Service Provider: XFINITY® Voice from Comcast." Comcast.com. N.p., n.d. Web. 14 Sept. 2012. http://www.comcast.com/home-phone-service.html Conrad, Roger S. "FCC Makes Comcast's Universe." FCC Makes Comcast's Universe. Investing Daily, 21 Jan. 2011. Web. 04 Oct. 2012. http://www.investingdaily.com/14173/fcc-makes-comcasts-universe "Comcast Corp." Comcast Corp (CMCSA.O). Reuters, n.d. Web. 3 Oct. 2012. http://www.reuters.com/finance/stocks/companyProfile?symbol=CMCSA.O "Comcast Corporation History." History of Comcast Corporation -" FundingUniverse. N.p., n.d. Web. 05 Oct. 2012. http://www.fundinguniverse.com/company-histories/comcast-corporation-history/ "Comcast Financial Statements." Comcast Financial Statements. Businessweek, n.d. Web. 06 Oct. 2012.
Related Topics