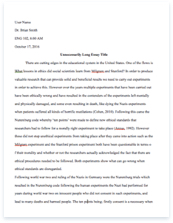 The whole doc is available only for registered users
OPEN DOC
Pages: 11
Word count: 2593
Category: Marketing
A limited time offer! Get a custom sample essay written according to your requirements urgent 3h delivery guaranteed
Order Now
1. Executive Summary
Despite enjoying a strong year with sales dollar and volume growth, CP's Operating and Net Income saw a decrease at the end of 2004 by the combined effect of increased marketing spending and increases in raw material and packing costs. Looking ahead in 2005, Colgate will need to address the cost-effectiveness of adapting its marketing strategies implemented in the developed United States (US) market for the emerging Chinese and Mexican markets, each consisting of distinctly different consumer wants, needs and cultures that Colgate will first need to research on and understand. Consequently, it has to evaluate how it can tailor its marketing strategies and re-align its organizational structure to assess whether and how it can profitably participate in developed markets like the US and emerging markets like China and Mexico. 2. US Market Situational Analysis
Colgate Max Fresh (CMF) was first launched in the US market in August 2004, offering a competitively unique offering of dissolvable breath strips in toothpaste designed for maximum freshness. CMF contributed to Colgate's record value share of 34.8% that year in the US Market, successfully upselling many existing Colgate consumers in addition with having strong repeat purchase and consumer trial. While toothpaste may be a low-involvement product, Colgate is priced at a premium, and is therefore priced higher than the majority of its shelf-space competition. This means Colgate needs to drive new customers to try its product without price scaring them away, as well as retain existing customers, because loyal customers attached to the brand will be more accepting of price increases. Having high advertising spend, offline consumer plans, attractive packaging and a flavour variety (pg. 5) are necessary as a Point of Differentiation in a developed market like US. This is perhaps more so for CMF's target consumers in the US, who have evolved towards a focus on cosmetic benefits and self-actualization goals of confidence and social interaction (pg. 5).
3. Adaptations & Strategy
We believe that Colgate's objective for its marketing strategy should be cost-effectiveness in both Chinese and Mexican markets. Despite their significant differences (see Appendix), Colgate introduced CMF under similar strategies, with only minor adaptations to tailor to local preferences. Although its marketing strategy in the US has been profitable, the adaptations for China and Mexico may be over-complex and unnecessarily costly and hence, we recommend that Colgate adopt a marketing approach that caters to the needs of the different markets for maximum cost-effectiveness and growth potential. Colgate should first evaluate how and why consumers differentiate between brands and product offerings, before tailoring its adaptations and strategy accordingly. 4. Chinese Market
4.1 Situational Analysis
Having grown 38% to $868 million since 2000, while the market was still heavily skewed towards therapeutic benefits (Ex. 7A), consumer preference for "Fresh Breath" and Whitening translated to a promising 6.4% growth in the cosmetic benefits segment (pg.16). However, consumers tend to be "skewed towards lower-priced local brands", dampening the promising growth outlook. Also, the popularity of new flavours being introduced as well as a growing cosmetic segment (Ex. 7A) are accelerating the development of the market, indicating a more sophisticated Chinese consumer demanding a wider product mix and focusing on self-actualization traits like confidence and appearance. Competition is intense, with Proctor & Gamble (P&G)'s Crest pressuring Colgate with a slew of new product introductions such as Crest Tea Fresh, and Colgate battling Crest for market leadership (pg. 6). Contextually, the burgeoning middle class (Song & Cui, 2009) provides CMF with a significantly-sized target market segment with increasing disposable incomes (Euromonitor International, 2006), of which a substantial share will likely be spent on household and personal products. 4.2 Adaptations & Strategy
Product: Revising CMF to "Colgate Icy Fresh (Colgate 冰爽)" enabled translatability and effective positioning of "freshness". Renaming "breath strips" to "Cooling Crystals (珠子)", meaning "pearl", facilitates consumer understanding of the new product feature, a must-have. Increasing sophistication and popularity of new flavors mean that Colgate needs to create new flavors, in particular flavors like tea that fit into consumers' tastes (Zhou, 2014) and competes directly with Crest Tea Fresh, in order to appeal to consumers and hence improve product acceptance and shelf-life. The cost of flavor-testing had only marginal impact on profits (0.985% of sales, Table 2), but 32 weeks taken for flavor development may mean a later launch date; we argue that it pays to be differentiated in urban markets (Niraj, Dawar and Chattopadhyay, 2002), which holds CMF's target market of middle class consumers.
Hence, the investment to create new flavors are a must-have. However, while spending $7,000 to test "10 different shades of yellow" is minute for Colgate, 4 weeks will delay product launch; with quality only marginally enhanced, it is only a nice-to-have. Producing 3 sizes (50g, 100g, 165g), including a small 50g size, is a typical emerging market strategy catering to consumers with lower ss who tend to experiment with smaller sizes, hence it is a must-have. However, the clear "stand-up tube" to convey CMF's aesthetics, while attractive to consumers, may not be feasible due to the high cost (11.35% of sales, Table 3) and massive delay in launch date, and is only a nice-to-have.
Promotion: The new TV commercial starring Jay Chou, while expensive (2.216% of sales, Table 2), is nonetheless important to raise awareness of the product by emotionally connecting with youths (pg. 7) as well as blend with Chinese culture, since Emily's Procter's character and role in CSI are relatively unknown and are thus incompatible. Using Jay Chou allows CMF to leverage on Jay Chou's "cool" image, creating a secondary association that allows for better recall of CMF. In a fiercely competitive market with consumers tending towards lower priced local brands, this adaptation is considered a must-have to stand out on the shelf as well as convey "freshness" as a legitimate benefit that consumers who want to look confident and "cool" need. 5. Mexican Market
5.1 Situational Analysis
Valued at $348 million, Colgate dominates the Mexican market with a value share of 82%, compared to Crest's 10%. With relatively flat demand and a declining cosmetic segment (-2.6%, pg.23), it is difficult to secure additional shelf-space, making delisting of other Colgate products a significant risk. Consumers prioritize therapeutic over cosmetic benefits (pg. 8), a typical emerging market preference, and despite strong favor and support for Colgate as a brand, they perceive CMF to be "underperforming in terms of delivering on therapeutic benefits" (pg.9). Colgate's main competitor is P&G's Crest; Crest has been active during Colgate's testing of CMF during 2004, launching Crest Cooling Explosions in November. The launch of Crest Cooling Explosions in November 2004 may infringe on Colgate's market leader position. Contextually, with an average per capita income was just over $4,000 per year, and 40% of the country's population living in poverty (Kenny et. al., 2005), it may mean that potentially, Mexican consumers view CMF's exclusive positioning of its cosmetic benefit of freshness as a luxury instead of a must-have. 5.2 Adaptations & Strategy
Product: Similar to China, Breath Strips were changed to "Cooling Crystals" because "breath strips"(p. 30) had no meaning to the Mexican consumer, allowing the customers to better relate to the product, hence this adaptation is a must-have. As part of Colgate's strategy of adapting products to local taste and preferences, CMF was launched with 3 flavours (p.9). Cinnamon is an integral ingredient in Mexican cooking; in fact, the country is the largest importer of Sri Lankan Cinnamon (Hursh, 2004). With Colgate introducing this unique Cinnamint flavour, it makes it easier for Mexicans to accept and try CMF. It also serves as a point of differentiation for CMF, allowing it to stand out from other offerings in the market. Although having a mint flavour is what consumers expect in toothpaste (Davis, 2012), having two mint flavours (Cool Mint, Clean Mint) for the Mexican market is questionable.
Reducing the number of flavours would reduce development costs, and is unlikely to lessen the attractiveness of CMF given that consumers in the Mexican market will not consider the type of mint to be a point of differentiation. As such while the adaptation of Cinnamint to suit local tastes is a must-have, introducing 2 mint flavours is a nice-to-have. Different volumes (75ml & 100ml) are available but the 75ml pack will see limited distribution. Consumers who can afford CMF tend to purchase larger volumes, and consumers who cannot afford CMF will not buy it, regardless of volume. Due to low disposable incomes, most Mexican consumers will focus on cheaper products that prioritize basic oral care, and not consider a luxury like CMF, and hence having 75ml only in limited distribution is qualified as a must-have. Promotion Adaptations
Creating a new advertisement was sound decision because Emily Procter and CSI which she stars in is unlikely to be widely known given that American TV shows are only viewable on pay TV in Mexico, which is seen in only a minority of Mexican homes (Vázquez, 2005). While the Snowsurfer advertisement (Ex. 18) communicates the "coolness" and "freshness" of CMF. Furthermore, the element of extreme sports makes the advertisement youth oriented, applicable in this relatively young market where almost a third are aged between 12-29 (Mexico Gulf Reporter, 2013). Thus this promotions adaptation can be considered a must-have.
6. Global CMF
CP has two main objectives of launching CMF: increasing CP's overall market share and presence in each market, and to defend against the recent launches of Crest products. Due to the cultural and contextual complexity in each market, CP faces problems with 'glocalizing' CMF and making it more relevant to the consumers in each market. In order to prevent locals from losing interest in CMF due to poor adaptations, CP required a deeper grasp of each market's differing consumer wants, needs and attitudes. The complexities born out of tailoring the US marketing approach to fit into the Chinese and Mexican markets have both short and long term implications for the global CMF business. First, intensive product adaptations delayed CMF's launch date, particularly when complications such as packaging tests area not aligned with global standards. This is especially so if the testing prove to be not aligned to objectives and which are not value-adding. Delayed product launches may also prevent CP from having a first mover advantage. Additionally, the rigorous research and testing also cost a huge financial outlay.
The lower speed-to-market and investment outlay, however, will be justified by the local consumers' perceived quality of the overall product and adaptations, and the long-term sales for CMF as the adapted product encourages uptake. The adaptations for promotional activities are also deemed as necessary, especially for the advertisements since locals from either market are not necessarily familiar with Emily Procter and CSI. The emotional connection that CMF is trying to make with local consumers is extremely vital. Through emotional advertising, consumers' hedonistic value of consuming the CMF is increased.
The use of a celebrity may help increase better product recognition and appeal, and consumers' psychological benefits of using the product through being 'cool' despite the product being low-involvement. Even though adapting promotional efforts and educating consumers of product quality and user benefits may have minimal impact of speed-to-market, the adaptations will improve the perceived quality of the product and the communication of CMF's point of differentiation. Similarly, the huge financial outlay can be justified by increase in long-term sales. 7. Recommendations for CP
With CP focusing on using new products to drive market share growth and market leadership in key categories (p.1), new product introductions are bound to always be in the pipeline. The problems from the introduction of CMF (Table 4) can be generalized to serve as guidelines to optimize future new product introductions. However, to facilitate close adherence to these guidelines, we would first propose some changes to the existing organizational structure of CP (Figure 1), to enhance communication and processes. 7.1 Organizational Structure
Firstly, the establishment of region specific objectives should help to facilitate the means through which the new product should be launched. Hence, GBD and the regional divisions should have the first point of contact to determine the extent in which time, quality and cost should be compromised, based on the individual region's objective. However, formal relationships are but baseline initiatives, and more should be done to ensure coordinated internal activities. To help marketing and other functions jointly determine what is in the company's best interests, CP could provide joint seminars, joint committees and analytical methods to determine the most profitable course of action (Kotler & Keller, 2011). While it can be argued that considerable costs would be incurred, we believe that the benefits would manifest in apt, cost-effective and timely new product introductions for CP.
Additionally, this will also allow the long term plan to be communicated to the Geographic Division's short term P&L perspective. After which, GBD should then communicate the technology and recommendations of the new product to the Regional CIC, avoiding double work of "technology qualification" and over-influence of product development (in Mexico) Secondly, to ameliorate instances of communication failure, more formal communication and reporting relationships should be instituted within the organizational structure. Currently, there is currently a lack of communication between the GBD and the CIC which has led to package prototypes in China "being incompatible with CP's rigorous packaging standards." Better communication within the organisation ensures that every function is working towards the same objective. 7.2 Guidelines on Situational Analysis
With the effective and efficient organisational structure in place, we will now propose guidelines to optimize new product introductions. Effectively, this is the guideline which will guide discussions between GBD and Geographic Divisions. Overall, CP should aim to be consistent in theme but reflect significant differences in consumer behavior, brand development and competitive forces (Kotler & Keller, 2011) Products that are effectively "glocalised" would provide greater value to the customers, and subsequently CP. 7.2.1 Base Adaptations on Situation Analyses
A comprehensive understanding of the situation is the foundation of any new product introduction. CP has to leverage on the current situation with regard to the customers, company, context, competition and collaborators. For example, the choice of which product features to emphasize should be tailored according to preferences of the target market, and in Mexico's case, there is a lack of growth and value share in the "Freshness" aspect, which may mean that CMF should not have been introduced. The analysis should guide CP towards one of the five international product and communication strategies shown in Figure 3. In addition, price and place adaptations should also be considered. Whether these adaptations should be implemented would also depend on a cost-benefit analysis, which is elaborated upon in the next section. 7.2.2 Ensure Cost-effectiveness
One of the three main objectives of CP's 2004 restructuring plan entails generating additional savings throughout the income statement(Colgate-Palmolive, 2014) . This focus on cost-effectiveness can be translated in new product introductions by streamlining product development. For example, excessive colour testing should not be carried out. The point is to always strike a balance between incremental costs and the expected sales or profits from implementing that adaptation. While CP should seek to satisfy customer needs and expectations, it has to be objective when it comes to satisfying customer wants – CP should not implement adaptations if the payoffs do not justify the costs. In addition, it is possible for CP to come up with an easily customisable commercial. The cost to adapt these commercials to the various markets would certainly be lower than developing whole new commercial for multiple markets.
Related Topics