Codman & Shurtleff Private Company Information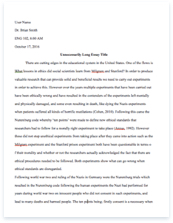 The whole doc is available only for registered users
A limited time offer! Get a custom sample essay written according to your requirements urgent 3h delivery guaranteed
Order Now
Codman & Shurtleff, Inc. , was established in 1838 in Boston by Thomas Codman to design and fashion surgical instruments. In 1964, Codman & Shurtleff was acquired by Johnson & Johnson inc. Codman & Shurtleff operates from three manufacturing locations and a distribution facility in Massachusetts. They employ about 800 people in the United States. Codman & Shurtleff mission statement was product oriented while that of Johnson & Johnson was medical specialty. A new worldwide mission statement was agreed upon "Medical specialty in neuro-spinal surgery business"
Codman & Shurtleff specializes in working with surgeons and pioneers in the field of neurosurgery for ideas in product generation, testing and acceptances of their product. Over 2,700 products for surgery including instruments, equipment, implants, surgical disposables, fiberoptic light sources and cables, surgical headlamps, surgical microscopes, coagulators, and electronic pain control simulators and electrodes are supplied to hospital and surgeons worldwide. These products involved advanced technologies from the field of metallurgy, electronics, and optics. The planning and controlling system
Each subsidiary within the Johnson & Johnson is responsible for developing its own plans and strategy. Johnson & Johnson believes that their success is due to the following: a basic belief in decentralized management, a sense of responsibility to their key constituents and a desire to manage for the long term. Strength The benefit of Johnson & Johnson operational decentralization is that each company develops its own plans and strategy. Targets are set by the company; Mangers can immediately see the result of their performance and will be able to make quick and wise decision.
Since decision-making authority is as near as possible to the place where action takes place, those having this authority can make reasonably accurate, wiser and timely decisions because they are well aware of the realities of the situation. Decentralization increases innovative thinking, it also improves employee morale by making them fell they have an input in the organization which leads to high productivity. 5 and 10 year plan helps the company have a long term view and objectives and it allows manager to revise their thinking over time and allows for retrospective learning.
It reduce potential risk of the company, helps the company in achieving their goals and objectives. Disadvantages Coordination will be a major problem; Johnson and Johnson have various subsidiaries that offer similar type of product and services. There will be competition and rivalry between similar Subsidiaries by allowing their management to make decision. The six month spent to complete the preparation of the five and ten year plan is a lot of hours that could be used in a more productive ways doing something else.
The time spent to revise the plan could also be used to fix the problem that caused the plan to need revision. The planning and control system used at Johnson & Johnson allows subsidiary and corporate to find problems and run the business. Codman mission was product oriented, which resulted in missed product opportunities and rivalry between other subsidiaries of Johnson & Johnson. Johnson & Johnson mission statement as "medical specialty" helps to channel Codman to focus on continued innovation in the area of neuro-spinal surgery which is a large market that allows better position of their product.
There is no penalty for inaccuracies as this encourage people to think expansively and also to stretch their imagination. Managers are requested to give reason why and how their estimates have changed over time. This encourages revised thinking over time and retrospective learning. Managers are forced to review their business in depth for costs, trends, manufacturing efficiency, marketing plans and their competitive situation once a year. Development of programs and action plans are developed.
Related Topics