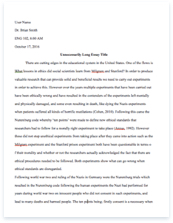 The whole doc is available only for registered users
A limited time offer! Get a custom sample essay written according to your requirements urgent 3h delivery guaranteed
Order Now
This paper will review the "Codman & Shurtleff, Inc.: Planning and Control System" case study found in the 2nd edition of " Accounting for Managers: Texts and Cases". The case illustrates a comprehensive formal planning and control system used in formulating and implementing strategy at Codman & Shurtleff, one of Johnson & Johnson's 155 subsidiaries. This paper will focus on the relationship between organizational innovation and formal planning and control systems in a decentralized organization as well as the effect of organizational reward practices. Based on the facts presented, the paper will conclude by developing a plan of action Codman & Shurtleff could potentially take to improve their planning and controlling system.
Background
Codman & Shurtleff, Inc. was founded by Thomas Codman in 1838 to design surgical equipment. After the acquisition of the company by Johnson & Johnson (J&J) in 1964, Codman & Shurtleff began operations as one of J&J's autonomous subsidiaries. (Bruns, 1998)
Codman markets approximately 2,700 general and specialty surgical instruments to hospitals and surgeons worldwide. Products manufactured by the subsidiary involve advanced technologies and include instruments, equipment, implants, surgical disposables, fiber-optic light sources and cables, surgical head lamps, surgical microscopes, coagulators, and electronic pain control simulators and electrodes. (Bruns, 1998)
The case begins by focusing on the tentative actions the management team at Codman & Shurtleff must take in considering a revision to their budget targets due to a projected two-million dollar shortfall in planned profits for the year. With only a few months into the year, the projected shortfall is nearly twice the contingency fund for the entire year. (Bruns, 1998)
Various explanations for the projected profit shortfall include:
An unfavorable currency exchange rate due to a weakening of the US dollar against European currencies. The unexpected weakness has improved Codman's sales in Europe since currencies buy more in terms of US dollars; however, the subsidiary did not benefit since sales gains accrued to a separate European division of the company. Codman only experienced the negative impact of the exchange rate of higher costs of acquiring European specialty instruments.
Codman experienced an unfavorable sales mix due in part to a new distribution agreement. Products sold by the Codman sales staff under this new agreement negatively impacts the subsidiary due to increased sales of lower profit products instead of higher profit products as seen in the past.
Codman is absorbing inventory variances as a result of the manufacturing operations consolidation. Higher start-up costs have increased their product costs.
With estimated sales forecasted to be $1.1 million more than originally predicted, the combined effect of the above issues has a substantial impact on expected profits. The Codman managers must look for ways to determine the true underlying reasons for the projected profit shortfall.
Evaluate the planning & controlling system in use at Johnson & Johnson. What are its strengths and weaknesses?
The planning and controlling system in use at Johnson & Johnson may be described by the executives quoted in the case as a process with a "long-term" perspective. Each operating subsidiary with J & J had the responsibility of preparing their own plans and strategies. According to David Clare, president of J & J, this is "one of the key elements in their success". "Our success is due to three basic tenets: a basic belief in decentralized management, a sense of responsibility to our key constituents, and a desire to manage for the long term. " (Bruns, 1998)
The J&J organization is a collection of companies, large and small, that share a commitment to meeting the special needs of a well-defined customer. By focusing on this commitment, they are able to create a wide variety of ways to successfully run their businesses. Due to the large size of the J&J organization, decentralization is necessary to motivate employees, control operations, and compete successfully in diverse locations. (Internet, www.jnj.com)
Direct responsibility for each company lies within its own operating management, headed by the president, general manager, or managing director. Reporting is done directly or through a company group chairman to a member of the Executive Committee.
A decentralized structure has clear advantages. Managers from the operating companies are continually forced to evaluate their operations and accountability is clear. Since their structure is based on an extensive delegation of authority, managers are immediately able to see the results of their performance, good or bad, and are able to quickly respond to changing environments. J&J's systems of planning and control are not used to punish; they are used to search out and correct problems. (Bruns, 1998)
As a result, employee morale is generally higher for employees in this type of structure. Managers have more control of their local operating subsidiary and are more at ease to add and create new products and services to their division. This structure allows each operating subsidiary to have a stricter control and attention of product lines and the ability to implement strategies to cater more effectively to the requirements of a clearly defined customer group. (Stoner & Freeman, 1996)
J&J's decentralized structure; however, does come with some limitations. Since each operating subsidiary requires specialists to run their businesses, the division structure may be costly. Duplication exists of staff services, facilities, personnel, and computer information services. In addition, specialists are still needed at J&J's central headquarters to coordinate all of the operating subsidiary's activities.
What role does J&J's management planning & control system play in achieving or hindering this innovation?
According to the description of J&J's planning & control system, the operating subsidiaries have a great deal of autonomy in selecting their individual strategies and building profit plans and budgets. Executive compensation is determined by the contribution over the long run, not by performance against their forecasted annual profit plan. (Bruns, 1998)
J & J's planning and control system should allow the redirection of the management team at Codman to focus on actions for developing strategies that will improve results in the long term, not only just a short term resolution. As Herbert Stolzer, Executive Committee member explained in the case, the planning and control system used at J & J allows the corporate office and the operating subsidiaries to find problems as well as run the business. Managers are forced analyze their business for costs, trends, manufacturing efficiency, marketing plans, and their competitive situations once a year. As a result, action plans and programs are developed. (Bruns, 1998)
J&J has adopted a credo in lieu of a mission statement to guide their actions in fulfilling responsibilities to customers, employees, the community and stockholders. Senior managers regularly meet with employees throughout the company to communicate and reaffirm formal beliefs stated in the credo. By having a formal beliefs system in place, employees have a clear and consistent understanding of the core values of the business as well as their place within the business. Communicating clear and concise core values guides employees on what is considered appropriate behavior in facing any unplanned or difficult situations that may occur. (Bruns, 1998)
Is Codman's planning and control system consistent with J&J's?
An analysis of the solutions the Codman managers are considering to reduce the difference between the actual and projected profit level suggests they are not operating in a manner consistent with J&J system. The root causes for the profit variance are not being investigated, only short-term solutions are being considered.
For example, one of the projected profit shortfall reasons is due to higher start-up costs attributed to the recent consolidation of their manufacturing operations. However, the case does not mention any meetings with J. A. Cherry, Vice President-Manufacturing Operations, to discuss any cost reduction proposals. His valuable input would assist in determining if the cost variance is actually temporary and due to the recent consolidation of operations.
The management group's attention should also be focused on alternative solutions to defray the higher costs of acquiring European specialty instruments resulting from the unfavorable exchange rate of the US dollar. If this issue is resulting in lower profit margin products, a possible solution may be to purchase the necessary supplies from domestic suppliers to offset the higher cost. If this is not feasible, an increase price for the affected products may be necessary. An increase in price may result in a reduction in sales; however, increased profits may result due to a mix of higher profit margin items. Since competitors are probably faced with the same unfavorable exchange issue, a reduction in sales may not occur, allowing Codman to continue to hold their market share for those products.
Another projected profit shortfall reason warranting further attention is the adverse affects of the exchange rate due to a weakening of the US dollar against European currencies. Sales gains are accrued to a separate European division of the company. This appears to be a structural problem within J&J and inconsistent with their philosophy of treating subsidiaries as independent operations. Ignoring this inconsistent structure in considering solutions for the mid-year revision is puzzling at best since an explanation for this was not given in the case. Since European currencies buy more in terms of US dollars, Codman's sales in Europe have increased; however, the positive income is not being used to offset the higher cost of European suppliers.
The Codman managers should also further pursue problems associated with the profitability of the product mix. With the availability of 2,700 products in the mix, a further examination is needed to determine if lower profits levels may be attributed to underpricing in their product line. Changes in structure for their compensation plan may be needed to emphasize profit instead of volume.
In addition, further thought should be given to the suggestion that the majority of the cut should occur in the Research and Development area. This is in direct contrast to the belief system of the organization to remain innovative. Instead of cutting R&D, emphasis should be on making sure these projects remain on schedule.
What has happened since the time frame of the case?
According to J&J's 2002 annual report, one of the most important ways they encourage long-term consistent performance is through investments in science and technology. In fact, the theme of the most recent annual report is "Delivering on the Promise of Technology". Communicating this theme strengthens the company's set of belief systems and sets direction for employees to embrace. Codman and Shurtleff, Inc. made many changes since it joined the Johnson and Johnson family. In 1994, the company moved to its present corporate headquarters in Raynham, Massachusetts. Another key event in 1994 occurred when Codman and Shurtleff, Inc. and Johnson & Johnson Orthopedics combined to form Johnson & Johnson Professional, Inc.
To date this company is named DePuy, Inc. From this merger, emergence of a new managed care market led to the 1994 formation of Johnson & Johnson Health Care System, Inc. These organizations, which include the former Johnson & Johnson Hospital Services and Johnson & Johnson Advanced Behavioral Technologies, handle contracting and account management with managed care organizations, health maintenance organizations, large hospitals, physician networks, government and employers.
On June 28, 2001, in Raynham, MA, Codman and Shurtleff, Inc. announced that it had entered into a joint venture with Tricumed Medizintechnik GmbH of Kiel, Germany to form Codman Neuro Science Sàrl. Codman Neuro Sciences Sàrl acquired all intellectual property related to the design and manufacturing of Tricumed Medizintechnik GmbH implantable drug pumps. The company was located in the Canton of Neuchatel, Switzerland. This venture enabled Codman Neuro Sciences Sàrl to enter into the rapidly expanding segments of the neurological market. Their key product would be an implantable pump that allows delivery of medication directly into the cerebrospinal fluid, which then routes drugs to the spinal cord and brain.
Currently, Codman and Shurtleff, Inc. has been affiliated with Johnson and Johnson for a quarter century. The company has continued to grow and create innovative inventions during this time. Some of the inventions, including the Bipolar Coagulator, which allows surgeons to control bleeding with an electrical current, and the first hip prosthesis for total hip replacement, have become part of the nucleus of yet another company within Johnson and Johnson. Many earlier inventions evolved, such as the litigating clip system for wound closure, which later progressed and became an important wound and stapling business for Ethicon, Inc., a sister company.
At present, Codman and Shurtleff, Inc. continues to grow and prosper. The company's sales, employee base, reputation, and number of satisfied and loyal customers continues to exhibit solid growth. It produces more than 7,000 products now. Codman and Shurtleff, Inc. have a commitment to the fundamentals of customer service by which they live. This commitment of understanding, anticipating, and meeting customers' expanding needs is still in operation today. The company's annual report for 2002 supports these facts. Its basic net earning per share for 2001 and 2002 was $1.86 and $2.2 respectively.
The mergers and acquisitions, while good for the company, have a high price when it comes to employee satisfaction and loyalty. There seems to be an increase in the levels of bureaucracy to support all the subsidiaries, and to maintain autonomy. This leads to too many layers of decision-making protocols. They may become a hindrance, if they were allowed to be practiced in the operations departments. It is fine line to draw, and management is fully aware of it.
Conclusion
The planning and control system at Codman should focus on resolving the profit shortfall by focusing on actions that have a long-term effect on operations. The problems faced by the Codman managers may be as a result of a changing trend for the industry. Instead of looking for ways to cut expenditures in the Research & Development area, management may want to consider looking for ways to make sure projects are not delayed. This will ensure a continuous system is in place to seek for ways to manufacture technological superior products that are less costly to produce.
Works Cited:
Bruns, William J., Accounting for Managers: Text and Cases. (2nd Ed.)
Southwestern., 1998
Internet, http://www.jnj.com/our_company/our_credo/index.htm
Internet, http://www.jnj.com/news/jnj_news/20020306_1111.htm
Internet, http://www.jnjgateway.com/home
Marshall, David H. & McManus, Wayne W. Accounting: What the Numbers
Mean, (4th Ed.) Irwin/McGraw-Hill., 1999
Simons, Robert., The Role of Management Control Systems in Creating
Competitive Advantage: New Perspectives., Accounting, Organizations
and Society., 1990
Stoner, James A. & Freeman, R. Edward., Management (6th Ed.)
Prentice Hall, Inc., 1996
Related Topics