Code of Ethics Comparison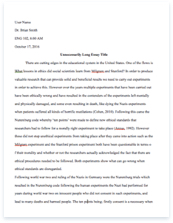 The whole doc is available only for registered users
A limited time offer! Get a custom sample essay written according to your requirements urgent 3h delivery guaranteed
Order Now
The purpose of this paper is to discuss and call the attention to the fact that there are genera differences and similarities in the Code of Ethics of the American Counseling Association (ACA) and the Code of Ethics of the American Association of Christian Counselors (AACC). In addition, discuss due diligence the counselor has to the client, the focus will be on sexual intimacy, fees and records. There will also be a contrast of the three aspects as well. Counselors have an ethical responsibility to the clients when it come sexual intimacy, fees, and records. The goal is to shed some light on the differences. The outcome is to make sure that all professional counselors are well informed that there are some differences in the way Christian Counselors' should conduct themselves.
Code of Ethics Comparison
"A man is ethical only when life, as such, is sacred to him, that plants and animals as that of his fellow men, and when he devotes himself helpfully to all life that is in need of help" (Albert Schweitzer). What did Schweitzer mean by this statement, one may assume and some may wonder about such a broad statement? The meaning of the statement is that regardless of whatever or whomever one may help; the inner man provokes that individual to adhere to the code of ethics in his or her profession. What's the definition of ethics? Webster New World Dictionary defines ethic as "as the study of standards of conduct." Never the less, the discussion is on the code of ethics. Clinton & Ohlschlager stated, "The code of ethics is a systematic statement of ethical standards that represent the moral convictions and guide the practice behavior of a group, in this case, the various counseling disciplines" (Clinton & Ohlschlager, 2002,pp. 245). Different professions have their own code of ethics; and the objective of this paper is to compare and contrast codes of the American Counseling Association (ACA) and the American Association Christian Counselors (AACC) code of ethics.
There are notable differences in the ACA codes and the AACC codes. The predominant difference in the AACC is the application of Christian terminology. The introduction of the AACC codes is geared toward service. As stated, "The Code is designed to assist AACC members to better serve their clients and congregants and to improve the work of Christian counseling worldwide. It will help achieve the primary goals of the AACC—to bring honor to Jesus Christ and his church, promote excellence in Christian counseling, and bring unity to Christian counselors" (American Association Christian Counselors, 2004) In other words, the codes are solely based on the Bible. But, the introduction of the ACA codes appears to have a contractual obligation tone, "Counselors recognize that trust is a cornerstone of the counseling relationship. Counselors aspire to earn the trust of clients by creating an ongoing partnership, establishing and upholding appropriate boundaries, and maintaining confidentiality. Counselors communicate the parameters of confidentiality in a culturally competent manner" (American Counseling Association, 2005). The terminology and tone is more of a business agreement, there's no feeling of empathy toward the client. There are similarities; they both place emphasis on maintaining confidentiality through keeping records safe. In addition, to obtain a certain level of competency, moreover, the overall concern is for the client to cause no harm to the client.
Sexual misconduct is the first code to compared and contrasted. In almost every profession sexual misconduct with a client, employer and/or any associated member of your employment is forbidden. The American Association of Christian Counselors (AACC) is not an exception and such acts are considered immoral and unethical. For example, direct sexual contact, solicitation of sex, and any other forms of sexual intentions just to name a few. The sexual misconduct code is unambiguous and it has no grey areas. This is true for both the Christian and standard codes. However, the American Counseling Association code states, "Sexual or romantic counselor–client interactions or relationships with former clients, their romantic partners, or their family members are prohibited for a period of 5 years following the last professional contact" (ACA, 2005). Unlike the AACC, there are no exceptions. The AACC is restricted by biblical values and all sexual misconduct is immoral.
As stated in Code 1-130, forbidden sexual acts include, "Anonymous virtual interaction via the Internet or other electronic and informational means; sexual harassment by comments, touch, or promises/threats of special action; and sexual misconduct as defined by all applicable laws, ethics, and church, organizational, or practice policies" (AACC, 2004). There are no statutes of limitation or expiration dates included in this code. The code actually stipulates, "All sexual relations as defined in 1-130 above with former clients are unethical. Furthermore, we do not terminate and refer clients or parishioners, even at first contact, in order to pursue sexual or romantic relations" (AACC, 2004). In contrast, the ACA does not include virtual interaction by way of internet, which eliminates one of the most vital part sexual communications. The 7th FOUNDATION of the AACA Code states, "Christian counselors are mindful of their representation of Christ and his church and are dedicated to honor their commitments and obligations in all social and professional relations" (AACA, 2004).
Fees will be the next code that will be reviewed, is it ethical or unethical? The code of ethics for Christian Counselors clearly recommends that the fees are set at reasonable rate and not solely for profitable gain. And the fees and rules will be outlined for the client as possible. However, the Christian counselors can set their own fees. Code 1-512 suggest " to use sliding fee schedules scaled to client's ability to pay, and other reduced payment methods to increase counseling accessibility to those of lesser financial means" (AACC, 2004). On the contrary, the ACA suggest that if a client cannot afford the fees of a private counselor, it is only ethical to assist the client in finding a more affordable service. The ACA code of ethics also points out that if a client does not pay for services that he or she can be turned over to collections; however, the AACC does not make reference to unpaid fees. Instead, AACC code 1-514 states, "Counselors avoid financial practices that result or appear to result in greedy and self serving outcomes.
We do not select clients or prolong therapy based on their ability to pay high fees, nor do we quickly terminate counseling with low-fee clients. When making referrals, we do not divide fees with other professionals nor accept or give anything of value for making the referral. We do not exaggerate problems nor refer exclusively for specialized services to get clients into special programs or institutions in which we have a proprietary interest" (AACC 2004). The ACA also recommends bartering and gifts, however with caution. Undoubtedly, record keeping is very important. The ACA and AACC recognize and expect all counselors to adhere to the ethics set forth. Confidentiality between the client and counselor are outlined in both set of codes. In addition they each specify that the records be kept in a secure place and only authorized personnel have access. ACA code emphasizes the importance of the client consent recording any sessions. However, as stated before the AACC codes are more detailed. For example, "Confidential client communications include all verbal, written, telephonic, audio or video-taped, or electronic communications arising within the helping relationship"(AACC 1-410).
The use of passwords is also suggested by the AACC Furthermore, clients should feel secure in disclosing all pertinent information to the counselor. Therefore, the AACC and ACA codes insure that the client feels comfortable with counselor. Thus, making sure before counseling sessions begin the client is informed. The AACC Code 1-411 explains, "Clients should be informed about both the counselor's commitment to confidentiality and its limits before engaging in counseling. Christian counselors avoid stating or implying that confidentiality is guaranteed or absolute. We will discuss the limits of confidentiality and privacy with clients at the outset of counseling." Confidentiality is pertinate but what happens to the clients records after the termination of services is just as important.
Therefore, the ACA Code B.6.g.c stresses the importance, "Counselors store records following termination of services to ensure reasonable future access, maintain records in accordance with state and federal statutes governing records, and dispose of client records and other sensitive materials in a manner that protects client confidentiality" (ACC, 2005). On the contrary, this is one code that the AACC does not go into details. This is by no means to say the AACC does not realize the importance of client's confidentiality. But, there are no ideal situations. There will always be flaws but every counselor should trust there God given instincts. In conclusion, the code of ethics should be followed by all professions. It is so important that on realize that being able to counsel is a gift. So many people are hurting. It is wisdom that will be the deciding factor as to how each situation is handled
References
American Counseling Association. (2005). Licensure requirements for professional counselors Alexandria, VA: Author.
American Association of Christian Counselors (AACC). (2004). AACC Christian Counseling
Code of Ethics Forest, VA:AACC
Clinton & Ohlschlager (2002). Competent Christian counseling: Foundations and practice of compassionate soul care. Colorado Springs, CO: WaterBrook Press
Related Topics