Chinese Table Manners: You Are How You Eat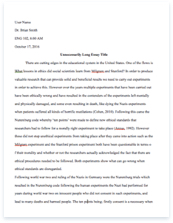 The whole doc is available only for registered users
OPEN DOC
A limited time offer! Get a custom sample essay written according to your requirements urgent 3h delivery guaranteed
Order Now
Article 10 Chinese Table Manners: You Are How You Eat words In the article, Chinese Table Manners: You Are How You Eat, by Eugene Copper, he wrote about how the Chinese's manners are different from our everyday manners. He tells about how the Chinese's manners are played out by the rules, which was taught when they were young. In the article, it tells about the manners used at a dinning table. He goes into details to how everything used and eat are eaten carefully so that they would offend others surroundings. For instance, everything on the dinning table is to be shared except your rice bowl in your hand. Chopstick is another main tool used at the dinner table to eat, and are used with cares. The rules to it are not to suck or bite on the chopstick. As for the Chinese, they may eat rice and other meals along with it but for Cantonese they need a bowl of soup to call it a full meal.
After reading this article, I found things similar to my culture. I am not Chinese nor a Cantonese, but a villager from Thailand, which I am also not Thai. My culture is Lahu, where there is no book about it to read so I can better understand my culture, and the rules and the food are similar to the way and what we eat. For example, we need bowls of rice and some vegetables and meats to call it a full meal. Also, it is similar to the structures of eating as with the Chinese where they have their own private rice bowl and the meals on the table for everyone. I think everyone should know about the differences between other culture because there are many unknown things and ways that will surprise us in one way or another. In addition, everyone should know that we don't act and do the same thing around the world but are constructed with multi-ways of living the life provided by God.
In conclusion, everything is not all the same so we have to learn from one another to better our life as a good neighborhood. And also just because one is different, it doesn't mean that you have to disrespect the ways of them doing it.
Related Topics