Child Labour Should Be Banned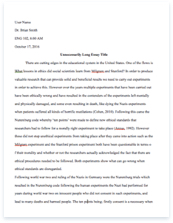 The whole doc is available only for registered users
A limited time offer! Get a custom sample essay written according to your requirements urgent 3h delivery guaranteed
Order Now
For many of us it is hard to imagine what it would be like growing up, having to work from the age of five and not being able to go to school. 'Child Labour' is defined by the United States Department of Labour (DOL) as 'the employment of boys and girls when they are too young to work for hire; or when they are employed at jobs unsuitable or unsafe for children of their ages' It is not something we are too familiar with ourselves, living in a wealthy country, but the fact is that there are many Third World countries out there where the economy and living conditions are so bad that children have to work in unsuitable and unsafe situations. There are certain charities that help, but that it is. Not enough is being done to stop child labour. It is very wrong and should be banned thought out the world and looked at as a disgrace.
Figures from the International Labour Organisation (ILO) show that 218 million children aged between five and seventeen are involved in child labour worldwide. That means globally one in six children work. This is an extremely large number. Around 150 million of the 218 million are involved in what is know as 'worst forms' of child labour, which include work such as forced labour, slavery and sexual exploitation. Many are forced to work without access to the toilet or drinking facilities – this is against human rights.
Child labour of course is different through out the world. Financial it may be necessary for a family to send their children to work to then be able to get food. Sometimes it can even be a situation of life and death if a child in a family does not work. Other times it may be in the families' ethic work where the children have to help. Either way, it is not good enough. Children should not have to work.
In some Third World countries, due to poverty, children are aloud to work as long as it does not interfere with their education and it is not hazardous. Brazil has a working system that if a child works and yet still goes to school, their family with get a minimum wage every month. If the child odes not go to school for less than two days (expect due to illness) the family does not get their money. This program has been in force since 1996 and has kept 10,000 children in school in Brazil. It should be a more global program as it proves that it works. If child labour is the only option for families, then it shows that not enough is being done. It should not be like this.
However child labour is not on the increase in all countries. CNN realised a report in May 2006 claiming the number of children ages five to seventeen working hazardously in Latin America has declined from 171 million to126 in the last four years. This was due to increased political will, awareness and poverty reduction. I believe this shows what all other countries need to follow this example and start working to stop child labour.
I believe poor advertising is to blame. Not many people realise how serious this situation is. It is wrong to take advantage of minors in any way. If child labour was happening in our own countries, it would be stopped immediately – so why is it different when it comes to helping others? There are selfish people out there who do not care about such issues as child labour, but then again there are people out there who would be willing to help, if only it was brought more to our attention.
Without the help of other powerful countries, it is going to be impossible to stop. Children are the cheapest, easiest to fire and most unlikely to argue workers, which make them the most wanted people for work. So far there is no real punishment for the Third World countries that use child labour. But also, in this 21st century global competition is on the rise. Work needs to be done quickly – and this is a huge child labour opportunity.
Being considered a minor myself, it is a situation that I would never want to be in. The first step should be bringing it more to the attention of others and then finally choosing action. More and more children's lives are being destroyed as they miss out on education and play. It is extremely unfair. Child labour needs to be stopped.
Bibliograpghy:
Anon (1956) 'Child labor' Encyclopaedia Americana Vol. 6.
BBC News (2005) 'Child Labour Campaign'
CNN (2006) 'Report: Child Labour is on the decline'
Hass, W. (2006) www.associatedcontent.com/article/87595/the_pros_and_cons_of_child_labor.html (05/01/07)
Save the Children (1998) www.savethe children.org.uk (05/01/07)
Human Rights (2002) www.hrw.org/children/labor.htm (05/01/07)
Related Topics