Case Study Intitled "A Diamond Personality"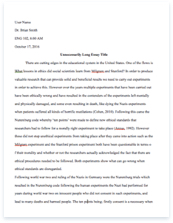 The whole doc is available only for registered users
A limited time offer! Get a custom sample essay written according to your requirements urgent 3h delivery guaranteed
Order Now
A case study is a form of qualitative explanatory research that is used to look at individuals, a small group of participants, or a group as a whole. Research on case studies allows people to understand complex issues that can extend experience and add strength to previous research. Case studies articulate detailed analysis of a minimal number of events and their affairs. This paper will look at the case study entitled "A Diamond Personally". This paper will answer 4 questions in regards to the case study giving adequate feedback about the questions being asked.
WHAT FACTORS DO YOU THINK HAVE CONTRIBUTED TO RODRIGUEZ'S SUCCESS? WAS HE MERELY "IN THE RIGHT PLACE AT THE RIGHT TIME," OR ARE THERE CHARACTERISTICS ABOUT HIM THAT CONTRIBUTE TO HIS SUCCESS?
The factors that contributed to Rodriguez's success are his personal values like Rodriguez being an entrepreneur and an optimistic individual. Another factor would be that Rodriguez bettered himself by attending community college receiving his diamonds grading certificate shortly after graduation. Working at a local jewelry store, Rodriguez gained knowledge of diamonds and used that information to open his own business acting as a connection point between buyers and sellers over the internet.
Along with all the characteristics Rodriguez possesses, Rodriguez was also in the right place at the right time. A girlfriend of Rodriguez's roommate suggested that Rodriguez go to work at a local jewelry store. This is where Rodriguez's knowledge of diamonds started and since Rodriguez (according to individuals who know him) is ambitious and never gives up on anything, Rodriguez was able to follow his dream and work harder at achieving it.
HOW DO YOU BELIEVE RODRIGUEZ WOULD SCORE ON THE BIG FIVE DIMENSIONS OF PERSONALITY (EXTRAVERSION, AGREEABLENESS, CONSCIENTIOUSNESS, EMOTIONAL STABILITY, OPENNESS TO EXPERIENCE)? WHICH ONES WOULD HE SCORE HIGH ON? WHICH ONES MIGHT HE SCORE LOW ON?
The Big Five Dimensions of Personality has become a psychological test that figures out an individual's personality. "This test measures what many psychologists consider to be the five fundamental dimensions of personality" The Big Five Personality Test (2000). The psychologist of the test recommended that the test taker also rate someone else on the test (this author rated only Rodriguez from the reference given on the reference page). After rating Rodriguez, the score obtained is adequate. The score shows that Rodriguez is down to earth (Intellect 16%), reliable (Conscientiousness 92%), sociable (Extraversion 64%), good natured (Agreeableness 83%), and relaxed (Neuroticism 9%).
As shown above, Rodriguez scored high on Conscientiousness. His conscientiousness score was 92%. That shows that Rodriguez is reliable, well-organized, self-disciplined, and careful. Rodriguez scored low on Neuroticism with a 9%. That is not a bad thing however. His 9% reflects that he is calm, relaxed, secure, and hardy.
DO YOU BELIEVE THAT RODRIGUEZ IS HIGH OR LOW ON CORE SELF-EVALUATION? ON WHAT INFORMATION DID YOU BASE YOUR DECISION?
On the Core Self Evaluation, this author believes that Rodriguez is a high scorer. The Core Self Evaluation is located on the website from the reference page. This author based this decision from the core self evaluation sheet located from the reference on the reference page.
WHAT INFORMATION ABOUT RODRIGUEZ SUGGESTS THAT HE HAS A PROACTIVE PERSONALITY?
Since proactive personality is someone who is a "go getter", then the information obtained that suggests that Rodriguez has a proactive personality are the facts that Rodriguez is an entrepreneur and optimistic about his own business venture. Having taken advice from a roommate's girlfriend, Rodriguez takes a position as a jeweler having no prior experience in the field. Also, after not being happy even after receiving a Diamonds Grading Certification from the Gemological Institute of America, Rodriguez still pushes on to follow his dreams. In 1997, Rodriguez was tired of working for "the man". Rodriguez ventures out and decides to open his own business as a jeweler.
Person's who have known Oscar Rodriguez for some time have said that Oscar is a very ambitious young man and that Oscar has always been an extremely motivated individual with a lot of resources. They have also mentioned that Rodriguez has a wonderful personality and pays close attention to detail. He also has an ability to stick to things.
Conclusion
Oscar Rodriguez is a 38 year old entrepreneur and an optimistic individual originally from Puerto Rico who moved to the United States in 1985 to gain an education from a community college. Because Rodriguez is a "go getter", he chose to follow his dreams and become a business owner acting as a middleman for different jewelry companies. Even after not being happy with his beginning career, Rodriguez still pushed forward to follow his dreams until they became a reality and developed into what his business is today, a successful internet business.
References
Judge, Erez, Bono, & Thoreson (2003). Core Self Evaluation. Retrieved
September 02, 2010,
From http://webcache.googleusercontent.com/search?q=cache:9mMwFDr25psJ:www.utsc.utoronto.ca/~phanira/WebSkills/Core%2520self%2520evaluation.doc+what+is+core+self-evaluation%3F&cd=1&hl=en&ct=clnk&gl=us
The Big Five Personality Test (2000). Statements. Questionnaire. Retrieved September 02, 2010
From http://www.outofservice.com/bigfive/
The Big Five Personality Test (2000). Test Results. Retrieved September 02, 2010, from
http://www.outofservice.com/bigfive/results/?oR=0.55&cR=0.861&eR=0.656&aR=0.833&nR=0.25&y=1970&g=m
Related Topics