Case One : Packaging and the J.N.D.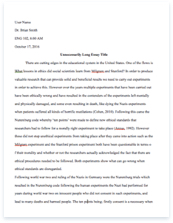 The whole doc is available only for registered users
A limited time offer! Get a custom sample essay written according to your requirements urgent 3h delivery guaranteed
Order Now
"Weber's law has important applications in marketing. Manufacturers and marketers endeavor to determine the relevant JND for their products for two very different reasons: 1. so that negative changes (e.g. reductions in product size or quality, or increase in product price) are not discernible to the public (i.e. remain below JND) and 2. so that product improvements (e.g. improved or updated packaging, larger size or lower price) are very apparent to consumers without being wastefully extravagant (i.e. they are at or just above the JND). When it comes to product improvements, marketers very much want to meet or exceed the consumer's differential threshold; that is, they want consumers to readily perceive any improvements made in the original products. Marketers use the JND to determine the amount of improvement they should make in their products. Less than the JND is wasted effort because the improvement will not be perceived; more than the JND is again wasteful because it reduces the level of repeat sales. On the other hand, when it comes to price increases, less than the JND is desirable because consumers are unlikely to notice it."
– Coca Cola introduced a new sweeter formula for its cola soft drink, and it replaced the original formula in April 1985. It had spent four years testing the new recipe and conducting taste tests with more than 190.000 people. Coca Cola found people chose the new formula 55 percent of the time, and the original one 45 percent of the time. But they failed to understand the emotional significance to people that messing with Coke would have. Many protest groups were formed. People started hoarding containers of the classical formula, formed groups like the Old Cola Drinkers of America, and even boycotted the company in protest. Ten weeks after introducing the new Coke company executives brought the old formula back and they added a "Classical" phrase underneath the script Coca Cola lettering to distinguish it from the new formula. This was an ineffective use of the J.N.D. Because the supposed improvement of the product went wrong. The company decided to remove "Classical" from its red labels. Within the last years they reduced the font size of the "Classical" phrase slowly over the time. This is a under the threshold change, which the consumers did not consciously recognize.
– Heinz Company wanted to raise awareness of consumers about quality ingredients of their product. They think their tomato ketchup is made from good-quality tomatoes, but a lot of their consumers didn't understand that. And also in mainstream food product, sources of the ingredients are affecting more the consumer preferences. Heinz removed the icon of gherkin from its label and placed the "tomato on the vine" with the new phase that is "Grown not made". They also increased the font size of "Tomato" and decreased the font size of "Ketchup" and used a brighter green. They signal that Heinz ketchup is "real, it's grown, it's natural, it's fresh". Especially moms who care about feeding of their children and family were significantly more positive about their view of Heinz ketchup. So change just on label was enough to be just above the J.N.D. And it was a successful implementation.
– Tropicana Pure Premium introduced a new packaging for its 100% pure & natural orange juice. But new package is not positively perceived by the costumers. Company didn't recognize the loyal customers. Most of the customers complained about the new design and demanded the old one. New design caused a significant decrease about differentiate Tropicana from other generic bargain brands. So company had to return in old packaging design and it was a big waste of money. It was above the threshold and unsuccessful implementation.
CASE TWO : Perception and Product Placements
Q1. Nowadays we often encounter product placements and just some of them we can consciously perceive. Subconscious and subliminal product placements affect people without their consent and desire. So I strongly agree that they are not ethical. Especially children are more delicate about product placement. They do not aware about the commercial strategies and trust level is overmuch at these ages. And also tobacco use, weapon use, alcoholic beverages etc. in movies, cartoons affect them easily and can create a unnecessary desire.
Q2. There is a significant increasein product placements in movies and TV programs. In all kind of TV programs like series, football matches, movies, cartoons etc. we are exposed to product placements. Some of them use digital placements like in football matches, some of them uses brand name directly in story line and some of them just uses indirect product placements (evoke). Before product placement become popular, there were too much ad breaks during the TV programs and most of them were not watched by the audience. It means waste of money. But when advertisements are integrated into the storyline and using they can be more efficient for the company.
Q3. An example for a good fit between the product placed and the story line can be Mini Cooper & Italian Job. During the scenes with Cooper you never alienation from the story line. However lots of prejudices about this tiny car are destroyed. An example for an unsuccessful product placement to the story line can be Coca Cola and Turkish series. You lose your focus to the story and main theme in the scene becomes the product. I think it doesn't affect audience's preferences enough. Because it doesn't seem familiar and trustable.
Related Topics