Capital Purchase Justification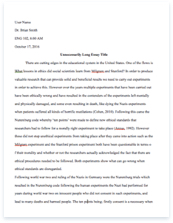 The whole doc is available only for registered users
A limited time offer! Get a custom sample essay written according to your requirements urgent 3h delivery guaranteed
Order Now
The advancement with medical technology is rapidly progressing every day. It has begun urging healthcare facilities to make new investments in new equipment and these kinds of advancements have been statistically proven to be a necessity when it comes to patient diagnostics and care. As part of the healthcare team, it is our duty to provide our patients with the highest quality of care they deserve from us and the best possible equipment within our facility. I am aware that our hospital has been contemplating on increasing our services by investing in much more advanced equipment that can be utilized in the Radiology Department. I would like to recommend investing for MRI (Magnetic Resonance Imaging) scanners from GE (General Electric).
I am also aware that choices such as these necessitate taking various factors into consideration, for instance, the value of the new medical equipment and the probable profit that this equipment could possibly bring to our hospital. An MRI scanner is considered a vital piece of equipment necessary in the Radiology Department because of the fact that it is an ideal investment for this hospital because of its technological benefits to our patients. Even though the scanners might demand for significant spending, it also has the capability of providing the hospital the possibility of acquiring more than just a return on investment. MRI scanners are diagnostic equipment which enables the physician to view a broad image of the internal structures of a patient's body (Huettel, Song & McCarthy, 2005). This diagnostic equipment is significant because it evidently illustrates the difference between unhealthy and healthy groups of tissues.
Additionally, it allows physicians and/or other healthcare professionals to collect vital information about a patient's neurological, skeletal, and other internal organs. The MRI has no known side effects and is safe to use. It can assist physicians determine a patient's condition and enables them to narrow down the results and develop a proper treatment needed by the patient and minimize any unnecessary patient expenses caused by misdiagnosis (Foltz & Jaffray, 2012). General Electric Healthcare is dedicated to provide new innovation which focus on patient quality care. They have the capability to produce extraordinary results in conjunction with their huge array of products and services that could support the demands of our hospital's Radiology Department. General Electric's Optima MR450w 1.5T together with the GEM Suite could offer patient comfort without compromising any qualities.
This type of scanner presents the benefits of wide-bore imaging with the use of Geometry Embracing Method (GEM). The Optima MR450w has a space large enough to accommodate all patients of various body types and it also has enough sound barriers that decrease the audio sounds for brain, spine, and/or MSK exams without depriving the value of the image results. This specific platform offers high quality gradients which elevates the control of gradient presentation to produce exceptional presentations in challenging applications such as cardiac, fMRI (Functional Magnetic Resonance Imaging), FIESTA (Fast Imaging Employing Steady-state Acquisition) and diffusion and signal digitization in the magnet chamber to advance SNR (Signal to Noise Ratio) (General Electric Company, 2014).
Additionally, the Optima MR450w accompanied with the GEM Suite will allow the hospital to fulfill the needs of patients, offering an advanced degree of signal lucidity producing an efficient workflow and also allow for lesser stations, faster examinations and less Fat Saturation (Fat Sat) failures. Having a wide-bore chamber diameter, feet-first capability, acoustic/sound reduction technology, and the enhanced comfort qualities/specifications of the GEM Suite could aid resolve issues like patient anxiety during the exam, and the non-contrast imaging capability that can produce high-resolution non-contrast imaging of the lower extremities, arterial and venous neuro imaging with 3D enhancements without the use of any contrast agents (General Electric Company, 2014).
The homogeneous magnet in addition to the Optima MR450w redesigned features will contribute to time efficiency which includes patient setup and/or exam prescriptions. This scanner is a good investment for the Radiology Department and since it's manufactured by General Electric Healthcare which has a proven 25-year track record of providing and delivering high-end technological advancements. The Optima MR450w also provides the functionality of radiation therapy planning which allows the Radiology Department's healthcare staff/professionals to foresee and handle services without any unexpected downtime.
The Optima MR450w 1.5T is priced for $49,181.00 from General Electric Healthcare and it can cost around $862.54 per month for 60 months with a 7% interest if financed. This cost includes any necessary maintenance needed for the whole duration of the contract from a reliable team of service technicians from General Electric Healthcare. Although we do have the option to acquire the scanner as a lease, but the cost would be higher. Ms. Tarbet, with all these data and information provided to you, I am confident that the Optima MR450w 1.5T including the GEM Suite would be a great asset for the Radiology Department as well as with our patients.
References:
Foltz, W.D. & Jaffray, D.A. (2012). Principles of magnetic resonance imaging. Radiation Research, 177(4), 331-348.
Huettel, S.A., Song, A.W., & McCarthy, G. (2005). Functional magnetic resonance imaging. The Quarterly Review of Biology, 80(1), 149-150.
Magnetic Resonance Imaging. General Electric Company. Retrieved January 11, 2015, from http://www3.gehealthcare.com/
Related Topics