Can Success Happen All In One Day in Someone Life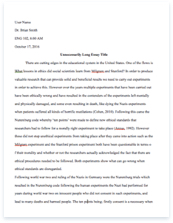 The whole doc is available only for registered users
A limited time offer! Get a custom sample essay written according to your requirements urgent 3h delivery guaranteed
Order Now
The book Outlier written by Malcolm Gladwell tells the story of success and how people overcome many difficulties. Gladwell states different stories of different types of people that have succeeded in life. Everyone in the book had their own path to their opportunities. The book Outlier states who is an outlier in life. It shows what it takes for someone to have success in life. How did they become who they are outside of society? The 10,000-Hour Rule is an encouragement that pushes people to achieve the American Dream and the opportunities through the success of life. People become successful not just by themselves, but by the support and who they are. Everyone in life starts off as a baby and with help from our parents to an adult.
In the book, Outlier, Gladwell maintains that "It's all but impossible to reach that number all by yourself by the time you're a young adult. You have to have parents who encourage and support you". Gladwell's point is that when someone is a baby, they had to have someone that can be with them from a baby until a "young adult". Everyone has to work hard with the support they have to reach that number as their goal. No one does things in life alone. Gladwell states, "These were things that others, with lesser minds, could master easily. But that's because those others had had help along the way, and Chris Langan never had…". In other words, Gladwell believes people can't learn easier by themselves. They need someone that can either motivate them or even just help them for a second. In the book, Outlier, he maintains "Successful people don't do it alone. Where they come from matters. They're product of particular places and environments". In making this comment, Gladwell urges us to not be alone and stand up ask for help when needed.
People achieve their opportunities through hard work. Having a passion for something can give success when hard work is used. According to Gladwell, "Those were the ingredients of success at the highest level: passion, talent, and hard work". Basically, Gladwell is saying that to reach success in life everyone should be able to have passion plus talent for the American dream. Also, thrive for hard work every single day to gain those opportunities. Push yourself to be the greatest to achieve goals in life. In the book Outlier it states "if you work hard enough and assert yourself, and use your mind and imagination, you can shape the world to your desires". This quote explains that people can push themselves towards the American dream with the mindset that everyone has to work hard every day to lead to that path. In Gladwell's view, "It's impossible I'll tell you, Keep working, and by week two, you'll make significant progress".
Gladwell's point is that the time a person work takes progress each day. Time is important when working towards something. Cultural legacies affect our American Dream to lead everyone to succeed in the world. Where everyone was born makes who they are. According to the book Outlier, "we've seen that success arises out of the steady accumulation of advantages when and where you are born, what your parents did for a living, and …". This quote explains that where someone was born and how our parents get money can help us grow in the future we live in. Where someone past is affected plus how they are today. They can have better success if learning from the past and seeing how the advantages can take them onward through the dreams that they have. The culture that everyone has can affect our future and dreams that all can achieve.
Gladwell states, " The culture we belong to and the legacies passed down by our forebears shape the patterns of our achievement in ways we cannot begin to image. It's not enough to ask what…". Gladwell point is that the culture we inherit helps our future success. Our culture helps someone achieve their American dream in life. Everyone culture has something special in them that helps people be successful in life. In conclusion, Outlier teaches people about many ways how someone can be successful in life. The 10,000-Hour rule is a goal that encourages people to make our American Dream and opportunities happen with success. Outliers make someone think about how the American Dream can be achieved. Everyone has to work hard and hard to lead to that goal in their life. The American Dream is the opportunities someone gets with success.
Related Topics