Buying behaviour of customers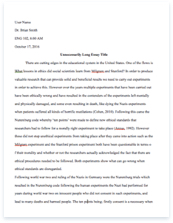 The whole doc is available only for registered users
A limited time offer! Get a custom sample essay written according to your requirements urgent 3h delivery guaranteed
Order Now
A project report containing marketing research on "The Impact of Brand Preference among B-Segment cars on Buying behavior of customers at Belgaum city" is partial fulfillment of requirement of MBA-II semester in Belgaum Institute of Management Studies, Belgaum.
So the need to know which is the Brand preferred and the Buying behaviour of customer, I collected the information by a structured questionnaire that included all the requirements what the SMPL needed and the questionnaire is attached in the appendix. This study helps the organization in the following ways: Management will know the most preferred brand among B-segment cars Management will understand the buying behaviour of customers To understand customers preference towards dealers.
So these are some fact by conducting this survey.
INTRODUCTION
It gives me an immense pleasure to present you this entire project. The project emphases on "THE IMPACT OF BRAND PREFERENCE AMONG B-SEGMENT CARS ON BUYING BEHAVIOUR OF CUSTOMERS AT BELGAUM CITY " the study is undertaken at Shantesha Motors Pvt Ltd. Belgaum.
The project report focuses on the Brand preferred by the customers, their Buying Behaviour, customers preference towards dealers and what all service the customer wanted.
LITERATURE REVIEW
Brand preference:
Today, the primary capital of much business is their brands. For decades, the value of the company was measured in terms of its real estate, then tangible assets, plants and equipments. However, it has recently been recognized that a company's real value lies outside the business itself, in the minds of potential buyers. For the potential customer, a brand is a landmark. Like money, it facilitates trade. Faced with a multitude of silent or "hard –to-read" products, whose performance cannot be assessed at first glance, customer are confused. Brand and prices make products easier to "read", removing uncertainty. A product price measures it's monetary value, it's brand identifies the products and reveals the facts of it's differences functional value ,pleasure value and symbolic value as a reflection as a buyer's self image. One word, One Symbol
Summarizes an idea, a sentence and a long list of attributes ,values and principles infused into the product or service .A brand encapsulates identity, origin and difference. It evokes this information concentrate in a word or a sign. This is why brands are vital for business exchange when faced with, say, hundreds of personal computers, a buyer can use brands to structure this selection, to segment it, helping him to decide what he wants, looking towards the products whose brand indicate that they will satisfy his expectations, needs, or wishes. In markets in which technology and fashion mean that the choice is constantly evolving, brands provide havens of stability, describing an identity and promising constant features and direction.
Brands are the real capital of business, yet brand management is still in its infancy. At present, the tendency is to manage products that happen to have a name. Management is still living in the age of the products, but brand management involves other, specific approaches and principles. These are the focus of this presentation.
A brand is not a product: it is the product's source, its meaning, and its direction, and it defines its identity in time and space. Businesses are discovering that brand equity must be managed, nurtured, and controlled. Brand consciousness is raising new questions for mangers: how many brands be extended? What products and service should it encompass? Or, on the other hand, what should its limit be, even when a certain turnovers is expected from it? Going too far can also weaken brand equity.
How do you manage brands over time and keep them up to date, as technologies, products and customers are changing? How do you manage while staying the same? How do provide consistent synergic management of the range of product sold under a single brand? How do you optimize image in the relationship between products and their brand? How far can a brand be extended geographically? Does it have the potential to become a homogeneous geo-brand in all countries? Or is this impossible, or even undesirable? Many companies have the same name as their brand (e.g., Renault, Nestle, IBM, BASF). What difference between managing a brand image and managing corporate and institutional image? Finally, given that brands do have a value, how can this be measured, so that it can be tracked and controlled? Should it be capitalized on the balance sheet, to indicate its true economic value to stockholders, investors, and financial partners?
Brands vary in the amount of power and value they have in the market place. At one extreme are brands that are not know by most buyers. Then there are brands for which buyers have a fairly high degree of brand awareness. Beyond this are brands with a high degree of brand acceptability. There are brands that enjoy a high degree of brand preference. Finally there are brands that command a high degree of loyalty.
Tony O' Reilly, former CEO of H. J. Heinz, proposed this test of brand loyalty: "My acid test… is whether a house wife, intending to buy Heinz tomato ketchup in a store, finding it to be out of stock, will walk out of the store to buy it elsewhere. "
Aaker distinguished five levels of customer attitude toward his or her brand, from lowest to highest. 1. Customer will change brands, especially for price reasons. No brand loyalty. 2. Customer is satisfied. No reason to change the brand.
3. Customer is satisfied and would incur costs by changing brand. 4. Customer values the brands and sees it as a friend.
5. Customer is devoted to the brand.
Statement of the problem
In Indian car industry, small car segments have played a very crucial and significant role due to its economy, efficiency and effectiveness. Due to invasion of foreign cars into Indian markets, the pace of competition has hiked. This has brought into market, number of Brands and their variants competing to with each other.
All these factors have resulted in flux in the minds of the customers as to which brand to go for. In other words, Brand-switching is gaining the momentum. So to position the brand in the minds of the customers the company or dealer should keep the track of this shift in preferences. Hence the main purpose of this study is to find the "Impact of Brand preference among B-Segment cars on Buying behaviour of customers at Belgaum city".
Purpose of study
The purpose of the study is to know the Brand preferred by the customers and change in buying behavior can be estimated by this study. The marketing strategies can be designed in accordance with this change. It will be helpful for the managers to make decisions. Hence, this study should be conducted.
Scope of the study
The main purpose of the study is to know the "Impact of Brand preference among B-segment cars on Buying Behavior of Customers at Belgaum city". This study will provide solutions to the management by understanding customers feedback. Through this study Management will know :
The reason why people opt four-wheeler.
To know the features considered by the customers while purchasing a car. To know the most preferred brand by the customers.
The scope of the study is restricted up to the Belgaum city.
Objectives of the study
1. To find the impact of Brand preference among B-segment cars. 2. To understand the Buying behaviour of customers.
3. To know the facilities/services expected by the customers from the dealer.
4. To know the means of finance preferred by the customers.
5. To know the reason why people opt four-wheeler.
6. To know the significant attributes preferred by customers in a car.
ORGANIZATION PROFILE
MARUTI UDYOG LIMITED
ORGANIZATION OVERVIEW:
Maruti Udyog Limited (MUL) was established in Feb 1981 through an Act of Parliament, to meet the growing demand of a personal mode of transport caused by the lack of an efficient public transport system.
Suzuki Motor Company was chosen from seven prospective partners worldwide. This was not only due to their undisputed leadership in small cars but also to their commitment to actively bring to MUL contemporary technology and Japanese management practices (which had catapulted Japan over USA to the status of the top auto manufacturing country in the world).
A licence and a Joint Venture agreement was signed between Govt. of India and Suzuki Motor Company (now Suzuki Motor Corporation of Japan) in Oct 1982.
The objectives of MUL then were:
1. Modernization of the Indian Automobile Industry.
2. Production of fuel-efficient vehicles to conserve scarce resources. 3. Production of large number of motor vehicles which was necessary for economic growth.
Related Topics