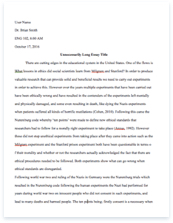 The whole doc is available only for registered users
A limited time offer! Get a custom sample essay written according to your requirements urgent 3h delivery guaranteed
Order Now
• The first thing you need to do is save a copy of this document, either onto your computer or a disk • Then work through your Assessment, remembering to save your work regularly • When you've finished, print out a copy to keep for reference • Then, go to www.vision2learn.com and send your completed Assessment to your tutor via your My Study area – make sure it is clearly marked with your name, the course title and the Unit and Assessment number.
Please note that this Assessment document has 9 pages and is made up of 9 Sections.
Name: Jacqueline Batty
Section 1 – Understand how to make and receive telephone calls
1. Complete the table below with descriptions of at least two different features of a telephone system and how / when they would be used.
2. Prepare a brief report advising people on:
• How to follow organisational procedures when making and receiving telephone calls • The purpose of giving a positive image of yourself and your organisation when making and receiving telephone calls.
If possible, use specific information from procedures in your own organisation (or one that you are familiar with).
Most businesses have procedures and policies they expect their employees to follow these might be some of the following: Answering the telephone after a certain amount of rings
Greet the callers with a standard greeting
Read specific scripts on certain calls
Answer colleague's phones if they are away from their desk Always ask for permission to make any personal calls
When making and receiving calls it is important to make a positive impression. By answering the phone you become responsible for creating a positive image of yourself and the business. Always answer the phone with a smile and in a happy manner.
Section 2 – Understand how to handle mail
1. Explain the purpose of correctly receiving, checking and sorting mail and packages (both incoming and outgoing).
It is important to follow the correct procedures for receiving, checking, sorting incoming and outgoing mail or packages. If a mistake is made then someone May be waiting on the arrival of an important document and it may go to the wrong person, or even go missing completely.
2. Complete the table below with the following information:
• At least two examples of internal mail services that are available to organisations • At least two examples of external mail services that are available to organisations
3. Describe two methods that you can use to calculate postage charges for mail and / or packages.
When calculating postage charges there are a few questions to consider like when does the mail need to be delivered for? Does it need to be track able throughout the journey? Does it need to be signed for? Once the postal requirements are understood you can then look at the delivery options available and select the most appropriate one. Comparing two or three providers or comparison sites will help you do this.
Section 3 – Understand how to use different types of office equipment
1. Describe the main types of equipment found in offices and how they are used. Include examples of at least three different types of office equipment.
There are many different types of equipment found in offices like computers, photocopiers, printers, fax machines and scanners.
Every business will have a computer. With the right software, computers can provide a wide range of functions such as word processing, spreadsheets and databases. Most computers are networked and connected to the internet which allows easy communication.
Photocopiers are used to make exact copies of documents they are useful for making multiple copies of one document. Photocopiers have the capacity to produce copies quicker and cheaper then inkjet printers. Photocopiers can also come with all in one, multiple purpose printer, scanner and fax machine.
Scanners are used to convert documents and other images into electronic files that can be stored on a computer. This reduces the need for paper based filling.
2. Explain the purpose of following manufacturer's instructions when using equipment.
It is best practice to follow manufacturer's instructions in order to fully understand the equipment and get the most out of it. Not following these instructions could result in damage being caused to the equipment. The manufacturing instructions will describe the safest way to use the equipment so the person operating the equipment will be safe. It will also tell you the best way to use the equipment for minimum maintenance and maximum longevity and the most efficient way to use it. If there is manufacturer's guarantee on the equipment and the equipment as not been used in the right way and the instructions not followed then it will be difficult to have it replaced or repaired.
3. Explain the purpose of keeping equipment clean, hygienic and ready for the next user.
It is important to keep equipment clean as it performs better than dirty equipment, it is also more hygienic. A lot of people work in communal areas and share equipment so it's important to leave equipment in the clean condition you found it in as this can result in productivity being affected because time must be spent on cleaning up messy areas and equipment. By keeping equipment clean you are minimising the risk of infection and spreading of germs.
Section 4 – Understand how to keep waste to a minimum in a business environment
1. Explain why waste should be kept to a minimum in a business environment.
Waste should be kept to a minimum because too much waste can have consequences for the long term viability of the business. Things like to much money being spent on dealing with sorting, moving and disposing waste. Waste in business is inconvenient and it can also impact on productivity.
2. Identify at least two main causes of waste in a business environment.
Waste is offen caused by people in a business and occurs because people make too many mistakes. As a result, time and effort must go into rectifying these mistakes. This can be down to people's lack of training and not knowing how to do a task properly. Waste can also be caused by problems with materials and equipment. This could include faults in raw materials, faults in components supplied from within the organisation or even machines or equipment breaking down.
3. How can you keep waste to a minimum in a business environment? Describe at least two ways of doing this.
You can keep waste to a minimum in a business environment by training staff and encouraging them to identify waste and inform the appropriate people as soon as possible. You can also check orders that have been placed and check incoming components before use, also consider more reliable suppliers.
Section 5 – Know how to make arrangements for meetings
1. Complete the table below listing at least two different types of meetings and describing the main features of each type of meeting.
2. When arranging a meeting:
• What sources and types of information are typically needed?
• How should meetings be arranged?
All meetings require different types of resources the most typical ones are a venue that is big enough for all that are attending. Make sure you have enough chairs and tables for all the attendees. People to like to take notes during meetings so make sure there is pens and paper available. Make sure that any information people will need access to is easy to access or hand outs are ready to hand out to people that need them.
When arranging a meeting you need to first confirm the venue, equipment and catering. Produce the agenda and meeting papers. Make sure you invite everybody that needs to attend the meeting. Make sure you check whether any of the attendees need any special requirements, such as does the attendee have a physical disability? Will they be able to access the venue? Do they need special equipment or help taking notes? Always confirm who will be attending the meeting so you can have the right amount of chairs and tables when planning the layout of the room.
Section 6 – Understand procedures for organising travel and accommodation arrangements
1. Explain the purpose of confirming instructions and requirements for business travel and accommodation.
By confirming instructions and requirements it helps to ensure that no mistakes are made. There are many possible misunderstandings that could occur, like places with the same name or ones that have similar sounding names. Making sure you confirm this with the traveller will ensure they travel to the right destination. It is also important to confirm the time and date because if someone was to just write 2 30 this could mean a number of things, like whether it is AM or PM or it could even mean 30th of February.
2. Complete the table below with an outline of the main types of business travel and accommodation arrangements that may need to be made and the procedures that should be followed when doing this.
3. Explain the purpose of keeping records of travel / accommodation arrangements in a business environment.
Keeping records of travel and accommodation arrangements allows the business to be well organised and you can monitor spending patterns. Accountants will also use this information when doing the accounts. They are also useful for people who may need to check small details like train times or check out times. By keeping records it will help the business to look for ways to improve its travel and accommodation bookings.
Section 7 – Understand diary management procedures
1. Briefly explain the purpose of using a diary system to plan activities at work. Give at least two reasons.
Keeping a diary system is important as this will help you be more organised and plan your days. If you do not use a diary it is likely that meetings and appointments would be forgotten and rooms double booked and this would not look good for the business.
2. Identify the information needed to maintain a diary system in the workplace.
Information is important to maintain a diary system like if you have a meeting to attend you will also need to no who the meeting is with, what the meeting is about, when is the meeting, where is the meeting and why are you having the meeting. Failure to record this information can lead to problems and the system is likely to fail.
Section 8 – Understand the purpose of delivering effective customer service and how to do so
1. What are the differences between internal and external customers in a business environment?
The differences between internal and external customers are, internal are those working for the same employer as yourself where as external are other businesses, organisations or companies that supply you or the business you work for.
2. Explain why customer service should meet or exceed customer expectations. Include at least three reasons in your answer.
Customer service should meet and exceed customer expectations because this makes the customer satisfied. By making the customer satisfied they arte likely to come again and tell their friends, which increases business profits. When customers are satisfied it gives a positive impression on the business.
3. Explain the importance of building positive relationships with customers. Outline two ways in which this can be achieved.
It is important to build positive relationships with customers and you can achieve this by always looking happy and positive when dealing with customers. Focus on the customers needs and help them to achieve these needs. Also never promise something you can not deliver.
4. How do customers demonstrate their own needs and expectations? Customers demonstrate their own needs and expectations by complaining. By complaining the customer is offering a very clear insight into their needs and expectations. They will tell you what they wanted and what they expected from you.
Section 9 – Understand the purpose of reception services and how to follow reception procedures
1. What is the purpose of the receptionist role as the first point of contact in a business environment?
The purpose of a receptionist role is to welcome visitors with an appropriate greeting. Handling enquires and providing relevant information about the organisation. They also monitor access into and out of the building by visitors and get them to sign in and out, keeping an accurate record of this.
2.Describe how a receptionist can present a positive image of themselves and the organisation and explain why this is important.
A receptionist can present a positive image of themselves and the organisation by their appearance, being clean and well groomed will give a positive look. Communication gives a positive image as well by speaking clearly and at sensible speeds. Listening to the visitor and giving them relevant information. Being polite, friendly and attentive is also important to making a positive impression.
3. In relation to your own organisation (or one that you are familiar with), explain what must be done when carrying out entry, departure, security and confidentiality procedures in a reception area.
When entering a business the reception area is located so that it is not possible to enter the building without going through reception. It is the receptionist's job to monitor visitors entering and where they go ensuring they don't go to places that are out of bounds for visitors. Always ensure that a receptionist is on duty as prevents unauthorised access to the premises and offices. All visitors are to enter their arrival times in the logbook and sometimes their car registration plates are recorded. After signing in the receptionist will issue the visitor with a badge so that people can identify who they are. Find out who the visitor is here to see and then let the person know immediately so they are seen to promptly. Receptionists have a security role as well a have a duty to keep confidential paperwork away from the receptionist area as this is a public area and where many people could see important documents. When the visitor departures the building the receptionist will ask for your badge and to sign the logbook with your departure time.
Once you have completed all 9 Sections of this Assessment, go to www.vision2learn.com and send your work to your tutor for marking.
Related Topics