Bullies Need Therapy Not Punishment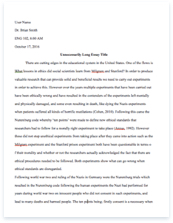 The whole doc is available only for registered users
A limited time offer! Get a custom sample essay written according to your requirements urgent 3h delivery guaranteed
Order Now
Bullies are not born, circumstances make bullies. Therefore why can bullies not be helped to make them better adults and have a brighter future? Everyone needs to understand the causes of bullying and try to help prevent it from the underlying cause. By punishing a bully, does that end the problem of bullying or result in more hatred and aggressiveness on part of the bully? "Since bullies are made, not born, rehabilitation is an attainable and preferable alternative to resorting to harsh reprimands or turning a blind eye" (Hanson). Bullying is a form of youth violence. It is an unwanted aggressive behaviour by one or a group of young persons. It is normally repeated frequently and affects the person physically, psychologically, socially, or educationally. Bullying can be in the form of physical, verbal or social aggression. Another form of bullying is cyber-bullying, which involves bullying through e-mail, a chat room, instant messaging, a website, text messaging, or videos or pictures posted on websites or sent through cell phones (Understanding Bullying – Fact Sheet).
The first response to deal with a bully is normally to punish them. They are regarded as a ruthless, emotionless and bad person, who hurt others and therefore they cannot be helped. But most of the time, those bullies do not even realise the impact their behaviours are having on the victims. There are times when they have actually been victims of bullying themselves and to them, this is a way of venting their frustration out (Hanson). A third of bullies are victims of bullying and those kids actually are more prone to depression and suicide (Smith-Heavenrich). Counsellors and psychologists believe that bullies' behaviours relate to their home environment. There may be a number of factors like fighting, punishment and a lack of praise and encouragement that make bullies think that this is the only way deal with problems.
If not treated, bullies go on to have unsuccessful relationships later in life; with their partners, forming or keeping friendships, or even preventing conflicts with co-workers (Hanson). A research conducted on the lives of 518 individuals, from the age of 8 until 50, shows that "the ones labelled as bullies received more driving citations and court convictions and showed higher rates of alcoholism and antisocial personality disorders". In early grades, their intelligence level were similar to that of other kids but by 19, the aggressiveness were a hindrance to the development of their intellectual skills. In high schools, those bullies had higher dropout rates and were more involved in sex, drugs and alcohol issues (Smith-Heavenrich). Even groups from the American Bar Association and the American Psychological Association reported a decrease in academic performance and increase in misbehaviour, school dropouts for children who have been punished rather than helped (Armistead). Therefore, rather than punishing them, educators and parents should help bullies address their problems so they can lead a normal adult life later (Hanson).
Another reason to help bullies is for the sake of a safer society. Studies have shown that bullies as child have an association with criminal behaviour later in life. One study in the United States showed that by the age of 30, one of four bullies have a criminal record, compared to non-bullies, for whom it is a fifth of that. Bullies end up not having a good work life too and therefore do not contribute much to the economy of the society and on top of that, an increase in mental health services, accidents, court costs and medical costs due to violence is an additional cost to the society (Hanson). Please note that according to Fight Crime: Invest in Kids, the cost for one year of juvenile detention per child ranges from $35,000 to $50,000 compared to $12,000 to $15,000 for prevention and intervention programs (Armistead).
Therefore in the best interest of everyone, it is better to provide help to bullies from a young age itself and help them instead of punishing them. Researches are now showing that bullies start becoming aggressive from an early age and they treat others in an unfriendly way. They imagine there is provocation while there is none and looks for revenge (Smith-Heavenrich). Bullies need to understand that aggression with humans is not the remedy to everything. Anger management programs can help bullies by identifying what is causing them to react that way. This is a long term process, where a lot of patience is required. It is more beneficial and less challenging if started as soon as bullying symptoms are starting to be noticed in a child. By helping a bully deal with the psychological problems they may be having, half of the issue will be solved.
However, if just punished, the bully's mind will be filled with even more hatred for the society (Hanson). Parents of bullies need to be very calm and understanding. They have an important role of teaching the child that bullying is not a part of their family or society. They can start by treating their kids with respect. They have to know how their children are feeling and what is causing that aggressiveness in them and help them find alternate ways to deal with those emotions (Smith-Heavenrich). Another important place to prevent bullying is at school. Instead of focusing on one individual, school wide teaching should be implemented to help kids not become bullies. In South Carolina, McCormick Middle School used a program that provided help not only to the victims but to bullies as well. After a year, the bullying rate dropped from 50% to 22% (Smith-Heavenrich).
Aggressive anti-bullying efforts may be a big threat to bullies, as they are constantly criticized. However, sometimes what is considered bullying may just have been a normal part of growing up. According to NICHD survey, we consider teasing or doing nasty things to a student as bullying but when two students of the same strengths are fighting, it is not considered bullying (Soskis). That is another reason why instead of punishing someone, assuming them to be a bully, we should try to find out what actually happened. Taking severe steps for someone who is not actually a bully may make them develop a hatred and then turn them into a bully.
Of course some may argue that empowering victims and punishing bullies is the best way to reduce bullying (Junyk). However, as stated in my discussion above, the zero tolerance approach is not beneficial. For example, one of the reasons stated for cyberbullying is anonymity (Why do People Cyberbully). Therefore, if a bully is punished at school, he/she may decide to seek revenge from the victim by use of cyberbullying and thereby remaining unidentified. This will be even more disturbing to the victim.
So, it is high time for people to realize that just by helping victims, bullying is not going to stop and it is not going to help the society. Help must be readily available for bullies, so that they can face whatever problem they may be facing and become a better and responsible citizen for the future. By doing so, there will be no more bullying and hence, no more victims too.
Works Cited
Armistead, Rhonda B. "Zero Tolerance Policies Are Unfair." Violent Children. Ed. Roman Espejo. Detroit: Greenhaven Press, 2010. At Issue. Rpt. from "Zero Tolerance: The School Woodshed." Education Week 11 June 2008: 24-26. Opposing Viewpoints in Context. Web. 22 Oct. 2014. Hanson, Ruth. "Point: Bullies Should Be Rehabilitated, Not Punished." Canadian Points of View: Bullying (2014): 2. Canadian Points of View Reference Centre. Web. 18 Oct. 2014. Junyk, Myra. "Counterpoint: Bullies Can Be Prevented by Empowering Victims." Canadian Points of View: Bullying (2014): 2. Canadian Points of View Reference Centre. Web. 18 Oct. 2014. Smith-Heavenrich, Sue. "Bullying Among Youths Is a Serious Problem." America's Youth. Ed. Roman Espejo. San Diego: Greenhaven Press, 2003. Opposing Viewpoints. Rpt. from "Kids Hurting Kids: Bullies in the Schoolyard." Mothering (2001). Opposing Viewpoints in Context. Web. 22 Oct. 2014. Soskis, Benjamin. "The Extent of Bullying Is Exaggerated." America's Youth. Ed. Roman Espejo. San Diego: Greenhaven Press, 2003. Opposing Viewpoints. Rpt. from "Bully Pulpit—How America Learned to Hate Bullies." The New Republic (14 May 2001). Opposing Viewpoints in Context. Web. 29 Oct. 2014. "Understanding Bullying – Fact Sheet." n.d. Centers for Disease and Control Prevention . PDF Document. 20 October 2014. "Why Do People Cyberbully?" Delete Cyberbullying – A Stop Online Harassment Project. Delete Cyberbullying, n.d. Web. 20 Oct. 2014.
Related Topics