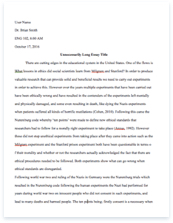 The whole doc is available only for registered users
Pages: 3
Word count: 561
Category: Contract
A limited time offer! Get a custom sample essay written according to your requirements urgent 3h delivery guaranteed
Order Now
WIRETIME, Inc. (WIRETIME) has committed defamation because WIRETIME wrote damaging words about BUGusa, Inc.'s (BUGusa) product. All four elements of defamation are present in this case. First, defamatory statements were made, a 3rd party became involved, the defamatory statement singled out one organization, and lastly, harm was inflicted on BUGusa clientele. BUGusa may sue WIRETIME for trade libel due to the damaging article wrote against them and seek retribution.
Scenario: WIRETIME, Inc. (Janet)
Has WIRETIME, Inc. committed any torts? If so, explain.
WIRETIME interfered with a current contractual relationship in this case. WIRETIME knew of the agreement Janet had with BUGusa and convinced Janet to break the contractual agreement she has existing with her employer. Janet breached her contract with BUGusa by accepting a job working for WIRETIME. The contract stated Janet is not to work for BUGusa's competitor for another two years, thus violating a non-compete clause.
Scenario: WIRETIME, Inc. (Steve and Walter)
Discuss any liability BUGusa, Inc., may have for Walter's actions.
In this case, the security guard falsely imprisoned Steve. Walter was acting on his own accord and adhering to his job responsibilities, but Walter exceeded his authority by threatening Steve, creating a conflict. WIRETIME was also guilty of stealing BUGusa's trade secrets by assigning Steve to work undercover.
Scenario: BUGusa, Inc., Plant Parking Lot
What defenses may be available to BUGusa, Inc.? Explain your answer.
BUGusa could use protection under assumption of danger defense. The dangers were known to the workers but they continued working without taking any actions to rectify the situation in the parking lot. BUGusa would not have many defenses in this case because the company was negligent to its employees due to BUGusa being fully aware of the robberies in the parking lot. BUGusa declined to add security to the building and robberies continued to occur. Vendors could also sue BUGusa due to these incidents happening on BUGusa property.
Scenario: BUGusa, Inc. (Randy and Brian)
What defenses may be available to BUGusa, Inc.? Explain your answer.
BUGusa could use comparative negligence defense in this case. Due to Randy's poor actions, a mishap occurred as he failed to yield right in the intersection. Randy was negligent because he was careless and did not yield. Brian had some culpability due to his excessive speed. Using the protection of comparative negligence, a percentage of liability will be assigned to the guilty parties. However, it is Randy's word against Brian's unless there was a witness claiming to corroborate the report provided. Randy could spin the claim Brian is making and state Brian was speeding and hit his vehicle. If a witness was able to corroborate or confirm the evidence provided, BUGusa has a good chance of having this case work in their favor. If there are no witnesses, the incident will be more difficult to sort out liability.
Scenario: BUGusa, Inc. (Sally)
Sally may have a successful case against BUGusa, Inc., for what torts? Explain your answer.
Sally does have a claim in this case. While BUGusa may have had the best of intentions, they introduced a defective product, exposing them to a liability tort. Sally could claim BUGusa was negligent because they knew about the defect and did not do anything about it. Sally can take this to litigation and sue for unintentional injuries caused by the equipment she was using.
Related Topics