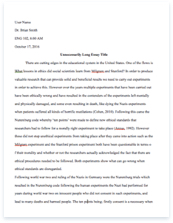 The whole doc is available only for registered users
A limited time offer! Get a custom sample essay written according to your requirements urgent 3h delivery guaranteed
Order Now
Buffalo Wild Wings Grill and Bar was created in 1981 by Kent and Ohio who coming up with the idea that build a restaurant with New York-style Buffalo wings. Today, Buffalo Wild Wings Grill & Bar is one of the Top 10 Fastest-Growing Restaurant Chains in the country. Currently, they have over 375 restaurant that owned by company and franchised restaurants in 35 states. Their restaurants all have a modified wait-style service which allows them to offer affordable made-to-order food with a focus on New York-style Buffalo chicken wings and there with more than 12 signature sauces and over 3 seasoning. The sports bar atmosphere is design with a lot of big screen moreover, on the side they have two different stations to serve customer such as bar station and table station.
On November 20, 2003, Buffalo Wild Wings, Inc. launched its initial public offering of 3,250,000 shares of Common Stock at a price of $17.00 per share. But on September 13, 2014 is reach the price at $147 per share. Buffalo Wild Wings Inc. is listed on the NASDAQ under the symbol BWLD. Introduction
COMPANY OWNED VS FRANCHISED LOCATIONS
In December 26, 2004, Buffalo Wild Wings already had more than 306 restaurants in 31 states; 103 of these were company-owned occur 33.66 percent and with 203 that was franchised with around 66.33 percent. In 2005, BWLD make a plan to open over 20 new company-owned restaurants and 50 new franchised restaurants. The majority profit of Buffalo Wild Wings are come from restaurant sales with a very consistent percentage of 89 percent, and the franchise sales and fees just take a small place in total profit with only 11 percent. FRANCHISE AGREEMENT:
Buffalo Wild Wings franchise agreement require some typical initial term is from 15 to 20-years, with a chance to renewal a franchise agreement. The initial franchise fee that Buffalo Wild Wings accept is $42,500 for the first restaurant, $32,500 for the second restaurant and $27,500 for each subsequent restaurant. The Franchisees also pays a royalty fee of 5.0% of their restaurant sales. The franchise agreements typically allow them to assess franchisees an advertising fee in the amount of 3.0% of their restaurant sales, of which 2.5% is contributed to their Advertising Fund and the remaining 0.5% is spent directly by the franchisee in the applicable local market. All of BWLD's franchise agreements require that each franchised restaurant be operated need to follow their defined operating procedures such as the menu, meet applicable quality, service, health and cleanliness standards and comply with all applicable laws. BWLD always try to make sure that these high standards are being followed through a variety of means including mystery shoppers and unannounced quality assurance inspections by the owner of the franchise owner. Moreover, they also employ franchise consultants to help their franchisees know how to developing profitable operations and maintaining our operating standards. Industry Analysis
Buffalo Wild Wings is in the restaurant industry within the services sector. The restaurant industry has two difference main segments such as full-service restaurants which are content the existed of Buffalo Wild Wings and fast-food restaurants which are content the Taco Bell, KFC, Pizza Hut or McDonalds… The restaurant industry is a mature market and has a lot of strong competition from big brands. "Restaurant companies are essentially retailers of prepared foods, and their operating performance is influenced by many of the same factors that affect traditional retail stores. For the most part, restaurants have business models that are relatively easy to understand, and the array on the Value Line page is the same as that of a standard industrial company. Nonetheless, there are a number of unique factors to consider when making investment decisions regarding this large and segmented industry." (Spencer, n.d.). Demand for restaurants by the consumers has been remaining unchanged since the America families which is the parent was too busy for their jobs and do not have the time for shopping and preparing food for their child. Thus, there are opportunities for growth for smaller restaurant chains that have found a unique niche in the market such as Panera Bread Company in the fast-food segment or PF Chang's who specialize in gourmet Asian cuisines in the full-service segment. Many of the company's direct and indirect competitors are well-established national, regional or local chains. Organization
The business of Buffalo Wild Wings, Inc. is containing an Internet website address at www.buffalowildwings.com. They are restaurant owner, operator, and franchisor by have an exclusive menu items including their Buffalo New York-style chicken wings within 16 signature sauces or 5 signature seasonings. Their restaurants had a welcoming neighborhood atmosphere with an extensive multi-media system, a full bar which shows sport game for sports fans and an open dine in area for families to enjoy their time. The guests can have the opportunity to watching sporting events or other popular programs on the projection screens and some additional televisions that they install inside the restaurant that was more competitive than Buzztime ® Trivia just for playing video games. The open layout of their restaurants offers dining and bar areas that provide the sports fans and families con choose their seat that they feel comfortable with. Our flexible restaurants allow our guests to customize their Buffalo Wild Wings experience with service preferences or the experience to seeking of a workday lunch, a dine-in dinner, a take-out meal, an afternoon or evening enjoying a sporting event or a late-night craving. Buffalo Wild Wings restaurants are the place people want to be; where any excuse to get together is a good one. Moreover, they provide their customer that can change the music that they like to have a good time at Buffalo. Management/Human Resources
Competitive Analysis
"Main competitors include:
Brinker International (EAT)- Operates casual dining restaurants such as, Chili's Grill & Bar, Romano's Macaroni Grill, On The Border Mexican Grill & Cantina, and Maggiano's Little Italy, in 49 US states and several countries. Ruby Tuesday (RT)- Operates casual dining restaurants under the Ruby Tuesday brand name in the U.S. and internationally. BJ's Restaurants (BJRI)- Operates casual dining restaurants in the U.S. under the names, BJ's Restaurant and Brewery, BJ's Restaurant and Brewhouse, and BJ's Pizza and Grill. Cheesecake Factory (CAKE)- Operates full service and casual dining restaurants in the U.S. under the names, The Cheesecake Factory, Grand Lux Cafe, and The Cheesecake Factory Express.
California Pizza Kitchen (CPKI)- Operates casual dining restaurants in the U.S. and internationally under the names, California Pizza Kitchen, California Pizza Kitchen ASAP, and L.A. Food Show. Applebee's International (APPB)- Operates the largest casual dining restaurant chain under the name Applebee's Neighborhood Bar and Grill in the U.S. and internationally. Darden Restaurants (DRI)- Operates restaurants under the names Red Lobster, Olive Garden, Bahama Breeze, Smokey Bones, and Seasons 52 in the U.S. and Canada. Hooters Restaurants (privately-held) – Operates casual dining restaurants in the U.S. and internationally. It is known by many for its chicken wings." ("Buffalo Wild Wings (BWLD)," n.d.) Marketing
Buffalo Wild Wings SWOT Analysis
Strengths
Cost advantage
Effective communication
Strong management team
Strong brand equity
Unique products
14 different sauces including 4 dry rubs
Weaknesses
Limited seating
No online presence
Reliance on chicken sales
Opportunities
Financial markets (raise money through debt, etc)
Innovation
Product and services expansion
International development
Threats
Product substitution
Volatility of Chicken Wing Prices
Since 1982, Buffalo Wild Wings has created a unique brand experience with a loyal fan base, award-winning wings and sauces, a variety of beers and an exciting social atmosphere. This unique experience, centered around sports, sets us apart from our competition. Our marketing programs are designed to build awareness of our brand with sports fans, encouraging them to visit and ultimately develop a personal connection to Buffalo Wild Wings. These programs consistently drive trial, same-store sales and average check, and they support strong restaurant openings. Marketing Campaigns. Each marketing campaign has a theme that reflects guest lifestyles and behaviors. These lifestyles and behaviors are the cornerstone for creating key brand touch-points within each campaign that includes media, promotions, partnerships, and food and beverage experiences that will encourage social interactions and bring each theme to life. For example, we promoted our NCAA sponsorship at Buffalo Wild Wings in 2013, which provided our guests with an opportunity to participate in our Big Shot Challenge; an augmented reality game in which our guests shot virtual free throws from their seat in the restaurant on their mobile phone. In addition, our local restaurant marketing efforts are designed to enhance community connections.
Examples of this are our Home Team Advantage and Eat Wings, Raise Funds programs that connect our restaurants to local sports teams and community groups. Advertising. Our media strategy is to build continuity throughout the year while still supporting our peak periods. Our primary media vehicles include national television in relevant programming to drive awareness and consideration, national and local radio to drive consideration and trial and digital and search to drive all three. Franchise Involvement. System-wide campaigns and promotions are developed and implemented with input from the Buffalo Wild Wings Advertising Council. This volunteer board includes six or more franchisees, elected by their peers, and meets regularly to review marketing strategies, provide input on advertising messages and vendor co-op programs, and discuss marketing objectives.
Reference
Buffalo Wild Wings (BWLD). (n.d.). Retrieved from http://www.wikinvest.com/stock/Buffalo_Wild_Wings_%28BWLD%29 Spencer, M. E. (n.d.). Industry Analysis: Restaurant. Retrieved from http://www.valueline.com/Stocks/Industries/Industry_Analysis__Restaurant.aspx
Related Topics