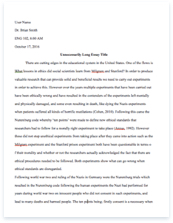 The whole doc is available only for registered users
A limited time offer! Get a custom sample essay written according to your requirements urgent 3h delivery guaranteed
Order Now
The Level Of Customer Service Provided! Braaap intends to provide customers with the utmost support and assistance before and after their purchase. Customers deal with experienced and knowledgeable staff who are trained and educated on their subject. Staff know their questions and their answers. When customers feel they are valued and appreciated, a certain level of trust is built between them and the company. How staff deal with customers also adds to the overall company reputation.! Braaap also uses social networking as a tool to effectively connect and maintain contact with their customers. Social networking is a large part of the lives of their customer base (20-35 year olds), so this is an extremely efficient and effective method of reaching out to these people. Braaap does this through websites including Facebook, Twitter, Youtube, Google+ and through their own blog.
Potential Customer Base & Key Pressure Points! Braaap has identified their target customer base as people who have a passion for motorcycling whether it be professional or just as a hobby. There is a large age gap in Braaap's target market. Braaap provides suitable products for people as young as 5 and as old as 60. The biggest slide of their clients are young people ranging in age from 20 to 35 years old. Most of these customers have a passion for practicing motorcycling as a hobby or a lifestyle. Braaap's customer base can consists of students, professionals and retirees. To remain successful in the market and also to expand their customer base, Braaap must attract more men and women to the sport to increase their customer intake and product awareness.!
It is imperative to make sure that Braaap's products and services are available to cover all of their intended demographic. They achieve this through their website and through social networking. The Braaap website is convenient for customers as they can browse and purchase in the comfort of their own home. However, stores in a variety of locations are a must for Braaap. Shopping in-store is often more appealing to customers as they are able to shop around at their own pace, decide what product best suits them, ask for professional advice and most importantly they are able to touch and feel the product. This creates a more satisfying and informative shopping experience.
Components Of The Marketing Mix! Braaap offers a large variety of products including various types of motorcycles and equipment to cater across their intended target market. These bikes include Superlite, kids, road and electronic. There is an unequivocal interrelationship between the quality and strength of the product and the customers' willingness to purchase. Higher quality ! products cause higher demand and more expectation. Braaap is known as one of the best motorcycle manufacturing companies in the world therefore customers are attracted to make purchases, especially motoring enthusiasts. To encourage further purchasing, Braaap offer additional accessories such as cloths and protections. Customers are extremely attracted to Braaap because of the flexibility of design, size and colour. Along with offering a lifetime warranty, Braaap have successfully appealed to their customer base and continue to offer new products to attract new customers.! terms of strategy, pricing is an extremely important factor.
A lower price !doesn't guarantee a In higher selling rate. Braaap has a flexible price range to cater for all levels of customer needs. Their customer base has a stronger chance of growing if more people are able to afford their products. They have done this by offering various lease arrangements and term repayments to suit customers wants and needs.! The majority of Braaap's promotion is done through social networking as this appeals to their target market of younger people. Ads are placed on social networking sites and people respond to them. Quite often, social media ads are more effective than television ads. These ads not only lead to potential customers, but potential sponsorship and event deals. Braaap sponsors many athletes in the motoring circuit.
This gives them the exposure at events and also through the viewers either at the event or watching it on television. Sponsorship gives Braaap the opportunity to appeal to a larger group of people. If an athlete they admire is sponsored by Braaap, then people are more likely to consider purchasing that product.! Braaap's products are made in Australia and spare parts are available to order all around the world. The products are purchasable in-store and online. There are number of dealers, distributers and franchises located in Australia to make sure the products are accessible to more customers. Braaap offers delivery services to cater for all customer locations and circumstances.!
External Environmental Factors! There are two main external environmental factors effecting Braaap's company; they are the social and economic aspects of marketing. The social factor includes product promotion (are they promoting in the correct place, e.g. television, social media), are they reaching their customer base?, and merchandise (is it attractive and appealing to young people?)! The economic factor relate to the affordability of the product, for example, how much are people willing to pay? does the price justify the vale of the product? are their extra charges deepening on payment method? (e.g. credit card) are there high interest rates on finance assistance plans? etc.!
Consumer Priorities, Needs & Preferences! To sell their products, Braaap needs to look at who they are selling to. As Braaap mainly sells to 20-35 year olds, they need to consider the possibility of family lifestyles. The people purchasing these products may also need to provide food, water and shelter to their family, therefore the products need to be affordable and accompanied by payment plans and finance options.! Braaap also needs to consider the physical safety of their customers and must provide the safest bikes and also offer protective clothing and equipment. This is extremely important especially when it relates to kids, beginners and older men and women.!
New Products/Services! When introducing a new product, Braaap will need to consider their marketing mix (product, price, promotion and place). Research will need to be done to determine the price of their product as of course, they would want to be cheaper than their competitors. The product will need to be of high quality and also affordable. They will also need to determine what demographic this product will appeal to and how they will promote it in an effective and exciting way. Other factors to be decided upon will include, sponsorship, finance options, where it will be sold, (e.g. only in-store, only online, or both etc.) programs and events associated with the launch of the product and the type of warranties available.!
Marketing Mix & Objectives! Braaap focuses mainly on strategic and operational marketing objectives. Their strategic objectives include the quality of value of products and services, availability and costs of parts, their loyalty and connection to customers, long-term company goals such as creating new products and expanding services, retaining and extending their customer base, global stores and locations and how long do they hope the company will stay stable or competitive on the market (e.g. 20-30 years).! There operational marketing objectives consists of how they promote (e.g. events, sponsorship, advertising), where they promote (e.g. televisions, social networking ads, billboards and posters etc.). The company also needs to focuses on the direct affect they are having on their motoring community, is it negative or positive? Are they respected? Are they stable, competitive or are they lacking in certain aspects of their marketing mix.!
Conclusion! In conclusion, this report has identified, defined and evaluated the specific elements of Braaap's marketing mix. It is evident that Braaap has strong promotional tactics and unique product characteristics that set them apart from fellow motoring companies. Braaap incorporates product, price, promotion and place extremely effectively into their marketing mix, appealing to a wide range of people, attaining new customers and remaining loyal to previous customers. Through their strong marketing objectives, Braaap are continuing to emerge through the market increasing reputation and recognition.!
Related Topics