Board Exam for HRM Graduate: effective or not?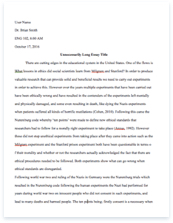 The whole doc is available only for registered users
Pages: 2
Word count: 322
Category: Alcohol
A limited time offer! Get a custom sample essay written according to your requirements urgent 3h delivery guaranteed
Order Now
TITLE: Board Exam for HRM graduate.
RELATED SUBJECT : English II: Writing in the Discipline
DEGREE : Bachelor of Science in Marine Transportation
STATEMENT OF THE PROBLEM
The main problem of this study is the negative effects of alcohol to seafarers' work. It has been found out that drinking alcohol while on duty may lead to unproductive and improper work performance. Hence, collisions at sea, physical injuries and vessels to be aground are the accident that may result from such acts.
METHODOLOGY
The methods used in the study are historical and descriptive. Historical because the researcher sites some historical information about the accidents that involves alcohol consumption. It also uses descriptive because in the study made the researcher describe the relationship of alcohol consumption and the other factors like age, marital status, rank onboard and hereditary effect.
RESULTS
The result of the study does not have bias answers for the questionnaire were given for both drinker and non-drinker seafarer. From the results 76% of the respondent seafarers that drinks alcohol and only 24% do not drink. From this percentage the researcher found out that there alcohol consumption among seafarers is high. And they also drink alcohol either ashore or onboard in their free time with 14% and 18% respectively.
CONCLUSIONS
I therefore conclude that alcohol consumption may not be the only factor that causes accidents at sea but this study just shows that it can also affects one's work performance and if their work performance is affected human error may exist which causes the accidents and injuries happen at sea.
RECOMMENDATIONS
For the seafarers, it is recommended that even alcohol ban will not be implemented they must have their own initiative to lessen or totally avoid drinking of alcohol both ashore and onboard. Because it is for their own goodness if they stop earlier their healthy body will be maintained and they will stay in maritime industry longer.
Related Topics