Blozis Company Case Report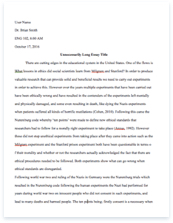 The whole doc is available only for registered users
Pages: 8
Word count: 1904
Category: Company
A limited time offer! Get a custom sample essay written according to your requirements urgent 3h delivery guaranteed
Order Now
Blozis Company is a manufacturer of highly technical equipment for use in industrial applications. Part of their business is selling pre-fabricated items off the shelf. However, the majority of their business is related to building specialty technical equipment to the customer's specifications.
Blozis has run into some issues with being long overdue with payments to vendors. In nearly all instances it was delayed because there had been no record of receiving the items. This was largely due to the expediter who went out and picked items up at nearby suppliers and brought them in and directly to the requestor, not stopping to give any paperwork to the receiving clerk.
Blozis operates with an informal purchasing policy where anyone can request items for purchase. This is highly uncommon and it needs to change. For Blozis to fix their various purchasing and supply issues they need to institute a formal purchasing procedure. In addition, they need to control the expediter and limit the responsibilities that he has, because it seems that this is where many of the problems are stemming from.
Upper management will have to write a formal policy where only certain people can issue requisitions, and those requisitions are approved prior to being forwarded to the supply department for purchase. Next they will need to initiate some sort of goods receiving notification system, to notify the requestor that their item has arrived in the Blozis warehouse and it can be picked up by the requestor only. This should alleviate any confusion whether or not items have been received, and help ensure that the correct person receives the correct items.
If Blozis properly implements a purchasing procedure it will allow them to save money by paying their bills on time and receiving discounts from their suppliers. Additionally, it should allow them to keep better track of items bought and received in the warehouse.
Issues Identification
Blozis Company operates with an informal purchasing procedure. The current purchasing policy is not working for Blozis as here have been many complaints and issues stemming from all departments. The complaints and issues that have arisen are all a directly related to the fact that there is no formal purchasing procedure in place at Blozis company. Some of the more specific issues that have arisen at Blozis are as follows: 1.Invoices are not being paid promptly
Suppliers are complaining that invoices are long overdue. The usual cause of the delinquency in payment was that there was no record of receipt of the item, and therefore Supply would not approve the invoice for payment. The past due payments on invoices were causing Blozis to lose discounts from suppliers. 2.Goods Receipts are not being issued
Blozis employs and expediter who goes out and picks up items at nearby locations. It seems that sometimes when he brings items back from suppliers that he is not stopping to give paperwork to the receiving clerk to prepare the receiving report. Additionally, the requestors are not being notified when their items have come into the warehouse. 3.Everyone can make a purchase requisition
There is no control on who can order items; and requisitions are not approved prior to being sent to the Supply department. There is no control over who can make purchases other then the Supply Manager signing off on the items. Because the supply manager has no technical expertise when it comes to the production of the goods, he cannot decide if the items are absolutely necessary or "nice to have".
Environmental Analysis
Blozis is a manufacturer of highly technical industrial items with $16 million in gross yearly sales. The majority of the company's gross sales were in their specialty equipment department where units were designed and built on a job-shop basis to customer specifications. The other side was pre-fabricated control equipment that was sold on an off-the-shelf basis. Blozis operates with a fairly informal purchasing procedure. It was the president's idea to operate this way, and any persons within Blozis were allowed to initiate purchase requisitions. Orders up to $10,000 were only required to be approved by the Supply Manager; any order above $10,000 had to be signed off on by the company president. However, as a general rule these items for purchase over $10,000 had previously been approved by the president before a requisition or order was even made out as it was included in the either the capital or materials budget.
The supply department consisted of a Supply Manager, a buyer and two clerks who took care of filing and typing duties. Neither the Supply Manager nor the Buyer had technical knowledge of the items manufactured by Blozis, other then any information they had picked up on the job. Blozis had an onsite inventory that they kept of key components. The stock room was supervised by a clerk who issued supplies and kept up stock records. The clerk reports to an Expediter, who has various duties within Blozis.
The Expediter had started at Blozis in the production shop as one of the technicians and had picked up some technical training in the army. Because of this he was very familiar with the technological terms used by the production department and was sometimes key in conveying verbal descriptions from the production department to the supply department in the form of a written requisition with all technical specifications required. Nearly half of the expediter's day was spent either picking up items at nearby suppliers, truck terminals and airports or dropping materials for off site work at various sub-contractors. The expediter also reviewed the stock room clerk's records and prepared requisitions for items in inventory when they reached the re-order point.
In some instances there are rush orders that the expediter would go pick up from nearby suppliers before a purchase order could be issued by supply. The expediter would always promise the supplier that a purchase order was to follow, but in some instances this step was missed and the supply department was receiving invoices for items that they thought had never been ordered. Both the Supply department and the vendor in these cases were mildly irritated that the expediter did not follow proper procedures. Additionally, when the expediter would bring items in, sometimes the receiving clerk did not receive the correct or any paperwork from the expediter and therefore items showed no record of receipt when the invoice came, thereby delaying payment until receipt was confirmed. Another situation was caused when the expediter picked items up from the receiving dock and delivered them to the requisitioner; in some of these instances items were going missing.
Because of these various problems many suppliers were complaining about long overdue payment. And because of Blozis' delinquency in payment they were losing several sizable discounts with various suppliers. The most common problem with the delinquent invoices was that there was no receiving report made up for the item. In all of these cases the expediter was sure the item came in, and the receiving clerk was certain that the expediter was the one who had brought it in and forgotten to give the receiving clerk the proper documentation for the goods. Alternatives and Options
Blozis has to do something about their current purchasing and supply situation. There seems to be some disconnect in the procedure somewhere that is letting orders, receipt records, and items fall through the cracks and go missing. One option would be for Blozis to formalize their purchasing policy. Alternatively, Blozis could opt to continue on with the current informal purchasing procedure that it has now, but talk with all persons involved so that the problems are worked on and hopefully resolved.
If Blozis were to institute a formal purchasing policy, the first thing they should do is limit the persons who were able to fill out requisitions. Also, because of the highly technical nature of the items they should start standardizing terms for their items to assist the supply department in processing orders in a timely manner. It is much easier for the Buyer to complete the purchase when she has the correct information from the beginning. All requisitions should also be previously approved by the production department manager before reaching the Supply department, that way the supply department can be sure that the item is a necessary purchase.
A large part of instituting a purchasing policy would also involve limiting the things the expediter can do. It seems that many of the problems that are coming up at Blozis are a direct result of the expediter having his hands in so many places in the purchasing procedure. The expediter's job should be limited to supervising the stock room and preparing requisitions for the stock room only. He can continue to do his pickups and drop offs as he does now; he just needs to ensure that he is giving the correct paper work to the receiving clerk. When items are received there should be some kind of notification system that notifies the requestor that their item has come in and they and only the requestor can pick it up. Alternatively Blozis can opt to continue with its current purchasing policy, and discuss the way things are to work with their employees. They could also decide to limit the expediter's responsibilities in this alternative as well, which should also help alleviate the problems that Blozis has in it's purchasing procedure currently.
Recommendation
It is my recommendation that Blozis give their current purchasing procedure a complete overhaul. As things are now there is no control over orders, receipts and payments. The current procedure if you could call it that is sloppy, a company cannot expect to keep their customers and suppliers happy operating like this. Instituting a formal purchasing policy and standardizing technical terms will allow Blozis' supply department to process orders in a timely manner. Also, it will allow the receiving clerk to properly do their job, fill out all the receiving reports and notify the requestors that their items have come in.
With all these fixes, it should alleviate the problem of overdue payments to suppliers. If the purchasing department has made the order as per the purchasing policy, the receiving clerk has issued a receipt notification, the requestor picked up their item, when the invoice comes there should be no question that it is valid and can be paid in a timely manner.
Implementation
Before Blozis implements its procedure it will need to spend some time developing it. Top management will have to work with all departments to get their input in how they feel the procedure should go. Management must decide who can make requisitions, who can approve requisitions, what kind of goods receipt notification system will they use, and many other decisions must be made and perfected before any policy can be implemented. I would expect that it will take 6 months to adequately prepare a purchasing procedure and implement it.
Monitor and Control
One of the best indicators that the new procedure is working would be that invoices are being processed in a timely manner. This was one of the largest issues with Blozis, as they were losing discounts because of delinquency. Additionally, Blozis should be able to observe that goods receipts are being issued as outlined in the policy and that items are being received by the intended recipient.
Related Topics