Big City Problems Argumentative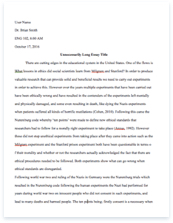 The whole doc is available only for registered users
A limited time offer! Get a custom sample essay written according to your requirements urgent 3h delivery guaranteed
Order Now
Karachi is the biggest city in Pakistan and also one of the most thickly populated cities in the world. Its population has increased rapidly and accordingly has given rise to many social problems. People of this metropolis are becoming more and more concerned about solving these serious problems, some of which are discussed below. HEAVY TRAFFIC: in karachi the drivers of buses,mini buses,trucks and rickshaws drive very recklessly.they run races on the road.they don't care about any traffic rules and even break traffic signals.the result is a number of accidnts that take place daily.this is all because we disobey traffic rules.people driving abouve speed limits,breaking traffic signals and under age driving all is common in karachi.
ENERGY CRISIS: Another problem faced by the citizens of the city is the frequent power breakdowns. Every other day, K.E.S.C cuts down the electric supply without notice.but the situation is worst at karachi.and with the passage of time the duration of load-sheadding has greadtly increased.generally we have to pass six to twelve hours without electricity everyday.load shedding is a basic problem which gives rises to many other problems.peple can not sleep at night when the temperature is at its peak.specially,ther are problem for children and patients as all the hospitals do not have generators or U.P.S so its clear that almost everybody living in karachi has tho undergo great difficulties.promises for reduction in the duration of load-shedding are never fulfulled so the problem remain as it was year ago.
TERRORIST ACTIVITIES: Karachi is also often subjected to terrorist activities. Bomb blasts and firings at public spots are resulting in great loss of human life. The terrorists deserve no less than capital punishment. It is the duty of the police to intensify their investigation to stop such activities.
POLLOUTION: polloution is the most alarming global problem.it is a serious threat to marine,animal and human life.the various factors,which are responsible for pollution are rapid increase in population and speedy industrialization, resulting maximum destruction of natural resources. ATITUDE OF BEGGARS: The attitude of beggars in Karachi is the most irritating problem. They are worthless idlers robbing good-natural people. It has become their regular practice to crowd public spots and cheat people.
The adverse effects of begging problem are noticeable in sum areas. We can rid of these problems by coopreating with government.the good citizen should be honest and faithful.he should realize his duties and should know the main problems facing the country and society,he should cooperate with government in soliving the problems "RIGHTS AND DUTIES OF A GOOD CITIZEN ARE THE TWO SIDES OF THE SAME COIN"
Over the past week, the city of Lahore has been engulfed in a thick white blanket of polluted fog, also known as smog and due to this, citizens are having breathing problems, eye irritation and throat infections. In Lahore last year there was zero visibility on roads, which also became the reason for major traffic and health issues. The concerned government departments should take measures to address this issue.
According to Meteorological Department of Pakistan, the density of smog is increasing with increase in coolness and pressure.
Smog is a mixture of carbon monoxide, nitrogen oxide and sulphur dioxide including some other aerosols.
According to Director of Punjab Evironment Protection Depatment,Naseemur Rehman Shah, "A comprehensive smog policy approved by the Punjab Environment Protection Council is being implemented. The department is taking short-term and long-term measures in this regard."
According to researchers, three main factors which include Hydrogen Sulphide, greenhouse effect, and 'high level reading' of pollution in the air cause dense smog
Dr Khalid Hussain from Services Hospital says that heavy smog was also a major reason for traffic accidents due to zero visibility.He advised to wear facemasks whenever you're leaving the house. It helps you to prevent oneself from other health problems which are caused by dense smog.
Dr Mehmood Khalid Qamar explained about the recent readings taken by the newly installed apparatus to monitor the level of carbon monoxide. According to that equipment, the level of CO was 6.94mm in Gulberg's Liberty Market, 17.52mm in Mohlanwal, and 21.29mm on the Mall Road. The safest limit and maximum permissible limit for this toxic gas is 5mm.
The second major ingredient of smog is hydrogen sulphide and according to the readings taken by the equipment the levels of 772.69 on Zafar Ali Road as opposed to the permissible limit of 7 per minute and 150 per 24 hours and the level of sulphur dioxide was 1373.1 at Daroghawala, the northeast Lahore. The tolerant upper limit is 120. Hydrogen sulphide is mainly the product of junk fuel coming from the mills and factories located in that area.
Doctors advised public to adopt preventative measures as much as you can just to be on the safer side. The least you can do for your protection is to use facemasks when going out.
Related Topics