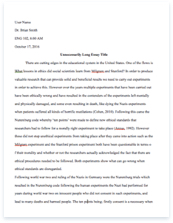 The whole doc is available only for registered users
A limited time offer! Get a custom sample essay written according to your requirements urgent 3h delivery guaranteed
Order Now
Every food establishment uses, processes, and sells food in different ways. However, the general issues and key principles of food safety remain the same, whatever the style of the operation. All food safety training programs should contain the "big 3" factors that could cause food to become unsafe. Food must be kept out of harms way from human errors, but if you don't train food workers what they are, they won't know why these factors are so important. The basics can make all the difference. The basic 3 principles that all managers and food workers should be aware of are:* Personal Hygiene for Food Professionals;* Time & Temperature Control; * Cross-contamination Prevention
1. Professional Personal Hygiene – It's not all common sense to everyone. Food workers must observe the highest possible standards of personal hygiene to make certain that food does not become contaminated by micro-organisms, physical or chemical hazards. High standards of personal hygiene also play an important part in creating a good public image, as well as protecting food. Hand-washing, clean fingernails, food worker illness policy (including exclusion of ill workers, cuts, burns, bandages, etc.), hair, uniforms, glove use, jewellry, personal cleanliness, or unsanitary habits such as eating, drinking, smoking, or spitting are all parts of defining personal hygiene standards. Poor hand-washing is one of the leading causes of foodborne illness.
"Active Hand Hygiene" is a concept that really helps. There is a benefit to writing down standard operating procedures for the correct hand-washing method / safe hands procedure to follow when each staff member is trained about this crucial expectation in your facility (i.e. 20 second hand-wash, when to wash, if using a nailbrush, type of soap, hand sanitizer, which glove or utensil for which ready-to-eat food task, etc.). Who monitors the process and how do you measure compliance on hand-washing? These are questions best answered in considering the individual operation.
2. Basic temperature requirements The Regulations state that foods which need temperature control for safety must be held either: * HOT at or above a minimum temperature of 63 Degrees C * CHILLED at or below a maximum temperature of 8 Degrees C * Certain foods may be exempt from these requirements and there is room for flexibility in certain circumstances. Rather than providing a long list of food items, the Regulations apply the requirement for temperature control to all types of food which, without temperature control, might support the growth of harmful (pathogenic) bacteria or the formation of poisons (toxins). Such foods are likely to fall into a number of categories: Dairy products: Such as soft or semi-hard cheeses (e.g. Stilton, Brie) ripened by mould and/or bacteria, dairy based desserts such as fromage frais, mousses, creme caramels or products containing whipped creams. Cooked products:All foods comprising or containing eggs, meat, fish, milk, or their products, cereals (including rice), pulses and vegetables, or sandwiches which contain these ingredients Smoked or cured ready-to-eat meat or fish:
Such as sliced cured meats like ham, smoked fish, some salamis and other fermented products – unless the curing method leaves the product 'shelf-stable' at room temperature. Prepared ready-to-eat foods:Such as prepared vegetables, vegetable salads like coleslaw or prepared products containing mayonnaise. Uncooked or partly cooked pastry and dough products:Such as pizzas or fresh pasta containing meat, fish (or substitutes) or vegetables. Some of these listed products may be preserved or prepared in such a way as to relax or remove the need for temperature control.Because of food labelling legislation, packaged products should have special storage conditions on their labels, and any such conditions will indicate whether or not the food in the packaging needs to be kept chilled. The general requirement In addition to setting specific chill and hot holding temperatures for certain foods, the Regulations also contain a general overall temperature requirement that no person shall keep any raw materials, ingredients, intermediate products and finished products likely to support the growth of harmful bacteria or the formation of toxins at temperatures which would result in a risk to health.
In most circumstances maintaining food temperatures for relevant food at 8°C or below or at 63°C or above, will satisfy this requirement. There will be situations where it is appropriate to keep foods at chill temperatures lower than 8°C for safety reasons. Examples may be certain cook-chill foods or some vacuum packed, extended shelf life foods such as 'sous vide' products. (sous vide products are those which have been cooked in a vacuum package and are intended to be rapidly chilled and stored at chilled temperatures, often with long storage lives).Visit http://www.food.gov.uk/multimedia/pdfs/publication/hygieneguidebooklet.pdf for up to date information regarding storage times in conjunction with storage temperatures. 3. Cross-contamination PreventionThis is simply the transfer of harmful microorganisms or substances to food and covers a multitude of potential food handling errors in all stages of food flow. Cross-contamination can occur at any time. The 3 routes are 1)food to food, 2)hands to food, or 3)equipment to food. Ready-to-eat foods must receive the most care to prevent contamination.
Food Safety Policy — Food service is frequently dealing with employee turnover, so the job of training staff on professional hygiene, time/temperature, and cross-contamination control is never ending. These 3 issues contain lots of separate categories or steps to help keep the foodborne bugs at bay. An overall "food safety policy" statement is a good idea to start with for all staff (new or existing) that focuses on the responsibility to help control these 3 issues. It's up to each person in charge to help the staff individually understand their responsibility for food safety that is appropriate in their specific food handling tasks. Active control means supervisors must monitor the crew's adherence to policy, make corrective actions, and set the example.
Bottom Line: Food safety is not just a matter of making your facility look clean-you've heard the phrase "so clean you could eat off the floor". Sanitation is important, but do we really want to eat food off the floor anyway? Not! The real mistakes can happen at any step in the flow of food through your facility from receiving, storage, preparation, cooking, holding, cooling, reheating, or serving. So pay attention to training, practicing, and controlling the basics of food safety in your facility.
Related Topics