Assuming control at Altex aviation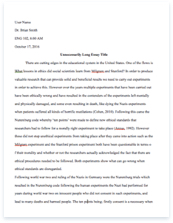 The whole doc is available only for registered users
A limited time offer! Get a custom sample essay written according to your requirements urgent 3h delivery guaranteed
Order Now
Did Altex need a new system? (What are the most critical problems facing Altex at the takeover? what does Ted see as the purpose of a control system? Did Altex meet their objectives?)
Yes, Altex really need a new system, because Altex is facing some critical problems at the takeover by Ted and Franck. The first most critical problem is the actual management system: the system in place was one accountant (Sarah Arthur) who kept everything in her head. The system was incomprehensible and complicated for the employees. Even the department managers knew nothing about their profitability of their operations. If they need anything, they should contact Ms. Sarah Arthur. It's a totally centralized system. So it took lots of time to obtain something for one department. Sarah managed the mail, bills, checks, collected cash from all departments and keeps it. She also managed all receivables and payables.
The second most critical problem is cash crisis. Altex had a loss of 100,000 dollars on sales of 2,000,000 dollars in fiscal year 1971, this left the company with a negative net worth. They have to pay their suppliers. Their debts are bigger than what they have. So they should find a solution to solve the problem.
So, Ted and Franck should reorganize completely the management system which is completely ineffective. And they should also install a control system that would support the management and provide information needed in order to make the decisions. And the most important thing is take over the control of the company from Sarah Arthur.
Ted thinks that the control system is really important for Altex. Control is a critical function of management. Control problems can lead to large losses and possibly to organizational failure. Here, Ted is using Management control to influence employees' behaviours in desired ways. Management control involves managers tacking steps to help ensure that the organization's employees do what is best for the organization. This is an important function because it is people in the organization who make things happen. So controls are necessary to guard against the possibilities that people will do something the organization does not want them to do or fail to do something they should.
Before to change the management control system, they should also think about the problems of this new method. For example Franck agreed to decentralize the authority, but he is concerned whether now is the time to do it. Because most of the departmental managers never finished high school so they can think that the changes in the management is very fast. The management control problems will cause:
1.Lack of Direction: employees do not know what the organisation expects of them. The function of this control system would be to inform employees as to how they can maximise their contributions to the fulfilment of overall organisational objectives.
2.Motivational Problems: employees choose not to perform: individuals are self-interested. They tend to be reluctant to take risks or even to make good investments for fear that if the investments do not pay off, they may lose their job. Employee fraud and theft are most extreme examples of motivational problems.
3.Personal Limitations: employees may know what is expected of them and be highly motivated, but are simply unable to do a good job, due t certain personal limitations, for example: lack of requisite intelligence, training, experience, stamina or knowledge for the tasks at hand, e.g. lack of trained computer technicians.
Some jobs simply aren't designed properly – they may even cause fit people to get tired or stressed and in turn, lead to on-the-job-accidents and decision problems.
The main purpose of a control system is to change the basic attitude in the company and also train employees to the new management method, to help them to manage properly their own department. Ted wants to offer an environment where the departmental managers made right decisions on their own since they had decided they could not make all the decisions themselves. They don't have the technical knowledge and time to do that. So Ted thinks that it is important to educate the department managers to the new management approach wanted by him and Franck. Ted decided to make the control system represent reality and his personal role would then be that of an emotional leader as opposed to a task leader. Control system would be the task leader and Ted could avuncular personal leadership. He also thinks that decentralized decision making environment is very important. He thinks that without control system Altex would never survive.
At the end, Altex meet their objectives. First of all, by the end of the second month, Altex was producing a profit and loss statement on the activities of each department. Each department kept account of its own sales, receivables, inventories… So, decentralization implemented by Ted is working well. And the Administration Profit Centre established by Ted is also working. Thanks to this administration, all the charges were predetermined, calculated and announced twice a year, so the departmental managers would control their expenses by managing their receivable balances, conserving on equipment purchases, and varying the square footage they occupied. So there are never any unanticipated expenses. Globally the new system was well worked because today Altex is a big company (I visited their website). So the system installed by Ted and Franck is very efficient.
b. Evaluate the New System that Ted and Franck implemented. Should anything have been done differently? (What did Ted do? Why no budgeting? What kind of manager will Ted be? What next?
Ted used many forms of control system. First one he used is "Result controls": He is using result controls because this method is a good one for decentralized forms of organization with largely autonomous responsibility centres. So, to motivate the department heads to manage their accounts receivables. Ted gave them the credit-granting authority and responsibility for collections:
Receivables60 days old or less1 % of the balance
60 – 90 days old3 % of the balance
90 – 120 days old6 % of the balance
Over 120 days oldCharged the unpaid balance to the profit centre
Ted also using the pay for performance method for example, departmental managers would be responsible for their profit centres and receive a bonus of 10 % of their profits after administrative allocation.
The choice of "Results controls" is a good decision because it influence actions because they cause employees to be concerned about the consequences of the actions they take. "Results controls" also encourage employees to discover and develop their talents and to get placed in jobs where they will be able to perform well.
Ted also implemented personnel controls: Frank and Ted believed that it was very important to provide an environment where the departmental managers made correct decisions on their own since they had decided they could not make all the decisions themselves: Personal Controls help employees do a good job, as they build on employee's natural tendencies to control themselves.
Personnel Controls serve 3 essential purposes:
1.Clarify expectations – they ensure that each employee understands what the organisation wants.
2.Ensure that each employee is able to do a good job – that they have all the capabilities (e.g. experience and intelligence) and resources.
3.Increase the likely
4.hood that each employee will engage in self-monitoring (also labelled:
self-control, intrinsic motivation, ethics and morality, trust and atmosphere, and loyalty)
Ted used 1 major method to implement personnel controls: Training ensures that employees do a good job. They can also provide useful information about what results or actions are expected and how the assigned tasks can best be performed. It can also have positive motivational because employees can be given a greater sense of professionalism and they are often more interested in performing well in jobs they understand better. (Formally: through classroom settings; Informally: through employee mentoring). For example, Ted decided to make the control system represent reality and his personal role would then be that of an emotional leader as opposed to a task leader.
The new system seems to work. But they took a big risk. The decision to take the receivables and give back to the departments is a very risky decision, because Altex were facing a cash crisis at that time. Fortunately for Ted and Franck, managers understood their job, otherwise the situation would be catastrophic.
They make a small mistake, for example when they decided to authorize beards and moustaches in the company; they didn't consult the department managers. They just applied the theories that they learned in Harvard Business School. But sometimes in life, we couldn't change the things very easily. Because of their decisions Mr. Will Leonard, the manager of the Fuel Department resigned. Because he felt that he had been undercut. Ted and Franck could avoid this situation, if they decided to consult the managers before to authorize beards and moustaches.
There is no budgets were projected at the departmental level, because departments can do anything they want within limitations of the PO for their department. It will help managers to have ideas for their departments.
Ted has some important qualities to be a good manager:
*He is logical, rational and analytical
*He is able to motivate, inspire and lead people
*He is persuasive, able to convince people to do things
*He has good ideas to improve the firm
*He is creative, able to do long term decisions
*He is friendly and sociable (He let the managers to do what they want to do to improve the company).
Ted is a good manager because he changed completely the organization and it's working. He lets the people do their job freely (decentralization). He is not that kind of managers who take every decision, he divided tasks to different departments.
The New system is really working, so they should continue in this way, because apart small problems they succeeded everything that they wanted to do. The best proof is that they still exist today after 20 years.
Related Topics