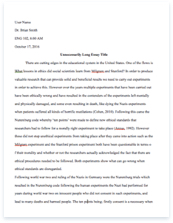 The whole doc is available only for registered users
A limited time offer! Get a custom sample essay written according to your requirements urgent 3h delivery guaranteed
Order Now
– Dismissal, redundancy, retirement and TUPE
– Breaches of contract
– Health and Safety
– Maternity / Paternity leave
– Holidays, sickness and compassionate leave
– Discrimination and bullying in work place
– Removal of barriers for disabled people
– Data Protection
– Discrimination during recruitment process
– Equality within the workplace, for example, working hours, pay, benefits
– How you are managed in the work place
– Entitlement to career development in the work place
Current Employment Legislation
– Equality Act 2010
– Employment Right Act 1996
– Employment Relations Act 1999
– Data Protection 1988
– Health and Safety at work Act 1974
– Health and Safety (young persons) Regulations 1977
– Transfer of Untaking Protection of Employment Regulations 2006
Why Legislation Relating to Employment Exists
– Ensures there is a contract of employment and your rights are protected – Prevents discrimination and ensures equality of opportunity for all – Ensures you receive a fair wage for a fair days work
– Ensures the work environment is safe and workers are safe carrying out their roles
Sources and Types of Information and Advice
– Government advice (www.direct.gov.uk)
– Advisory, Conciliation and Arbitration Services (www.acas.org.uk)
– Trade Unions
– Citizens Advice Bureau (www.crb.org.uk)
– Health and Safety Executive (www.hse.gov.uk)
– Equality and Human Rights Commission (www.ehrc.org.uk)
– Information Commissioners Office (Data Protection) (www.ico.gov.uk) Unit 201 – Outcome 2
Contract of Employment
– It is an agreement between you and the employer, it is in the writing but can also be verbal – It must include the following information
* Your name
* Your employers name
* Date of employment commenced
* What you are paid and when
* Hours at work
* Holiday entitlement, sick leave entitlement
* Pensions/ pension schemes
* Your notice period
* Job title
* Whether you are permanent, temporary, full time, part time or fixed time * Location/ area of work
* Details of disciplinary and grievance procedures
Terms and Conditions of Employment
– Job title and place of work
* Support worker
* Denmark street
* No smoking premises
– Start of employment
* 30th June 2014
– Probationary period
* Three months
– Notice
* Less than 1 month (one day)
* 1 month to 1 year (one week)
* One year or more (one month)
– Hours of work and over time
* 38.5 hours a week
– Salary
* Paid monthly, last Thursday of every month by BACS
– Review of performance
– Holiday
* 5.6 weeks a year
– Compassionate leave and time off for family emergencies
* sick pay
* reporting sickness absences
* medical examinations
* pensions
* retirement age
* disciplinary rules
* grievance procedures
* equal opportunity
* lay-offs
* restrictions for example, second jobs
* delivery of documents
* debts and overpayments
* training
* driving for example, business insurance
Pay Slip Information
– Name
– Date and month
– National insurance number
– Employee number
– Method of payment (BACS)
– Department (place of work)
– Payments
* Gross pay
* Total gross pay
* Deductions
* Pay for tax purposes
* Gross pay to date
* Tax to date
* Tax – personal allowance
– Deductions
* Tax
* National ins table A
* Total deductions
* Allowances
* Total allowances
* NET PAY
Grievance Procedure
Speaks to deputy manager, if issue was not resolved in meeting then I would escalate it to manager if still not resolved then turn to employee handbook for next procedure. If still require more advice I would contact ACAS either by phone 0845 747 4747 or by web. My grievance would be put in writing to all parties and if appropriate seek expert advice from employment lawyers or an employment tribunal.
Information Which Must Be Kept Up-to Date
– Change of name (married)
– Address (house move)
– Phone number
– If you become pregnant
– Bank details
– Arrest or Police caution including driving if you are driving for the company
Agreed Ways of Working
The Date Protection Act is there to protect the access of personal information, in my job I need to keep all such information private.
Grievance procedure I would follow instructions of company hand book.
Conflict management is identifying and handling the situation in a fair sensible manner. Skills required are effective communication, problem solving and negotiating with a focus of interest.
Anti-discriminatory practise is the main strategy in combating discrimination. It is action taken to prevent discrimination on the grounds of gender, race, class and disability it takes into account out behaviour towards others this is the key to combating prejudice.
Equality and diversity is treating everyone equally regardless of colour, gender, age and race. Its respecting service users individual rights allowing them as much control over their own lives as possible.
Health and safety is identifying work place, hazards and reducing accidents.
Unit 201 Outcome 3
My role as a night care support worker contributes to the overall delivery of the service in our residential care setting.
My main duties are to ensure residents get supper and night time medication before they retire to bed, regular checks during the night are done to ensure they are safe and well. I also do the ironing to ensure they have clean laundered clothes, then I ensure the house is clean and tidy by brushing the floors, mopping and dusting. Stationary is plenty and all forms are readily available in appropriate file, MAR sheets are signed for evening medication and morning medication. Breakfast is given to residents and food documentation completed alongside daily record sheet.
My own role is to ensure the home runs smoothly for day shift coming in, that the residents are clean, fed and ready for the day's activities, which I have put up on the white board in the office to ensure the day goes smoothly and any appointments they may have are not missed.
My work is influenced by code of practise and legislation I.e. Health and Safety, Safeguarding, example for health and safety mean I have a duty to report any hazards and follow the correct procedures.
Different representatives bodies which influence my area of work in social care are: CQC – Government independent regulator of health and adult social care services, they monitor care setting to ensure that they are meeting the essential standards. GSCC – General social care council register of social care workers who are deemed in-suitable to work in social care settings. They have written policies and procedures in place to enable care workers to meet the code of practise, they provide training and development opportunities to strengthen, develop skills and knowledge. Also have put in place and implement written polices and procedures to deal with dangerous, discriminatory or exploitative behaviour and practise.
Unit 201 Outcome 4
Occupational Opportunities:-
In house training
E – Learning i.e. Social Care TV
Night Classes
College
University
NVQ 2 – Care Assistant
NVQ 3 – Senior Carer
NVQ 4+ – Deputy Manager/ Manager
NVQ Assessor
With the higher NVQ qualification you can go on to do nursing or even go on to become a Social Worker.
My aim is to go to university and get a Degree and at the end of study I want to do Palliative Care which is demanding but very rewarding.
While doing my NVQ's I will be gaining lots of hands on experience in different settings situations to make me a batter all round carer.
An undercover reporter filmed a video appearing to show a partially paralysed resident being slapped at a care home in Essex. The home owners Anglia Retirement Homes sacked seven staff and suspended one other. Essex Police launched an investigation following the abuse, the owners of the home said they were shocked and saddened by inappropriate behaviour by some of its staff and another six more staff were dismissed. The care home looks after up to 93 elderly residents some of whom have dementia a law firm is carrying, out a full investigation as a matter of urgency Anglia confirmed
December 2014
CQC ordered a closure of a care home in Banstead Surrey, inspectors found untrained staff placing vulnerable residents at risk of washing them in cold water also not helping them to the top floor of the home because of a broken lift. Many residents were suffering from bed sores. One family member made repeated complaints on behalf of his father only to be ignored every time. The owners made no comment on the closure
Even with CQC the public are still demanding more checks are to be carried out in care homes as shown in outcome I the industry seen another care home closed due to inadequate care. Family members are becoming more aware of rights and where they can take their concerns if the care homes don't seem to deal with the issue. The general public have lost faith in this sector and are demanding better and tighter regulations which can only make the care sector more accountable which is a very good thing.
The care sector needs to change the old culture and train staff more, give more supervision and listen to concerns of family member to gain trust again and follow good practise and procedures.
Recent changes in qualifications needed to work in the industry is a positive thing, more supervision and training of staff is crucial and talking to residents asking if they have any concerns and watching how the residents and staff interact with each other on a regular basis will help to identify problems much quicker. The correct ratio of staff to residents will ensure the care home runs smoothly and that residents are safe and needs catered to.
Home care workers need to have regular visits by senior staff, observe and talk to clients make sure they are getting the agreed level of care. Faith and trust needs to be gained from the general public due to some bad practices which has quite rightly been made public and providers need to follow the procedures and guidance set out by regulators but most of all if care workers know bad practise is going on in the work place then speak out you could be that resident in years to come.
Related Topics