Arranged Marriage Argumentative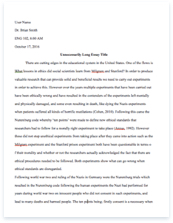 The whole doc is available only for registered users
A limited time offer! Get a custom sample essay written according to your requirements urgent 3h delivery guaranteed
Order Now
Misery, agony, and being in a tragedy are all ideas people may think when they hear of arranged marriages. Arranged marriages can make anyone be skeptical; however arranged marriages may be beneficial to conserving one's tradition or culture. Arranged marriages allow couples to develop bonds and attractions over time. Even though most people who are not in arranged marriages may think someone is in misery, it has been proven that arranged marriages tend to last longer than non arranged marriages. Having this said arranged marriages are the ideal way to meet your spouse. Arranged marriages can be beneficial because they allow couples to develop bonds and become attracted to each other over time. Parents tend to marry those similar in fundamental ways. Parents try to "figure out whether something could go [on the wrong track] that could drive people apart" because they would not like to arrange a marriage that may end in a divorce (Lee 01). Parents look for potential son/daughter in law that demonstrates the same interest as their child. If both mates share the same interest, they at least have some qualities in common.
Parents can discover unsuitable qualities in a mate before introducing them to their son/daughter. When you are having an arrange marriage other people may notice qualities in that person that that bachelor may not be such a fan of. Instead of wasting your time trying to marry the wrong person, your parents try to "find someone that fits 'that' mold" (Lee03). On the other hand, life is too short to be with the wrong person, most people would like to be with someone who shares the same interests. Whether it be blinded by love or only being able to talk to their potential soulmate for a limited amount of time,(deciding if one is actually going to marry that person) parents may discover qualities about that person that may just be a deal breaker. Not to mention, Parents have high standards for their child which can result in a solid match. When parents try to find the best person for their child they may "call in professional matchmakers" (Lee 03). Even Though most arranged marriages are not " love at first sight ", couples develop bonds and attractions over time. In most arranged marriages some couples do acquire feelings and attractions to one another after they get to know their husband/wife.
For example, when parents hire professional matchmakers, the matchmakers are not going to marry two people who are total opposites. The matchmakers will marry two people, who are single, who will be happy together. The high standards the parents have are so the marriage can be successful. Not to mention, arranged marriages have more possibilities of working out than non arranged marriages. Parent involvement can help value and encourage the marriage. Arranged marriages may bring the couple closer to their parents because "some couples who have entered in satisfying arranged marriages do attribute the success to their union to the involvement of their parents" (Lee 01). Arranged marriages do tend to last longer than non arranged marriages. It has been said that "40 to 50 percent of all American marriage [, non arranged marriages,] end in divorce" (Lee 01). After all, parent interaction may be vital when people have an arranged marriage.
Arranged marriages allows someone to find a "prospective groom/[wife which could be] No. 3, or 7, or maybe even 12" (Thomas 01). When dating, one may wonder if that individual may be their other half, or will allow them to over think about if one can see themselves with that person. When someone finds an unlikeable trait in the person they are dating, it may be challenging to let that person go. In arranged marriage one does not have to "break up" with anyone. Arranged marriages allows someone to meet people, without have to go through that awkward rejection moment, until they find someone who they will actually be willing to marry. Given these points, arranged marriages are more beneficial than non arranged marriages in fundamental ways. Arranged marriages allow you to become closer to your parents, and to interact with your parents even more. Also, arranged marriages allow you to be with someone that can be similar to their spouse in special ways.Even though arranged marriages may have its flaws, it may be a more successful as a marriage and a lifestyle.
Related Topics