Are You a Unitarist, a Pluralist or a Radical/Marxist?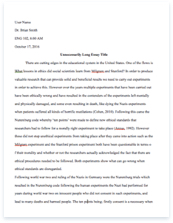 The whole doc is available only for registered users
Pages: 2
Word count: 335
Category: Trade
A limited time offer! Get a custom sample essay written according to your requirements urgent 3h delivery guaranteed
Order Now
As you read the Balnave chapter, you may have become aware of your own, sometimes implicit, views about employment relations and you may have been identifying mainly with one particular frame of reference. This sort of self-awareness of our own particular ideological position is an important part of coming to terms with the frames of reference. The following activity is designed to develop your self-awareness of your own position in relation to the three perspectives on employment relations.
Statement Agree or disagree and why? Is statement unitarist, pluralist or radical/ Marxist and why? Without a union, employees don't have a real voice in the workplace and tend to be exploited Industrial strife, in one form or another, is inevitable Most employers are fair and reasonable in their dealings with workers, so workers don't really need a union to look after them Profit is theft. Big business lives off the honest sweat and toil of the workers. Managers should have the right to manage their own business without interference from unions, governments and industrial relations tribunals
Bosses have it all their own way Almost all industrial disputes are caused by union trouble makers Singapore is a good role model for reforming Australian industrial relations. 'Globalisation' and 'free trade' are just excuses to let multi-national companies exploit third-world workers. What is good for the company is good for the workers. Unions and 'industrial relations' are old-fashioned and out of date. They just perpetuate a 'them and us' mentality. The absence of industrial conflict in Asia is mainly due to state suppression. Unions are needed to provide a counterbalance to management power Trade unions have too much power in many western countries So-called 'democracy' is a sham. Big business is really in control of the system.  Australia could learn a few lessons from the countries of South-east Asia about how to deal with militant trade unions If a worker joins a trade union, there must be a question about their loyalty to the company.
Related Topics