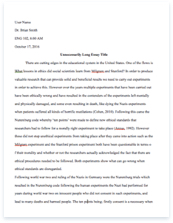 The whole doc is available only for registered users
Pages: 5
Word count: 1077
Category: Apple
A limited time offer! Get a custom sample essay written according to your requirements urgent 3h delivery guaranteed
Order Now
Apple corporate culture at times can be seen as a "brutal and unforgiving" place to work. Accountability is strictly enforced, decisions are swift, and communication is articulated clearly from the top. Failure is not an option. The late President Steve Jobs indoctrinated a culture of responsibility by hosting a series of weekly meetings. On Mondays he would meets with his executive management team to discuss results and strategy as well as to review nearly every important project in the company. On Wednesdays he holds marketing and communications meeting. This allows everyone to stay on the same page (Lashinsky2011). Apple enforces accountability on every rank which eliminates confusion as to who is responsible for what. There aren't any committees at Apple, the concept of general management is frowned on, and only one person, the chief financial officer has responsibility for costs and expenses that lead to profits or losses.
Although there are many decision makers at the company before anything is officially approved, it had to go through the president. Through his tight-knit and largely long-serving executive team, Jobs quickly sees everything that goes on at the company. He also routinely reaches outside these inner and outer circles to collaborate on critical projects with key employees (Lashinsky2011). Microsoft's culture was totally different from their competitor. At one time, Microsoft was the leader in technology, however over the years this began to decline with the upstart of companies like Google and Apple. Innovation is mandatory in today's super competitive corporate landscape. Up until recent, Microsoft Inc. has been seeing a mass exodus of its talent leaving to work for Google and other up and coming companies. The reason for the exodus is that employees were tired of Microsoft's lack of innovation.
Employees' complaints are rooted in a number of factors such as cuts in compensation and benefits, the disappointment with the stock price, which has barely budged for three years and the lack of passion which has been attributed to Microsoft living off its past successes. Employees were also frustrated with the sluggish pace of product development and the "red tape" one has to go through to get anything done. Due to the turnover and the moral of the company, a major overhaul of their culture was done. Chairman William H. Gates III and current president Ballmer's became less hands on. Coming up with the goals is now the job of the new division heads. This cuts out a lot of the bureaucracy that was used in the past to get any projects started. To be sure, Ballmer and Gates are still calling the shots; the pair must approve goals for profitability, customer satisfaction, and industry leadership for each of the groups.
Once they get the stamp from above, the new managers have been told they need only seek Ballmer and Gates out for advice. Analyze three (3) ways that each unique culture has benefited by the other's competition. Although Apple Inc. can be one of the toughest places to work, it can also be one of the most rewarding. The first thing that is unique about Apples culture is the employee value. Employees feel that their work and ideas truly matter and they run their own show with little supervision. I think that Microsoft could benefit from this culture because they were seeing larger turnover due to employees feeling they were stagnated and that they were not progressing with technology. This led to the overhaul that has implemented some of the changes that Apple is currently doing.
Apple's culture of being very secretive with their products and their launching is another unique culture. It is very rare that Apple will divulge information regarding a device. I think the shroud of secrecy helps to build momentum for the product and also keeps the customers intrigued. Due to Apple's reputation for putting out innovative products, customers are willing to wait and often times speculate on what is to come. Additionally, it keeps competitors in the dark so that they are not able to duplicate their products. On the other hand, Microsoft provides sneak previews of products months sometimes years in advance. I think this works well for Microsoft because they are not only keeping the customer intrigued, they can also get feedback so that they can make changes before putting out the product. Innovation is the key in the world of technology. As we say at Verizon Wireless, you are only as good as your latest product.
Apple is ahead of the game in the technology field compared to Microsoft. I think that this is due to the Apple's culture of letting their employees produce independently verses regulating their every move. Once Microsoft began to loosen their grip, they began to see their employees be productive at their jobs. Apple challenges their employees to put out the absolute best and failure is not an option. Speculate how each would continue to thrive if its current corporate culture would need to change in the near future. Be sure to state what change(s) you are speculating on and what led you to identify that possibility.
I would speculate that both companies work life balance culture would need to change. I came to this conclusion because in all of my finding, both companies showed to not have a work life balance. To stay ahead of the competition, both companies required long hours and upon taking vacation is often frowned upon. I think that having this type of stressful environment can eventually lead to employees needing to take stress leaves, which results in the company paying out money for short term disability. Employees can become overworked and start being less productive and taking more time off work. Offering a work life balance allows employees time to rest and de-stress which can lead to a more productive work environment. I think this would be an asset to both companies.
References
Amazon, Apple, Facebook, and Google. (2012). Fast Company, (163), 72-81. Greene, J., Hamm, S., Brady, D., & Der Hovanesian, M. (2005). Troubling Exits At Microsoft. (cover story). Businessweek, (3952), 98-108. Klein, D., Schmeling, J., & Blanck, P. (2005). Emerging technologies and corporate culture at Microsoft: a methodological note. Behavioral Sciences & The
Law, 23(1), 65-96. doi:10.1002/bsl.627 LASHINSKY, A., & Burke, D. (2011). INSIDE APPLE. (cover story). Fortune International (Europe), 163(7), 42-50. Moeller, M., Harem, S., & Mullaney, T. J. (1999). REMAKING MICROSOFT. (cover story). Businessweek, (3629), 106-114.
Related Topics