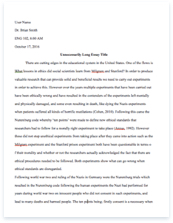 The whole doc is available only for registered users
Pages: 7
Word count: 1538
Category: Apple
A limited time offer! Get a custom sample essay written according to your requirements urgent 3h delivery guaranteed
Order Now
Foxconn a major Chinese manufacturer and supplier of Apple products, was audited from February-March 2012, after receiving an increasing amount of criticism in relation to their current business practices. Accused of "turning a blind eye to dismal working conditions at partner factories" (Paronen, 1), Apple agreed to allow the Fair Labor Association (FLA) to conduct an audit of their suppliers' factories which lead to the discovery of numerous labor, environmental, health and safety violations. The audit which was publically released in March 2012, led to increased pressure and negative media calling for Apple to ameliorate current Foxconn working conditions and practices. Of the three facilities audited, the Fair Labor Association (FLA) found "several problems with excessive overtime and overtime compensation, along with health and safety risks that led to a widespread sense of unsafe working conditions among workers" (FLA, Foxconn report). Below are a few of the health, safety and environmental violations disclosed in the report.
At the Fu Tai Hua Industrial factory in Shenzhen, China, the FLA determined there was "sustainable improvement needed in recruitment, hiring and personnel development after they discovered the factory requires workers, excluding interns and short term workers, to sign a three year contract that provides for an extended probationary period of six months however, the FLA probation period limit is three months as noted in their benchmark" (FLA, Foxconn report). In addition to the FLA benchmark violations, several overtime violations were discovered. In the report obtained from the Fair Labor Associations website, 90% of workers interviewed at the Fu Tai Hua factory reported they were not paid for work related training and testing performed after regular working hours. Auditors found employees were unaware of their rights having no knowledge they should be compensated for all time spent at the factory while under management supervision. The report also noted "Employees lacked awareness of the factory's Hours of Work & Compensation policy and procedures because there is no system in place or communication to workers on wages and benefits" (FLA, Foxconn report).
It was also found that "some employees worked over seven consecutive days without having the required 24-hour minimum break" (FLA, Foxconn report). Although the Fu Tai Hua factory has a health and safety committee in place, it is inactive. One can attribute this as the primary reason why such an excessive amount of safety issues exist there. Some safety issues outlined in the FLA's 2012 report included a gap in the health and safety policy which did not offer coverage to young (16-17years of age), elderly, pregnant, disabled, and interning employees. In addition, it was found that there is no sprinkler protection at fuel stations, emergency exits failed to meet local law requirements, and there were no fire detectors in some areas of the wastewater treatment plant (FLA, Foxconn report). Environmental violations featured in the audit included missing emissions permits for the factory's extractors, the direct connection of the factory's main discharge point over a storm water canal at a car washing section of the Fu Tai Hua plant that the FLA called for immediate action to resolve.
The Fu Tai Hua factory also has no system in place for conducting periodic assessments of their environmental issues, or a control system to ensure the underground diesel tank is not leaking. Aside from the obvious concerns raised in relation to the many violations disclosed in the audit, serious problems have now emerged for Apple and its stakeholders. Many stakeholders stand to be affected if no immediate course of action is taken. For one, Apple risks a damaged reputation if they do not immediately work to amend the many labor, health and environmental violations. A popular and very true saying "A reputation that took decades to build can be threatened by a single event" could easily be applied in this case if the right corrective measures are not taken. According to a Reuters.com article on Apple/Foxconn work conditions, global protests increased after reports spread in 2010 of a string of suicides at Foxconn's plants in southern China (two of the three audited factories are located in Southern China), crediting inhumane working conditions and the alienations that migrant laborers faced. Instances such as these also make Foxconn a major stakeholder.
Not only do Foxconn facilities house the ethical and environmental violations, they also play a vital role in Apple's supply chain. In addition to the role Foxconn plays for Apple they also play a vital role in the Chinese economy and technology industry as a whole. Foxconn is the largest private employer and exporter in Greater China (Foxconn.com), a country with a population size of over 1.3 billion people, which is no small fete. If Foxconn decides to downsize as a means to eliminate risk and create a closer control of their facilities, the number of employees affected can be substantial and can potentially impact the Chinese economy immensely. Prospective and existing business partners may no longer wish to work with Apple as a result of this damaging audit. Changes in the relationship between Apple and Foxconn can affect the entire technology industry, making the industry a stakeholder as well. Other manufacturing companies and competitors of Apple who now become stakeholders because their "cost of business with Foxconn may increase due to the changes Foxconn would make in the factories include Dell Inc, Hewlett-Packard, Amazon.com, Motorola Mobility Holdings, Nokia Oyj, and Sony Corp" (Reuters.com). Due to the large number of stakeholders associated I would employ the utilitarianism model.
With Apple being one of the leading and most innovative technological companies in the world, too many stand to lose if the proper measures are not taken and every avenue is not thoroughly considered. The costs Apple would incur if they decided to discontinue their business relationship with Foxconn would exceed the potential losses they currently face. Under the utilitarianism model a cost-benefit analysis of an action's consequences are examined. The utilitarianism theory weighs each consequence to account how everyone involved would be affected by a particular action. The result yielding the greatest overall positive outcome – that which has the greatest number of good over the bad, would be the best solution under this theory. Foxconn acted in direct violation of Apple's Supplier Code of Conduct, modeled after the Electronic Industry Code of Conduct, ignoring their labor, human rights, environmental, ethical, health and safety standards. Apple's Supplier Code of Conduct offenses committed by Foxconn are an electronics industry standard. Being one of the world's leading technology manufacturers, it would behoove Foxconn to make positive adjustments throughout the agency.
There are many possible roads Apple can take to resolve this matter. Apple could create a management team to oversee all Foxconn facilities, requiring they conduct quarterly audits of the factories to ensure compliance with Chinese health and labor standards in conjunction with Apple's Supplier Code of Conduct. The management team should be comprised of Apple employees to guarantee Apple's Code of Conduct is enforced and their ethical standards are upheld. Another course of action Apple can take to amend this matter would be an upgrade of Foxconn facilities warranting all FLA and Chinese health and safety standards are met. In addition to new facilities Apple can enlist a team to provide training to Foxconn management which would educate them on Apple's values and expectations of their suppliers which would mandatorily be passed down to Foxconn facility managers and employees alike. Enlisting quarterly focus groups to ensure factory workers' safety and health standards are met as well as providing the mental support employees need to perform their job effectively and efficiently.
Boosting morale and company loyalty by issuing retroactive pay for the unpaid documented meetings and trainings is another great way to combat these labor issues. Apple could also conduct annual Code of Conduct and Code of Ethics seminars to educate all factory workers on their rights and obligations to ensure everyone has a clear understanding of the expectations of the organization and the employees. To prevent instances of overtime, instead of downsizing, Foxconn plants can hire additional workers which would eliminate the instances of factory workers having to work seven consecutive days and keep the company within the guidelines of labor laws.
Based on the utilitarian model I would increase the number of employees at the Foxconn plants and expand the plants to ensure all health and safety standards are met. With the hiring of new employee's there would be new and improved training materials educating employee's on their rights and also health, safety and environmental standards, to ensure employees are no longer ignorant of their rights and have the knowledge to know what is/not unacceptable. The influx of employees would eliminate the overtime employee's previously had to work due to understaffing and also benefits the local government and Chinese economy as a result of job creation. Although the initial costs that Apple and Foxconn must pay to right the wrongs of their old business practices, the future benefits and the positive effects this will have on the community and public images are far greater.
Bibliography
Apple.com/supplierresponsibility/pdf/Supplier_Code_of_Conduct_V3_1.pdf FLA, Foxconn Investigation Report. Fairlabor.org/report/foxconn-investigaton-report. Foxconn.com
Paronen, Lars. Tech Wrap: Apple reveals child labor at some suppliers. Reuters.com Reuters.com
Related Topics