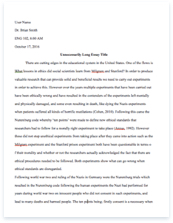 The whole doc is available only for registered users
A limited time offer! Get a custom sample essay written according to your requirements urgent 3h delivery guaranteed
Order Now
In the year of 2017 alone over one thousand people who were not convicted of any crime or people who were unarmed suffered death to the hands of police officers who are supposed to work on making out cities and homes safe. Throughout several years police brutality has become a large problem in society, to try and solve this problem body cameras were involved and relied on to record any sort of crime and with that it exposed to the public how police officers will shoot innocent people who are unarmed or people who make no attempts to do anything involving violence towards the police. Police brutality is the use of excess "physical force that includes beating citizens hands or batons, or using stun guns (such as Tasers), teargas, and even lethal weapons"(Walter). After video was leaked from the body cameras exposed police brutality it became more and more hard to ignore the fact that police brutality was becoming a growing topic, following the concerns about this topic was several lawsuits and riots. Police officers that are proven guilty of police brutality seemed like the police officers who performed the act of brutality received no proper punishment. Although it is required that police officers undergo twenty-one weeks of training, it should be required that police undergo advanced and longer training in the areas of bias, mental health, and alternative measures to force.
Post-traumatic stress disorder is a condition that police officers have though not a high percentage of police officers are treated of having it. A study was done on police officers and the results came out, saying that "19% of them may have PTSD. Other studies suggest that approximately 34% suffer symptoms associated with PTSD but do not meet the standards for the full diagnosis"(Kirschman). It is proven that a fairly high amount of police officers suffer PTSD though it is a high risk since PTSD can easily be triggered for someone working in such a traumatic line of service, for example if a police officer was a past veteran who cannot hear the sound of loud noises without PTSD coming into effect that makes both the police officer and possible anyone around him/her in danger of coming in contact with the ugly side of this mental illness. Along with acting out after PTSD is triggered it will come down to the fact that "untreated officers are also more likely than their counterparts without PTSD to overreact and make poor decisions in difficult situations"(Scharff).
All the racially bias officers opened up pandora's box in the sense of all the backlash and riots received after several severe incidents that included people of color. It is documented that, "An individual who commits crimes is more likely to have a hostile encounter with the police than an individual who does not"(Hassett), though in the off chance the the police officer was racially biased they might "might well accost an individual who is not involved in a violent crime at all"(Hassett). It is biased that "Black people were more likely to be killed by police, more likely to be unarmed and less likely to be threatening someone when killed"("2017 Police Violence Report"). There are several cases were police act out against a person due to the way they look or a police over reacts and then an innocent person ends up dead. Out of a hundred and fifty-nine people that were shot by a police officer a little over eighty three of those people were of some sort of color.
With a little extra training it could be proven helpful that police officers could understand how to handle a situation without such force right away. After seeing that police brutality was becoming a major problem body cameras were soon introduced to the public so the people would be able to see exactly what the police do, but in all reality it just exposed the violence that was followed by the actions of police officers. With the newfound body cameras exposing and drawing attention, " lawsuits were being brought against both the officers and the government for which they work, and a focus on the psychological conditions that may affect those officers who violently abuse citizens"(Walter). Since police brutality seems to be a common thing due to hearing it on the news or reading about it in the paper you'd think the world is such a horrible place though the thing is that, " many police officers go their entire careers without ever having to draw their weapon or engage in a serious physical confrontation in order to protect themselves"(Walter). The shocking fact is that even after several cases where police officers should be charged only a extremely small percent of officers actually get the punishment for the actions they commited, for example 92% were of people that were killed by police shootings were killed by tasers, physical force.Officers that were charged with a crime in only 13 of these cases, that is only one percent of all killings by police.("2017 Police Violence Report")
Although it is required that police officers undergo twenty-one weeks of training, it should be required that police undergo advanced and longer training in the areas of bias, mental health, and alternative measures to force. With extra training it could be proven effective so that officials could examine police officers for any sort of mental health problem or sign of racially bias in addition give officers the correct training so they are not using an excess amount of force in a situation that does not require violence. Police are human beings too and it's okay to make mistakes, but with them signing up to protect our families and homes it should be necessary that they have the right amount of training because at this point it seems like officers are doing more bad than good at this point and frankly with the proper amount of training it could end a lot of problems going on in the world currently.        
Related Topics