Anlaysis of Ominous Signs in the Great Gatsby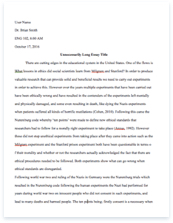 The whole doc is available only for registered users
A limited time offer! Get a custom sample essay written according to your requirements urgent 3h delivery guaranteed
Order Now
The events at the start of the chapter occur at night which seems to be a very mysterious setting for the start of the chapter. Especially when the reader learns of how Nick 'couldn't sleep'. Fitzgerald then uses sound to add to the uncomfort by referring to the sound of the fog horn as 'groaning'. This adjective creates the image of a person in pain or close to death dying. This is a very ominous sign regarding the death of Gatsby. Nick is 'half-sick between grotesque reality and savage, frightening dreams.'
This line describes how Nick can no longer find a place of peace in his dreams of in reality. This shows the reader that something seems to be troubling Nick. A few lines after the readers suspicions are confirmed when Nick feels 'that I had something to tell him, something to warn him about'. Through out this paragraph, the pace is very slow and this creates a contrast to when Nick 'jumped out of bed'. He feels obliged to 'immediately' warn him. This sense of urgency is seems to be an ominous sign as Nick knows that something is going to happen very soon. This is confirmed later on in the chapter when Nick says 'I didn't want to leave Gatsby'.
When Nick meets Gatsby, he is 'leaning…heavy with dejection or sleep'. It is clear that Gatsby has had a similar night to Nick. The upright posture and finesse he has had in many of the other chapters has disappeared and he seems to have withered. This is another ominous sign as this description of Gatsby shows that the hope that Gatsby always seemed to hold onto has slowly been diminished. Gatsby re-tells the events of last night after nick had left and says 'she came to the window…and then turned out the light'. This is another ominous sign as it seems as if because of Daisy turning off the light, Gatsby has lost hope. The act of Daisy turning off the light could seem to suggest that Gatsby's light will soon be extinguished and yet again this is another ominous sign. 'Innumerable feet of dark wall for electric light switches' could be interpreted as a metaphor for Gatsby. There are many people bringing sadness and sorrow into his life but he still seems to
be reaching out, hoping to find something or someone that can bring him out of the darkness into the light.
Gatsby then goes on to tell Nick about his life story and how he became rich. This whole section of the chapter where Gatsby is looking back over his life could be seen as a very ominous sign of things to come as it seems as though Gatsby is telling his story to Nick whom is a very close friend. This could be interpreted as Gatsby trying to pass on his legacy to someone else. This could prove that Gatsby could already know that something bad is going to happen to him as in the previous chapter he says to Nick how he would take the blame for Daisy.
'The shadow of a tree fell… ghostly birds' is also another instance where signs are used to create an ominous atmosphere. The use of the tree helps create an ominous atmosphere as it creates the idea of a tree slowly looming, lurking and creeping 'across the dew' almost like a predator creeping up on it prey(the prey being Gatsby). The birds are used by Fitzgerald as an ominous sign as they are described as being 'Ghostly'. Birds are usually associated with happiness and peace and not with Ghosts but Fitzgerald uses these descriptions to extinguish all of the peace and harmony and replace it with a very uncomfortable and eerie atmosphere. In this scene, it seems as is Gatsby is slowly losing grip of everything which is important to him in his life.
The quote that proves this is 'You must remember…she hardly knew what she was saying'. This shows that Gatsby has started to alter the story to assure him that there is still a chance that he can be with Daisy even though the reality is that Daisy has gone forever. 'He sat down gloomily' is a great contrast to the 'ecstatic patron of recurrent light' that the reader is used to reading about. This change is a key ominous sign as it gives of the impression that Gatsby has nothing else to give when it comes to Daisy even though he can't bear the thought of being parted from her.
Another ominous sign is when the 'last one of Gatsby's servants' talks to Gatsby. The slow decrease in the numbers of his servants could be a metaphor for Gatsby's time on the Earth decreasing and now it's only his last servant which shows that very soon something dreadful will happen to him.
Throughout this chapter, Fitzgerald uses descriptions and the unfolding of events as ominous signs to create a sense of danger around Gatsby. All of the events seem to happen either on Gatsby's grounds or near Gatsby which seems to place him as the target for the tragedy.
Related Topics