Angelina Jolie (Buddhism)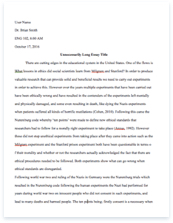 The whole doc is available only for registered users
A limited time offer! Get a custom sample essay written according to your requirements urgent 3h delivery guaranteed
Order Now
"The truth is I love being alive. And I love feeling free. So if I can't have those things then I feel like a caged animal and I'd rather not be in a cage. I'd rather be dead." (Jolie, Brainyquote.com). Those famous words from the actress and humanitarian, Angelina Jolie truly describe her. Angelina Jolie was born Angelina Jolie Voight on June 4, 1975 in Los Angeles, California. Her parents, actor Jon Voight and actress Marcheline Bertrand raised her in a Catholic home, but she seems to now find value in all religious beliefs. (Angelina Jolie, "Taming Her Wild Heart") She is a very successful actress with an Academy Award, two Screen Actors Guild Awards, and three Golden Globe Awards under her belt. Angelina Jolie and her fiancé, Brad Pitt, have six kids, three of which are adopted. Jolie and Pitt are suited well for each other due to the openness they express for any religion and for their humanitarian ways. Angelina Jolie does not identify herself with any single religion, nor has she declared herself an atheist (contrary to the claims of some websites and slandering articles that classify her as atheist or Buddhist).
Angelina Jolie does not have any specific religious beliefs, does not personally feel the need for a God and dislikes authority-based religion, but is not willing to go so far as atheism and expresses hope that there might be a God for the sake of those who dedicate their lives to religious belief (Angelina Jolie, "Taming Her Wild Heart"). The most direct statement Jolie is known to have made on the subject of her religious belief was reported by the website A.V. Club, which asked Jolie the question, "Is there a God?" and published the answers from Jolie and 52 other celebrities in a September 2000 feature story. The quote from Angelina Jolie is extremely important because one can get a better understanding of this woman and her faith or lack thereof. Angelina Jolie gave the following answer: "Hmm… For some people. I hope so, for them. For the people who believe in it, I hope so. There doesn't need to be a God for me. There's something in people that's spiritual, that's godlike. I don't feel like doing things just because people say things, but I also don't really know if it's better to just not believe in anything, either" (AV Club).
Angelina Jolie regards Buddhism as an important part of her son's Cambodian heritage and considers him a Buddhist. Quickly after adopting Maddox, her first child, Angelina tattooed a prayer for protection for him on her upper back in Buddhist Sanskrit, which is a part of Maddox's history. Critics have speculated that Angelina Jolie is now a Buddhist but she has not indicated a commitment to Buddhism more than any other faith. Angelina Jolie takes a unique approach to her parenting and religion. She is reported as saying, "I have a Buddhist son and I'd like a Christian and a Muslim child, too." (Angelina Jolie, "The Other Angelina"). On being asked what he children are told to believe, Jolie says, "Brad and I are raising our children to respect everyone. We have a bookshelf in the house that has the Bible, the Torah, the Koran, everything. We will take our children to church, temple, Buddhist ceremonies, Mosques, teaching them about all faiths. Whatever religion they choose, the choice will be theirs" (Angelina Jolie, "Taming Her Wild Heart"). I find Angelina Jolie to be one of the most inspirational celebrities in the world.
There are people in the world that do great and selfless things, but how many of them get paid $20 million per movie or voted Vogue Magazine's Most Beautiful Woman? (Vogue Magazine) One would think a rich and beautiful woman would be more self-absorbed caught up in scandals like the other Hollywood actors and actresses, but Jolie is remarkably different. In 2000, while in Cambodia filming the first Lara Croft movie, Jolie met victims of war living in refugee camps. She contacted the Office of the U.N. High Commissioner for Refugees (UNHCR) and offered to help. The agency sent her on the first of many missions into war zones and other areas of human catastrophe. Jolie became a Goodwill Ambassador for the United Nations High Commission for Refugees in 2001, and since then has frequently traveled to remote countries to draw attention to the plight of refugees (Angelina Jolie, "Taming Her Wild Heart").
She is well-known for her humanitarian efforts and frequently travels to locations struck by disaster of political strife whether its genocide in Darfur or earthquakes in Pakistan, donating time and money to these unfortunate people. Jolie and Pitt are one of the wealthiest couples, and they spread their wealth as much as they can. They use their wealth and fame to help people. For example, they agreed to an exclusive photo shoot after their twins were born only if People Magazine agreed to donate $500,000 to Tornado Relief. They are to adopt more children, and they pick the children that are the most unfortunate and needy, and try to give them the best lives possible, and also take them on these mission trips so they too can be inspired to help the unfortunate (Angelina Jolie, "Taming Her Wild Heart").
One gets the feeling that this is the real Angelina Jolie, and not the blockbuster films and glamorous red carpet appearances. Angelina Jolie is not an atheist, but has not openly committed to any religion, but speaks in awe of all religions Christians, Buddhists, Muslims, etc. During her interviews, Jolie's desire to help people in need is practically overflowing from her. I think the world could use more people like Angelina Jolie; she respects all religions, and thinks faith is a beautiful thing. She really seems to care about people, no matter what they believe in, and that's what why I respect and admire her.
Works Cited
"Angelina Jolie." BrainyQuote.com. Xplore Inc, 2014. 22 April 2014. http://www.brainyquote.com/quotes/quotes/a/angelinajo408611.html. Web.
AV Club. The Onion. September 6, 2000. Web.
Jolie, Angelina. "Taming Her Wild Heart." Interview by Dotson Radar. June 2012. Web. 22 April 2014.
Jolie, Angelina. "The Other Angelina." Vogue Magazine. Interview by Vicki Woods. December 2010. Web. 22 April 2014.
Related Topics