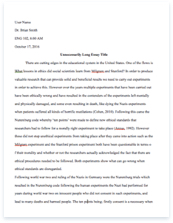 The whole doc is available only for registered users
Pages: 8
Word count: 1945
Category: Bridge
A limited time offer! Get a custom sample essay written according to your requirements urgent 3h delivery guaranteed
Order Now
Andrew "Andy" Bridge has dedicated his life to helping children in the foster care system who suffer from maltreatment. As a foster care child himself, Andrew was inspired to give back to the community and advocate for children in foster care. After being emancipated from the foster care system at age 18, Andrew went to college on a scholarship and later went to Harvard Law School. With strength and determination, Andrew earned the position of CEO of the Alliance for Children's Rights. Andrew has continued to work hard to improve the foster care system in many ways since leaving the system himself. In the memoir Hope's Boy, Andrew tells an inspirational story about his life and the love he had for his mother, Hope. His story remains a strong voice for the innocent children in the foster care system. The storyline of Hope's Boy contains knowledge and understanding of both the risk and protective factors that contribute to the possibility of maltreatment. Risk and protective factors are seen at multiple levels throughout the book, including the individual/child level, parent/family level, and environmental level. During the progression of the storyline, the assessment of each factor is determined at each level. In the end, Andrew's protective factors were strong, and this helped him to beat the odds, live with resilience, and devote his life to a noble cause.
There are many factors that are known to contribute to the risk of child maltreatment within each level. Risk factors may predict the future outcomes leading or contributing to child maltreatment. It is important to understand the risk factors children may face so Child Protective Services can make an assessment that will help treat and prevent further abuse or neglect of the child. Hope's Boy recounts the risk factors faced by Andy which ultimately led him to be taken away from his mentally ill mother and turned over to the custody of the state of California. The risk factors that led to his separation from his mother and were present throughout his experience in foster care can be seen at each level.
While the child is not at fault for the maltreatment, there are risk factors that are child-specific. One child-specific risk factor is the age of the child. The younger the child, the higher potential for maltreatment. In the memoir, the primary risk factor on a child-specific level is Andy's age bracket. Andy was faced with a series of events at a young age, which increased the likelihood for the neglect he suffered as his mother's mental health was declining. Andy lived with his grandmother Kate in Chicago until the age of five when his mother Hope requested to be with her son again. At this time, he was close to elementary school age which put him at a higher risk for maltreatment and causes for concern (Crosson-Tower, 2014, p. 217). Grandma Kate was hesitant to send Andy back into the care of his mother. She expressed concerns because she thought he was too young and that
Hope might not be ready to care for him (Bridge, 2008, p. 33). Grandma Kate ultimately gave in to Hope's request and put Andy on the next plane to California. Over the next two years Andy was put at risk for neglect at the hands of his mother. The buildup of neglectful situations and the intensity of Hope's mental illness eventually led to the painful separation of mother and son. Andy was only seven years old when a social worker took him away from his mother's custody. Even though Andy was young, he was aware of what was happening because his mother had prepared him for this day (Bridge, 2008, p. 113). Andy spent the next eleven years in the foster care system. As he grew into a young adolescent in the foster care system, the risk factor concerning his age weakened the potential of further maltreatment (Crosson-Tower, 2014, p. 217).
There are risk factors on a parent/family or caregiver level that put a child at risk for maltreatment. The primary risk factor on a parent/family level that greatly impacted Andy was the mental health of his mother. In combination with her declining mental health as a risk factor, Hope was known to have a family history of maltreatment and impulse control issues. These factors may indicate the degree of maltreatment toward the victim. As Andy's memoir progresses, Hope's mental health decline becomes apparent, as does her concept of reality (Crosson-Tower, 2014, p. 220).
During the two years that Hope was the sole caregiver to her son, she put him in dangerous situations brought on by her poor impulse control, lack of good judgment, and mental illness. The first situation was when Hope left her young son unattended in a hotel room, so she could get a drink at the bar downstairs. Her poor judgment and impulse control continued to worsen as time went on. Later that same year, Hope and her friend Carol took Andy out late at night to rob a neighbor's house. The homeowner became aware of what was going on and sent his dog out to attack the intruders. Luckily, Andy was not hurt during this stunt.
Hope eventually begins to have mental breakdowns in front of Andy. One of the first breakdowns happened on a street corner in front of a large crowd (Bridge, 2008, p. 76). Carol was watching over Andy the night of Hope's first episode and she tried to shield him from seeing his mother in that condition. Eventually, Hope's mental illness and the voices in her head became so intense that Andy, at age six, could not help tame them (Bridge, 2008, p.81). Hope's mental illness was not only putting Andy at risk for maltreatment, but she was also putting her own life in danger.
During the short period when Andy was in his mother's care, there were several environmental risk factors that contributed to Hope's neglect. The main risk factors on an environmental level for Andy and his mother was the stress brought on by their socioeconomic status and living conditions (Crosson-Tower, 2014, p.221). Due to Hope's mental health decline, it was hard for her to hold a job. This caused changes in her residence that led to the lack of resources needed to properly raise a young boy. Hope did receive some help from a kind minister but there came a point when he told her "it was time to get going." (Bridge, 2008, p. 107) After leaving the minister's home they slept at a motel, where they search for food in dumpsters. During this time, Andy had to compete with a stray cat for food and spent his nights curled up in the closet (Bridge, 2008, p. 10). When Andy entered McLaren Hall for foster children and later received a permanent placement at the Leonard's, the risk factors associated with his environment changed. While his new environment in the foster care system did have some potential risk factors, this placement was safer for him in the long term.
Exploring the risk factors that ultimately forced Andy into foster care is important in assessment for child protection workers. However, it is also important to explore the protective factors that may act as a barrier for the child in terms of further maltreatment. Protective factors are seen at the child level, parent/family level, and an environmental level.
Protective workers try to build upon the family and child's strengths during the assessment. Andy was one of the lucky foster care children to have strong protective factors that in ways outshined the risk factors as he entered the foster care system. Andy's protective factors helped him to succeed in ways that no one would have expected.
In Hope's Boy, Andy's protective factors grew stronger as he aged in the foster care system. The primary protective factor on a child/individual level that saved Andy from further maltreatment was his good health, calm/easy temperament, and above-average intelligence. As a child, Andy had no health problems and experienced normal child development.
Due to his naturally calm personality, Andy was able to remain calm during his mother's progressing mental breakdown. This calm nature proved to be an asset in the foster care home he lived in during his childhood. His foster mother, Mrs. Leonard, had angry outbursts at times and Andy was able to self-calm. Andy buried himself in schoolwork, and his above-average intelligence gave him an advantage unlike most children in foster care. Schoolwork gave him something to look forward to and a sense of purpose. He found strength in academics, which eventually led him to Harvard Law School. Due to his individual protective factors, Andy was able to overcome the hardships of his childhood experiences.
The primary protective factor on a parent/family or caregiver level were the household rules or appropriate structure set by Andy's foster parents. In the Leonard's home, Andy lived his life in a house built on a maze of rules (Bridge, 2008, pg.158). The Leonard family had a strict grade and homework rule that Andy always tried to follow and maintain. These rules were fair and without physical discipline from the Leonard's (Crosson-Tower, 2014, p.2019). Another family protective factor was when Grandma Kate reached out to Andy in the seventh grade. Grandma Kate showed the presence of an extended family member who displayed love and support to Andy. She sent him cards and care packages to show him she still loved him (Bridge, 2008, p. 200). Grandma Kate even came to visit him at the Leonard's when he was in junior high. The love she had for her grandson was an important protective factor.
For Andy, the primary protective factor on an environmental level was his access to education and positive adult role models, such as teachers. Andy had a passion for his studies and always found comfort from the teachers he looked up to. They believed in him and pushed him to excel. His most impactful teacher was Miss O'Malley. He thought of Miss O'Malley as a confidante that was reliable in the ways that mattered most to him (Bridge, 2008, p. 225). Andy felt warmth and safety from this teacher because she only cared about him and not his family situation, unlike many of his previous teachers. He knew they could not make him miss his mother any less, but teachers did what adults were expected to do.
This was rare and extraordinary, as they had shown him that while the entire world might not be safe, at least a small part of it could be (Bridge, 2008, p. 231).
Andy's primary risk factors took him away from his mother, but this never took his love away. During the eleven years Andy spent in foster care, he never stopped thinking about Hope. He grew into a strong young man and became active in academics. This was where his protective factors shined, and the risk factors began to diminish. Before Andy went off to college, he did see his mother one more time. In a role reversal, Andy was now assuming the role of his mother's protector (Bridge, 2008, p. 275). Andy knew his mother tried her best and that her love for him ran deep. All he could hope for was that she was safe and that she was proud of how far he had come. Andy was able to beat all odds against him and gave back to the community to help children in the flawed foster care system. His resilience shined and his love for his mother lives on as he embarks on a journey marked by honorable success.
Citation
Crossen-Tower, C. (2014). Understanding child abuse and neglect (9th ed). Upper Saddle River, NJ: Pearson Education
Bridge, A. (2008). Hope's boy. New York: Hyperion Press
Related Topics