Analysis of "The River-Merchant's Wife: A Letter," by Ezra Pound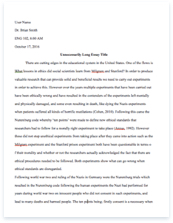 The whole doc is available only for registered users
A limited time offer! Get a custom sample essay written according to your requirements urgent 3h delivery guaranteed
Order Now
"The River-Merchant's Wife: A Letter," by Ezra Pound is not only a letter from a woman to her husband, but is also a narrative of a young woman's sex life. It tells of a river merchant's wife's feelings on sex throughout her life and marriage. It also shows how her views change with time and circumstances. The poem starts with her early childhood, and then goes quickly into marriage, and ends when her husband has to go away on business. Never once does the poem mention love, but it does elude to the fact that sex is better when some feeling is involved.
Line one and two of the first stanza state, "While my hair was still cut straight across my forehead / I played about the front gate, pulling flowers" (1-2). The straight bangs and flowers are representing the youth, innocence, and purity of the still single narrator. The narrator also views the rest of the world and her husband-to-be through this innocence: "You came by on bamboo stilts, playing horse, / You walked about my seat, playing with blue plums" (3-4). These lines seem to paint a picture of a very carefree childhood and a detachment from the ways of the world. The narrator shows no feelings of love, lust, or even moderate attraction to the boy other than the innocent and simple companionship of childhood when she goes on to say, "And we went on living in the village of Chokan: / Two small people, without dislike or suspicion" (5-6). It is apparent that the narrator is happy with her own microcosm. Her innocence prevents her from thinking that anything exists outside of her world of flowers and blue plums. In her world sex does not even exist.
The breech of her innocence comes soon in the second stanza: "At fourteen I married My Lord you" (7). Once again there is no mention of love, and in this time period her mate was probably chosen for her. Additionally, the usage of "My Lord you" connotes undesirable obligations to her husband, such as sex, which until previously, did not even exist. Being only fourteen in the early 1900s and coming from her own oblivious world, it is safe to assume that sex was still taboo to the river merchant's young wife. The poem expresses that taking part in the act of sex was embarrassing to her: "I never laughed, being bashful" (8). The next two lines of the poem also deal with her embarrassment, "Lowering my head, I looked at the wall. / Called to, a thousand times, I never looked back" (9-10). Here she admits that she could not even look at her husband during sex, nor answer his cries of pleasure.
The third stanza begins a year after her marriage, and sex is becoming more tolerable: "At fifteen I stopped scowling" (11). It seems that she is actually starting to enjoy sex when she says, "I desired my dust to me mingled with yours / Forever and forever and forever" (12-13)."Forever and forever and forever" clearly shows that she has developed a fondness for her husband, his sex, or both, which could possibly be love. According to the poem, she developed these affections at the same time, suggesting sex and love are relative and can be improved with time. The poem again indicates a change in her attitude towards sex when she says, "Why should I climb the look out?" (14). This line indicates that she feels that she should not be doing all the work. She might as well enjoy sex since it is going to happen to her anyway.
A year later, the narrator's husband leaves on business. The fourth stanza tells of her husband's leaving: "At sixteen you departed, / You went into far Ku-to-yen, by the river of swirling eddies" (15-16). The tone of the next line, "And you have been gone five months" (17), points to some sorrow on the part of the speaker. She really does have feelings for her husband now, whether they be physical or emotional, and misses him. The next line, "The monkeys make sorrowful noise overhead" (18), supports this idea. In the fifth stanza, she continues on the same theme of missing her husband, but for the first time the poem also speaks a little of the river merchant's feelings: "You dragged your feet when you went out" (19). Her speaking of her husband's feelings shows more of an intimate connection to him. The poem goes back to sex in the next few lines, "By the gate now, the moss is grown, the different mosses, / To deep to clear them away!" (20-21). She is basically saying that her womanhood has not been touched in quite some time.
The river merchant's wife is not pleased with this, and is scared that her time is running out: "The leaves fall early this autumn, in wind" (22). This literally states that autumn is already starting, but the picture of the leaves falling seems almost foreboding. When she starts talking of butterflies and childish things again, "The paired butterflies are already yellow with August / Over the grass in the West garden;" (23-24), it seems as though the river merchant's wife is returning to her previous, innocent ways. The next line throws an ironic curve however, when she says, "They hurt me. I grow older" (25), totally rebuking the purity of summer previously suggested. There is only one explanation for a woman claiming to be hurt by butterflies: she is sex-starved, and she is afraid of the fact that she is getting old – too old for good sex.
Pound's poem, a seemingly innocent letter from a wife to her husband, is nothing but a good old-fashioned bootie call. At the beginning of the poem, the narrator is an innocent girl playing in the daisies who does not even know what sex is. By the end of the poem she is a sex-starved, bitter woman who hates butterflies. She goes through a complete in only three years. The last four lines of the poem make it all too clear:
If you are coming down through the narrows of the river Kiang,
Please let me know beforehand,
And I will come out to meet you
As far as Cho-fu-Sa. (26-29)
She would go all the way to Cho-fu-Sa to get a little bootie.
Related Topics