Analysis of an Advertisement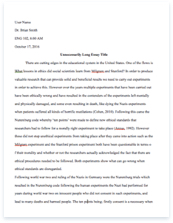 The whole doc is available only for registered users
A limited time offer! Get a custom sample essay written according to your requirements urgent 3h delivery guaranteed
Order Now
The ad that I choose to write about in my analysis is a car ad. The reason I choose this ad is because as I was flipping threw the pages it caught my eye. It looked like an expensive car, but I realized it was a Mazda and that the price of the car was not expensive what so ever. In this ad what stands out is a car and the design of the car along with the different features. One would never have realized it was a Mazda.
The ad that this magazine is in is "Glamour", which mostly targets the eye of the female audience. This magazine has several different products in them such as, hair supplies, how to eat healthier and relationship advice. The name of the magazine "Glamour" goes with this ad because it discusses the latest fashion and what's new and what's out.
The color of this car is silver with dark windows, which gives the car a mysterious look to it. This ad doesn't use a lot of different colors. The text in this ad is all different shapes and sizes, which is what attracts a persons eye. The car in the ad is Mazda; which we the audience would have never thought that a Mazda would look this luxurious but it does. The audience for this ad would probably be around the age group of twenty-one through fifty years old.
The reason for this is because at the age of twenty-one year old through a fifty-year-old one has grown up and matured. They need a car that looks sophisticated and when driving down the street someone would say "wow I wish I had that car", whereas a sixteen through twenty years old would want a car that was more sporty and fast and that had a color that would stand out to the public eye. This ad targets the eye because when one would looking at this ad one would never realize or even think that this was a Mazda. If a person was flipping through the pages quickly they would probably think it was more of luxurious car that was very expensive and would never think about purchasing this vehicle, but with this new model that Mazda has come out with it gives the less fortunate an opportunity to have this luxury car with the option to have "DVD-based navigation system, leather interior' and Xenon headlights".
In this ad they talk about rethinking what is possible in today's society. What they mean by this statement is we are given the opportunity to live large and not feel so bad about how much we have spent on it or if we really can afford it. It gives us the chance to blend in with the upper class people without them realizing that it didn't cost that much for a luxuries car. The ad it has us questioning the fact that this is a compact car or not and if only by looking at the car we would think it wasn't, but it is. They write in their ad that "Mazda is a compact and of course it's a Mazda so the real convincing happens when you put it all in motion". By writing this statement it makes us think about it and wanting us to go out and drive this car and see how we would feel in it. They try to convince us that we are not losing anything, but gaining a luxuries car that we have been dreaming of all of our lives.
In this ad it has a brand new style for a Mazda and how much the starting price is. It also has a tear in the paper that looks kind of like a fish, well at least to me it does and at the bottom it has there slogan that Mazda is known for which is " zoom- zoom". It lists the size of the engine and in very small font at the bottom of the end it tells us how many doors it has and other features in the car and lastly the tax fee and other expenses it cost in order to get this car. If one was really interested in purchasing this vehicle, Mazda has their website listed so that someone could visit them online and get more information about this type of vehicle. By Mazda making a new style of a car and adding different features to it, and at a low cost, it makes us the audience think about why they should go out and buy this nice looking car. We try to picture ourselves with what they give us, which is the picture of the car, and how we would look in this type of vehicle.
Mazda put together a luxurious vehicle that when looking at this car someone might think that some other company made this car, but in fact when you pay close attention to the ad Mazda made it. I think that this was a smart move by Mazda because there are so many different types of vehicles out there that look like this car, but cost too much that people don't even think about buying a car, but with Mazda making a car look this good with all the features that a very expensive car would have cost less. We the people actually could go look at this car and say I can afford it and no one would ever think that it is a Mazda unless I told that person. So if anyone needs to buy a car they should consider buying a Mazda or just going to look at one and test-driving it and from there they could make up there own mind.
Related Topics