An Evaluation of Greene's "Cut"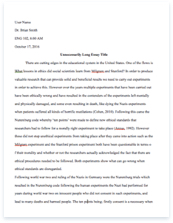 The whole doc is available only for registered users
A limited time offer! Get a custom sample essay written according to your requirements urgent 3h delivery guaranteed
Order Now
Every life experience has an effect on a person, whether it is bad or good. According to Greene, being cut from a team has a long and a short term effect. In Greene writing, "Cut" he interviews several people about being cut from a sport team when they were young. He wanted to see how they felt about being cut and how they dealt with it.
Being cut from a team can lower one's self-esteem and confidence, however this negative experience can have a positive outcome in the long term. When someone gets cut it makes them strive to do better in everything they do because they want to feel like they are good enough. Greene states that after he was cut he has worked hard in everything he has done. Greene says, "But I know my ambition has been enormous ever since then; I know that for all of my life since that day, I have done more work than I had to be doing, taken more assignments than I had to be taking, put in more hours than I had to be spending"(Greene 86).
Being cut from a team can also have a negative outcome in the long term. Being cut can make people feel like they are not good enough and some people carry this memory with them all their life. Greene says in his writing "…I have found that an inordinately large proportion of successful men share that same memory – the memory of being cut from a sports team as a boy" (Greene 86). All of the people Greene has interviewed also carry this memory with them throughout their life. For example, Dan Rather talks about how his school was small and did not have a cut list. Even though he was on the team the coach never put him in to play no matter how hard he tried. He always hoped that he would be put in and one day it finally happened. His coach finally put him in but it was already the final game, last inning, two outs and there were already two strikes. Dan Rather talks about how humiliating that was for him and even though that was forty years ago the memory is still very clear to him.
There are also short term effects from being cut as well. When one looks up at the list of people who made the team and does not see their name up there can hurt. At first one probably feels upset and does not want to talk to anyone about it. It may also spark anger in some people, but this is only a short term effect. After a while people eventually get over the fact they were cut and the anger and sadness goes away. Bob Graham talks about how he was hurt at first but that drove him to do better in everything he did. He even said, "Looking back, maybe it shouldn't have been that important. It was only baseball. You pass by that. Here I am. That coach is probably still there, still a high school baseball coach, still cutting boys off the baseball team every year" (Greene 87). Bob Graham is realizing that being cut from the baseball team was not the end of the world .He compares himself to the coach who cut him from the team, saying that he became a more successful person than the coach.
Related Topics